Android on your HDTV? Not the prettiest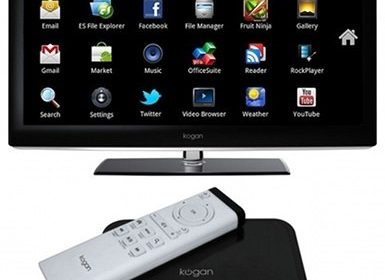 Ok, so I love the pricepoint here, but the UI feels like it's stuck in Windows 3.1 days. The potential is surely there while we wait for Apple to finally integrate apps into their 10′ UI.
The ~$149 Agora Internet TV Portal runs Android 2.2 and provides a 1GHz Cortex A8 processor from Samsung, 512MB of RAM, 2GB of flash storage, HDMI output, 802.11g Wi-Fi, SD card slot, and three USB ports that can be used for external storage or for connecting a wireless USB mouse and keyboard. In addition, Agora Internet TV Portal offers full access to Android Market (most likely unofficially). I think my favorite feature of this package is actually the remote, which has a gyroscope built-in — just point the remote and your on-screen cursor follows, hold the main button down and you can drag/scroll through menus with a flick of a wrist.