Giada MiniPC A50 Small Form Factor as your next HTPC?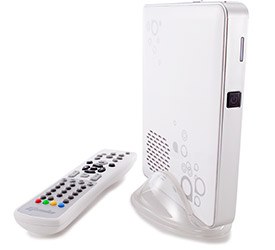 I'm not sure if I had $450 to spend that I would go this type of SFF nettop route for my HTPC client (or main system)–the lack of upgradeability would most likely turn me off. But if you're not a tinkerer and the price point suits you, this is low powered and seems capable.
The Giada MiniPC A50 ($449 street) is the first AMD Fusion-equipped nettop that we've reviewed here at PCMag Labs. It's definitely geared toward video enthusiasts and others that want to display their digital life on their HDTV. It hooks up via an HDMI port, and has a power-saving integrated CPU/GPU that can display 1080p HD video streams smoothly. It even has a speedy hard drive in case you're the type who creates videos as well. The MiniPC A50 is a little light in the accessory department, but if you want a base nettop with plenty of forward-looking technology, keep the A50 on your shopping list.