ZOTAC H67-ITX resumes shipping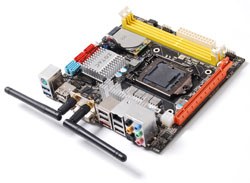 Have you been patiently waiting to build your Intel Sandy Bridge based HTPC? We just received word from ZOTAC that their flagship mini-ITX motherboard should be available again very soon.
ZOTAC is pleased to announce the H67-ITX WiFi has resumed shipping to distributors and resellers, and carries a new SKU to eliminate confusion.

General details

ZOTAC H67-ITX WiFi resumes shipping
Features enhanced H67 B3 revision chipset
Enhanced SATA performance and reliability
New SKU – H67ITX-C-E
I know some less than reputable sites will undoubtedly be taking advantage of some consumers so I'm glad to see that they change the SKU, I wouldn't be too happy to order a board and get a defective model.