Updated Intel 6 Series (aka Sandy Bridge) Chipset Boards Product Codes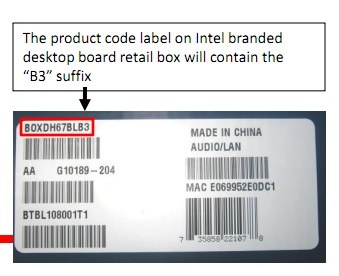 Are you getting ready to buy an Intel 6 Series (aka Sandy Bridge) based HTPC? If you are looking at any of Intel's motherboards two things you need to do: 1- See our reviews on the DH67GD, DH67CF, and DH67BL by Andrew Van Til 2- Make sure to check the product code carefully before ordering to ensure you don't get any of the recalled motherboards.
Intel has issued new MM numbers and product codes for all boards with the Intel® 6 Series Express Chipsets based on B3 stepping. The new product codes have appended "B3" suffix onto current product code.

The following table will help you identify the branded Intel® Desktop Boards that may be impacted and shows the new product codes that use the B3 stepping.
Below are the updated product codes for the boards we've reviewed. See the link above for the full table.
| | | |
| --- | --- | --- |
| Intel® Desktop Board | New Product Code | New Board AA# |
| DQ67SW | BOXDQ67SWB3 | G12527-304 |
| DQ67OW | BOXDQ67OWB3 | G12528-303 |
| DQ67EP | BOXDQ67EPB3 | G12529-303 |
| DP67DE | BOXDP67DEB3 | G10217-205 |
| DP67BG | BOXDP67BGB3 | G10491-303 |
| DP67BA | BOXDP67BAB3 | G10219-300 |
| DH67GD | BOXDH67GDB3 | G10206-204 |
| DH67BL | BOXDH67BLB3 | G10189-204 |
| DH67CL | BOXDH67CLB3 | G10212-204 |
| DH67CF | BOXDH67CFB3 | G10215-202 |
| DB65AL | BOXDB65ALB3 | G12530-304 |
| DH61WW | BOXDH61WWB3 | G23116-202 |
| DH61DL | BOXDH61DLB3 | G14066-202 |
| DH61CR | BOXDH61CRB3 | G14064-202 |
| DH61BE | BOXDH61BEB3 | G14062-203 |