Samsung Reveals 2011 3D Bluetooth Glasses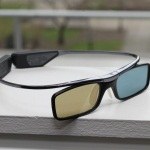 If you have read our XPAND Universal 3D Glasses review, you know why we're not too fond of infrared as a physical communication layer for active shutter glasses. Samsung has now finally uncovered their new Bluetooth 3D active shutter glasses that will be used with 2011 models.
Samsung appears to have also enhanced the feature set of their new glasses by making them extremely light at less than an ounce and providing an induction charger that can recharge up to 4 glasses simultaneously without plugging them in.
Those features sound great, but the glasses also have no sides to help shield peripheral vision from picking up distractions. Of course, it may be that the glasses fit in such a way as to not require this. Also, what about us 2010 Samsung display owners? Will we see an IR to Bluetooth adapter so we can use the new glasses? Of course, this may not be possible or desirable if Samsung has changed other charecteristics of their 2011 displays.
Samsung has unveiled a new type of active shutter 3D glasses that improve on almost all issues found in conventional pairs.

The company's new 3D glasses use Bluetooth instead of infrared signals to sync with the 3D TV, meaning the glasses don't need to have line-of-sight with the TV. With conventional, infrared glasses, the signal can be disrupted by obstructions between the glasses and the TV or emitter, disabling the shutters. Bluetooth solves this problem by using radio instead of infrared transmissions. Because of the new technology, the glasses will only work with 2011 and later Samsung 3D HDTVs; older models that use infrared technology can't use the new glasses.