WMC7 TV Recording Schedule Backup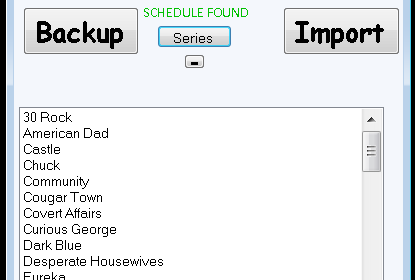 Do you have multiple Win7 Media Center systems around your house or just often get bored and reinstall? If so, you surely have dealt with the PITA that is re-configuring all of your scheduled recordings and your guide data. Well, here's a little app that's supposed to fix it. Fair warning, even the developer admits not a ton of testing has been done, so proceed with caution.
There is nothing fancy here, scans for your tv schedule for series that are setup, saves a copy, and allows you to then import those series onto another PC or fresh load. Please keep in mind that only MINIMAL testing has been done. I have migrated a few schedules from one PC to another without issue, however please use this at your OWN RISK. Importing the same show more than once will cause duplicate entries in the recording schedule.