DVR Users Watch More TV, Just Not Live TV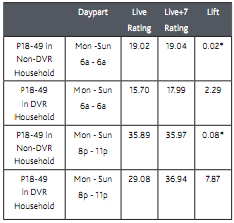 It's somewhat humerous that it's taken until 2010 for reports like this to finally be published by Nielsen. For years show ratings have been hurt by unaccounted DVR users. This isn't the first report we've seen implying these numbers this year, but it's a good sign that they're continuing to show what we already know–using a DVR lets you watch more TV, in less time.
When DVR usage is counted among households that own one, it adds 7.9 ratings points to their viewing. And despite the fact that non-DVR users watch more TV live, those with time-shifted device watched nearly a full ratings point more TV in total. Not just that, but viewers tend to watch shows not long after they're recorded. Nearly half of all DVR viewing happens the same night that a show is recorded, and almost 90 percent of all timeshifted viewing happens within the first three days.