QNAP NMP-1000P Media Player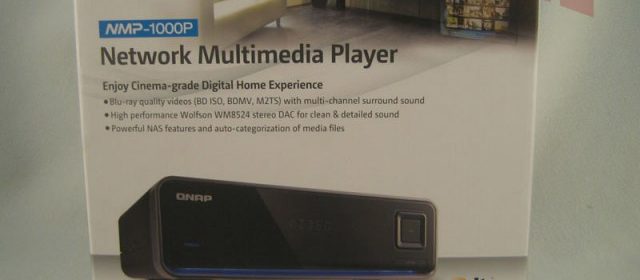 Today we have for review the QNAP NMP-1000P universal media player device. If this sounds and looks familiar, it's because we have previously reviewed its predecessor, the QNAP NMP-1000 which was a very capable media player that could play a wealth of formats. Tim's main points of argument were the cost and size of the player. While neither of those changed with this revision, there were a couple of items that have changed which make this an even more attractive unit. As you may expect, this NMP-1000P from QNAP is on our Media Player Comparison Guide if you would like to compare with other players on the market. As it is one of the highest end players available, we will look to see if the $400+ retail price is appropriate and worthy of your hard earned dollars.
SPECIFICATIONS
Let's start out with the most glaring point about the NMP-1000P that's different than the 1000 version–if you live in the United States, this device is currently not available for sale there. For the purposes of this review, I won't re-hash what Tim has already done a a wonderful job on in May of this year in his review of the NMP-1000P. Instead I will focus on what makes this version different and how it matches up.
Here are the detailed specs from QNAP NMP-1000P:
Processor
Sigma Designs SMP8643
Memory
512MB DDR II SDRAM, 256MB Flash
HDD Capacity
1 x 3.5″ SATA I/II HDD*, up to 2TB
Network Interface
1 x RJ-45 Ethernet port
USB wireless N adapter* (optional purchase)
VFD Display
9 alphanumeric characters
LED Indicators
Power/ Status (Player mode: blue; NAS mode: red)
Direction key (OK)
USB
2 x USB 2.0 host (for storage expansion, keyboard and CD/DVD/BD-ROM drive for playback of user-authored discs), 1 x USB 2.0 device (to PC, NMP works as a mass storage device)
eSATA
2 x eSATA ports (1 to external HDD; 1 to PC, as a mass storage device)
A/V Output
HDMI v1.3a, component (Y, Pb, Pr), composite video, analog stereo out, and S/PDIF optical
Audio Enhancer
High performance Wolfson WM8524 stereo DAC
Buttons
Power button
OK/ play button, four direction buttons, option button
Form Factor
Portable
Dimensions
204 (W) x 176.4 (D) x 62 (H) mm
8″ (W) x 6.9″ (D) x 2.4″ (H)
Weight
Net weight: 0.7Kg/ 1.54 lb
Gross weight: 2Kg/ 4.4 lb
Operation Environment
Temperature: 0-40°C/ 32-104°F
Humidity: 0-90% R.H.
Fan
40 mm, smart fan
Power Supply
AC Input: AC-DC adaptor, 110-240 12V
Power Consumption
Without internal HDD
• Standby mode: 7W
• In operation: 10W
With 2TB internal HDD
• Standby mode: 9W
• In operation: 16W
INSIDE THE HARDWARE
While the chassis and form factor has remained the same on the NMP-1000P as was on the NMP-1000, the heart of any media player–the chipset–has received a nice upgrade. Now powering the unit is a Sigma Designs SMP8643 chip, running at 667 Mhz. This is a pretty serious upgrade from the SMP8635 300Mhz chip that powers the NMP-1000. While I did not have any experience with the 1000, I can attest that the menu navigation of the 1000P was extremely responsive. I've tested a number of different extender-type media players and the menu speeds were as fast as I have seen. The only negative I could see to this switch was the omission of S-Video and S/PDIF Coaxial outputs from the rear of the unit–I couldn''t see any reason why they would have removed these ports from the NMP-1000 other than the chipset not supporting them or too much extra work to add them, since the space on the backplate is identical to the NMP-1000P.
In addition to the overall chipset QNAP has also integrated a dedicated Wolfson WM8524 high performance DAC which claims 106 dB SNR. I'm not an audiophile by any means, but if you are you will be very happy to hear this. Personally I bit streamed all my audio through my AVR (Audio Video Receiver) so this addition is irrelevant to my setup, but analog fans will be pleased.
Another benefit to the chipset switch comes in the form of 24p support for your television. Since my Panasonic plasma does not have 24p support I was unable to test this, but I confirmed the option is there in the menu. In addition,, the device is now fully 1.3a compliant for HDMI and handled bit streaming HD audio formats Dolby TrueHD and DTS Master Audio without any problems (7.1 channels supported).
Although the chipset has improved, this did not negatively affect any playback of files. There was not a single file type I tested on the NMP-1000P which it was unable to play. This included H.264, MKV, MPEG-4, DVD, ISO…and even BDMV ripped Blu-ray folders. In addition to being able to play the files themselves, the NMP-1000P is one of the rare extender devices which supports Blu-ray and DVD menus.
While the previously mentioned changes are strictly for the new hardware platform, this next feature is slowly working its way onto the NMP-1000 platform–support for IMDB movie information and cover art. This makes browsing your movie library signficantly friendlier and allows you to even add your own artwork for a given movie. This feature is also being added via some firmware if you have the NMP-1000.

Also new to the NMP-1000P but also available to previous customers via firmware is support of MediaFly internet video browsing. If you've never used MediaFly before, it's a popular add-on for media players like the Roku and provides convenient access to videos available on the internet, such as content from Revision 3. I was able to easily browse and queue up an episode of HD Nation without a problem.
Power consumption appears to remain the same, providing the impressive amount as its predecessor. On idle without a hard drive, the NMP-1000P consumes a mere 8.4 watts. This rose to 9.3 during HD media playback. With a 3.5" Western Digital Black 2tb hard drive the unit drew 14.9 and 16.1 watts during idle and playback, respectively. These are very impressive numbers when one considers that the features are comparable to an HTPC, sans tuner support of course.
CONCLUSION
Since I did not have access to the NMP-1000, my concluding words on the unit will be as a standalone value of the device and not as a sole comparison of old versus new. This being said, the upgrades that have been made do appear to be worthwhile as this was one of the most powerful media players I have had the privilege to test. It played any format I attempted while supporting some of the highest quality performance you could expect from such a small powered unit.
While availability in the United States is still quite scarce, those around the globe can enjoy this player today. In some searches online I found it for sale at under $400–this was a pleasant surprise given the $440 tag of the previous NMP-1000 model. What pleased me the most about a review like this is that a company is not only continuing to innovate and improve their product lines, but it is not ignoring or forgetting about their early adopters who purchased their previous versions. It seems that any features that are capable of being supported through firmware, are being supported for the NMP-1000. While this may seem obvious, there are plenty of companies who do not comply with this and when you spend $400+ on a device that's very reassuring news.
The only gripe I had for the unit was its start-up time. During my testing, it took the unit 65 seconds to power up and 27 seconds to shut down. Fortunately the device takes up such little power I would imagine many users will leave it on 24/7, but for power-conscious consumers, having to wait over 1 minute to begin using the device is fairly poor.
Pros:
Low power
24p Support
Bit streaming HD audio
Plays almost every format video file
IMDB integration for Movie info
Blu-ray ISO/BDMV support with Menu navigation
eSATA/USB support for fast data transfer
Can act as a bittorrent server
Cons:
High cost
Size still larger than we would like
Long bootup time
Thanks to QNAP for providing the review sample, and HD-Stor Inc for providing the Western Digital hard drive used for testing.