Parks Associates Confirms: Web-Connected Game Consoles Outpace HTPCs in U.S. Households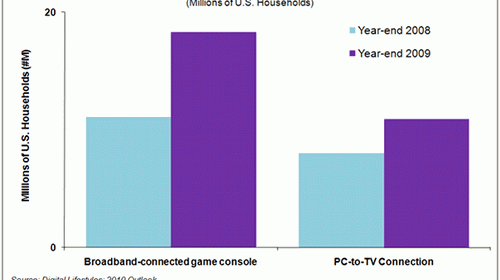 I don't think this is surprising at all, but still an interesting report to take a look at. I take it as a positive that even given the significant growth of web-enabled game consoles, the PC-to-TV connections also continue to grow.
Parks Associates' Digital Lifestyle: 2010 Outlook report finds that web-connected game consoles outpaced PC-to-TV connections in 2008, 2009, and most likely again 2010. The report states from 2008 to 2009 household web-connected games consoles increased by 64%, while PC-to-TV connections increased by 36%. Interestingly, though, Kurt Scherf at Parks Associates states: "Over three-fourths of U.S. households with PC-to-TV connections and one-third of Xbox 360 owners are using these connections to stream online video." So, in reality, HTPC users access video content online more frequently than game console users. However, game consoles are leading the way in terms of providing a connected-TV experience just by their sheer numbers.