The Daily Button: June 18th, 2008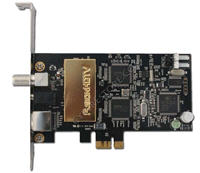 Welcome to another edition of The Daily Button. Today's edition is brought to you by Cyberestore.com. You can click on this banner at the top of the site, or simply click through this link . Cyberestore.com has the Fusion 7 Dual Express on sale for $139 dollars. The Fusion 7 is a dual QAM/ATSC tuner that allows for recording two streams simultaneously. The ATSC portion works in Vista but you will have to use the built in program for QAM tuning. Check out this AVSForum thread on the new card for more details and user success stories. It looks to be a great dual tuner ATSC\QAM card with an above average ability to bring in broadcast OTA channels.
I hope you have been enjoying my articles on setting up a DVD library in Vista. I plan on spending more time covering collectorz.com cataloging program and MCE plugin in the coming week :). So far it looks great!
---
VMC Podcast News: The Innoventions Dream Home #161 @ Ian Dixon
VMC News: Microsoft to increase support in Japan @ Chris L
Extender News: A look at the HP MediaSmart Connect Extender @ Vista Blog
AnyDVDHD News: Latest version circumvents new BD+ and AACS encrytpion @ Slysoft
Home Theater News: JVC SXXSW6000 5.1 surround system, $50 MSRP, review @ Sound & Vision
Speaker News: Energy Take Classic Speaker System, $599 MSRP, review @ Home Theater Mag
Cooler News: Noctua NH-C12P top down cooler review @ SilentPCReview.com
Storage News: Buffalo Linkstation EX 500GB NAS review @ Overclockers Online
Storage News: WD announces the 1 TB Caviar GP black @ Storage Review
Case News: Sunbeantech Acrylic case review @ madshrimps
Memory News: Crucial Ballistix PC64000 review @ XS Reviews