Cinemar offers UMPC with home automation and media control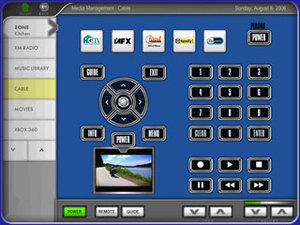 I once delved into DVD Lobby, only to escape a few weeks later scarred and bruised. I guess I was soft after my months of using Sage/BTV. I am sure setup for Cinemar's software has evolved into something much better and proof of this has to be their UMPC offering with HA and media control.
From the article:
I can't think of many better apps for a touchscreen UMPC than software that controls your home automation or media network. There are numerous software options out there, but one vendor, Cinemar, actually sells the Samsung Q1 preloaded with their MAINLobby client.
The bundled package costs $1199 and will still require the purchase of
the server-side software. Once you get your UMPC all configured, you've
got a touchscreen interface to control lighting, sprinkler systems,
Media Centers, thermostats and much more. The software looks fairly
intuitive to use; the automation rules appear to be configurable
through a common English language approach.