Camelot on Starz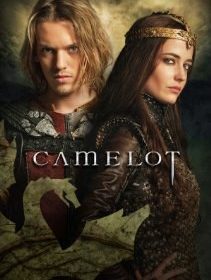 The wife and I just finished watching the two episode premier of Starz's original series Camelot this past weekend and, before I accidentally read any other reviews or forget what I saw, I thought I would share my own thoughts. Before delving into my own opinion (which will NOT contain any spoilers!), here is what Starz has to say about their show:
In the wake of King Uther's sudden death, chaos threatens to engulf Britain. When the sorcerer Merlin has visions of a dark future, he installs the young and impetuous Arthur, Uther's unknown son and heir, who has been raised from birth as a commoner. But Arthur's cold and ambitious half sister Morgan will fight him to the bitter end, summoning unnatural forces to claim the crown in this epic battle of control. These are dark times indeed for the new king, with Guinevere being the only shining light in Arthur's harsh world. Faced with profound moral decisions, and the challenge of uniting a kingdom broken by war and steeped in deception, Arthur will be tested beyond imagination. Forget everything you think you know…this is the story of Camelot that has never been told before.
Click the "Read more" link to continue…
Thankfully, Starz was upfront about the fact that they were not retelling the same old story. Additionally, this is not another Merlin (NBC/Syfy), which the wife and I also happen to be fans of, mind you. I also want to preface my opinion by stating I do not know every last, little detail about Camelot, Merlin, Arthur, the Knights of the Round Table, or Excalibur. At best, I have a rudimentary knowledge of the legend, most likely the same way you do: TV and movies. Enough already, let's get to the show…
I have to admit that I especially love it when new shows have no introduction at all before starting the first episode. This allows the viewer to have zero knowledge about what might be coming. I also prefer that shows air about 5 or so minutes of every episode before showing the opening theme/introduction, but I do not mind if they go "old school" either.
Right off the bat, the opening scene (again, no spoilers here) tries to set the tone for the series, albeit in a significantly lighter fashion than the rest of the episode winds up having. If anyone was under the impression that Camelot might have similar sexual or violent imagery akin to that of Spartacus, I can assure you that it does not (at least, not yet). To put that in perspective, my wife won't watch Spartacus, but she enjoyed Camelot's first two episodes. Spartacus Goes To Camelot this is not!
They managed to cover several parts of the legend in these first two episodes, yet it did not feel like they were moving along too quickly. In fact, neither of us realized we were watching a double episode until we looked some things up online. I thought it was simply an extended first episode. The pace of the story was brisk, but not rushed, and the hour and forty five minutes went by quickly. The action wasn't nonstop as there was adequate "down time" thrown in regularly, but at no point did it slow down to the point of boredom, nor did anything feel like "filler" attempting to bridge a gap in the story.
My sole gripe about the story thus far is how they are portraying Arthur. The writers seemed torn on whether to give rise to the future king inside him or to convey just how young and inexperienced he is. There are scenes which absolutely conflict with each other in this regard and it is hard to fathom this is the same individual at times. Personally, I think they stretched his character a little too far towards each extreme. I would have preferred a little more build-up over several episodes for some of the scenes, which would have made it more believable in my mind. At the same time, I understand they needed to progress the story forward in a reasonable timeframe, so I think that was why I was able to accept it.
The show managed to introduce the majority of the cast with just enough backstory to keep you interested, yet maintaining a balance of mystery, since this is a series. Perhaps the biggest mystery at this point is Merlin, himself. First off, this is not Gandalf, nor is it Disney's Merlin. Let's just say that they shroud Merlin in enough mystery at the beginning that you may wonder whether he is a good guy or a bad guy. Obviously, legend says he is the good guy, but what is revealed in these first two episodes absolutely gives rise to questionable morals about the character and where the writers will truly be taking him. This very thing actually makes the legend significantly more believable, as it clearly shows the human factor, instead of the legendary hero.
In the end, we both enjoyed the first two episodes and are looking forward to watching the third.
My suggestion: Watch it!
P.S. For you Netflix fans, note that since Camelot is on Starz, their recent deal with Netflix means you won't be able to stream it until 60 days after its first airing. Mathematically, that would be May 31st.
P.P.S. Feedback is welcome on this piece, since I'm considering doing this for new shows I decide to check out. First off, are people interested in such a thing? I pretty much wrote this without any format in mind, but if there's anything I can add/change to make it more interesting, let me know. The next review will be for HBO's Game of Thrones.