Birth of an A/V Snob – Part II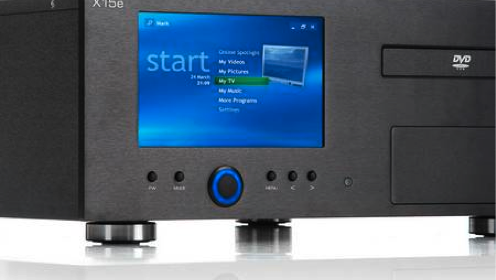 Rethinking the DVR

While living with TiVo DVRs for a few years, I considered building a Home Theater PC (HTPC) to solve some of the issues my TiVo setup had. I had been following the development of MythTV and was impressed with what you could do with what basically amounts to off the shelf commodity hardware. While some like to measure twice, cut once I am more the measure a dozen times, cut once… maybe. While I found the Linux-based MythTV interesting, it just seemed a little too daunting as I was looking for something a little more "plug-n-play."

Eventually I decided to play around with this new high definition television development and with my future wife we decided that our new home would get a plasma display panel television, the time seemed right. Again, I took a look at MythTV and while it would do what I wanted, I was still a little apprehensive about making my first HTPC a Linux-based one. I had also been following the developments of Windows XP Media Center Edition (MCE) and by this time OEM/System Builder versions were readily available. XP MCE Service Pack 2 enabled the reception and recording of ATSC HD Over the Area Broadcasts so this looked like a great option to me as I was much more comfortable with a Windows-based solution.

I wanted my first HTPC to be a special build so I went all out and got a premium case for it–an Origen AE X15e with an internal 7" touch screen LCD.
The touchscreen had some pluses and minuses; the plus was that I could do things like schedule recordings without having to turn the TV on or use a second display when I wanted to watch two sporting events at the same time. The minus was that the panel's native display resolution was 1024×768, which meant connecting and mirroring to a traditional high definition display at either 720p or 1080i/p was out–but since the VGA input on my first LG Plasma Display was 1024×768, it was perfect. This system eventually served an XBOX 360 as a Media Center Extender over an 802.11a wireless connection to our bedroom system.
A Chance to go BIG
Unfortunately, my first HTPC died a premature motherboard death, and since the HTPC was the only way to pipe any kind of TV into our bedroom, a replacement was needed. The new Windows Vista Media Center systems with Digital Cable support were available and this was the perfect solution at the right time so I found a vendor (Velocity Micro) and spec'ed out a system.
Core 2 Quad Processor
Four 750GB Hard Disks in a RAID-5 Array
2 GB of RAM
Two ATI Internal Digital Cable Tuners
nVidia 8600GTS card with HDMI and Component Support
The cablecard install went smoothly (even though this was the installer's first HTPC and probably the first one in the area) and when I went upstairs and brought up ESPN live on the XBOX 360 in the bedroom, needless to say, the installer was impressed. This system has continued to be the centerpiece for television viewing and later movies and has had the following upgrades done.
Increased RAM to 4GB
Replaced the RAID-5 setup with a small RAID-10 partition that houses the OS and eventually to a RAID-0 based Recorded TV partition that holds non-critical recordings
Addition of an HD Homerun QAM tuner with Dedicated NIC
Replaced the ATI DCTs with a Ceton InfiniTV 4
Added an HVR-2250 Hybrid Tuner
Added two additional XBOX 360 Media Center Extenders
A Cable Company supplied Motorola MTR-700 Tuning Resolver for Switched Digital Video
So now the system can feed live and recorded TV and Movies to four systems and has a total of ten tuners. Two Analog, four ClearQAM, and four Cablecard tuners connected either on the PCIe bus or via a dedicated network connection.
Bringing It All Together
Over the past couple of years I have steadily replaced most of my LaserDisc collection with DVDs, HD-DVDs, and Blu-Rays. Also in that time, I have started to rip my movie and television series collections onto hard disks for easier playback and less wear and tear on the media. At first we just used the built-in media playback capabilities of the XBOX 360s and Playstation 3s in the home but eventually we added a Popcorn Hour A-110 to the bedroom and used the YMMJ Jukebox software to provide cover art and metadata for the files and made for a much nicer presentation. Eventually this was replaced with Media Browser and now all the systems in the home have access to our library.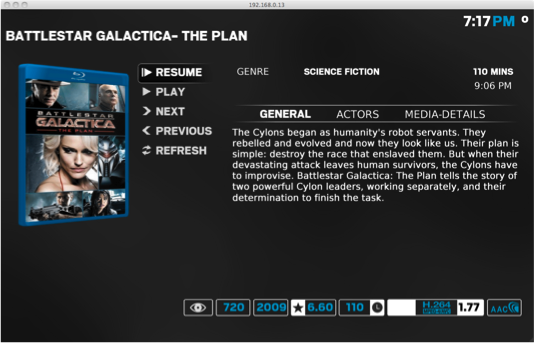 For storage we started out with three Cisco NAS200 devices each with two of them using the original hard drives out of the first HTPC. Eventually we outgrew that solution and now have all the movies stored on an HP Media Smart Server EX497 (running Windows Home Server), which currently has 4.5TB of space.
In addition to storing our movie collection, it also houses the backups for our four Macintoshes (a MacPro, Macbook Pro, Mac Mini, and a MacBook Air), our Netbook, the HTPC and a collection of Virtual Machines that I have running my MacPro that I use to test things before I put them into "production" on the home network.
We also use the Recorded TV archive feature to store some grilling shows for me and my wife's collection of Biographies.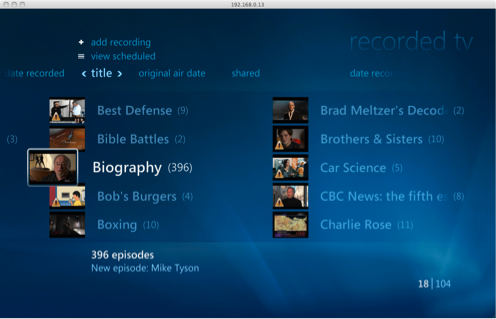 Yes, she really does have nearly 400 episodes of Biography on the Home Server! And very few (if any) of those are duplicates (I see to that on a weekly basis).
The Rest of the Story…
I thought I would take a quick moment and describe our three viewing systems.
Main System (Living Room)
Panasonic Viera TC-P58S2 1080p 58" Plasma Display Panel (PDP)
DVDO Edge Video Switcher / Processor
XBOX 360 Elite (Game System / Media Center Extender / Netflix Client)
Playstation 3 (Game System / Blu-Ray Player / Netflix Client)
Toshiba HD-A2 HD-DVD Player
GoVideo VHS/DVD Combo Device
Motorola DCH-3416 Digital Cable Set-top Digital Video Recorder
Nintendo Wii (connected directly to PDP, all other devices connected through the VP)
3.1-speaker system connected to an Onyko A/V Receiver (TOSlink connection to VP)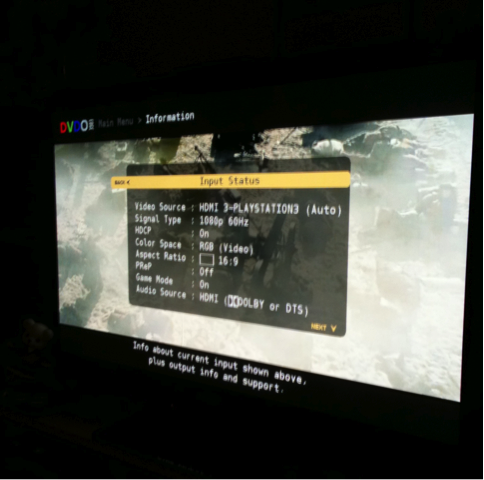 Picture of the TC-P58S2 displaying information from the Edge VP
Bedroom System (Master Bedroom)
Panasonic Viera PZ-80 1080p 42" PDP
XBOX 360 S (Media Center Extender / Netflix Client)
Sony DVD Recorder
Analog / ClearQAM cable connection to TV
Guest System (Guest Bedroom)
Panasonic Viera TC-L37C22 720p 37" IPS LCD TV
XBOX 360 Halo 3 Edition
The main living room and master bedroom system is connected via MoCA to the backbone Ethernet switch in the office. The guest bedroom system is connected via 802.11n (5 GHz) to the backbone switch and this can provide an HD stream between the HTPC and the extender with few dropouts.
There you have it…
That is how I got to where I am today. If there is any part of the system you have questions about, please leave them in the comments and if there is enough interest, I may dedicate a blog entry to them. Thanks for looking in.