Contest #11 – Amulet Devices Voice Remote Control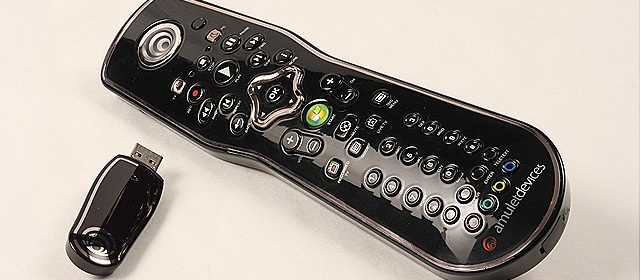 THIS CONTEST HAS ENDED! THANKS TO ALL!
Congratulations to sturner151 who was selected as the winner of the Arcsoft Total Media Theatre Platinum!
The prizes will keep coming and continue to get better believe it or not. For our 11th giveaway, we have courtesy of the fine folks at Amulet Devices, their Voice Enabled Remote Control for Windows Media Center!
With an MSRP of $199 (formerly $249) and continuing to have their software improved, Amulet Devices have developed the best way to control your Windows Media Center HTPC–simply pick up the remote, speak the command and voila!
We took an in-depth look at the Amulet Devices Remote Control and really loved how easy it was to use.
In exchange of extreme universal devices functionality and a touch screen Amulet provide you instead with voice controls to help you navigate–basically what touch screen buttons would do anyways. The big key here is whether the programmable buttons on the Amulet device are sufficient for your needs. In my case my setup was simple–a TV, AVR, HTPC and Xbox360…the Amulet will more than satisfy the universal needs while also providing me the ever crowd pleasing voice commands. Honestly, I could even see music aficionado opting to own both a universal remote like the Harmony and purchasing the Amulet if only for its dominance with managing music libraries.
HOW TO ENTER
The easiest and ONLY ONE MANDATORY REQUIREMENT TO ENTER is to respond to this post with an answer to: What would you say to your Media Center if you could (keep it clean!)?

That's it, just responding with the answer above will enter you in the contest!!
For this prize, we'll also allow 2 more entries (Optional) via Facebook and Twitter.
For Twitter:

Follow us at Twitter @MissingRemote
Tweet the answer to the question above
Include the following hashtag #MRamulet
AND include the following URL http://bit.ly/mramulet1
Don't forget your username!!!

For Facebook:

Visit our Facebook Fan Page and click the "Like MissingRemote" button at the top of the fan page
And reply to the question
Don't forget your username!!!
Good luck everyone

RULES/TERMS
As mentioned above, each user is eligible for up to 3 entries into this contest. Every prize will have its own prize definitions, so make sure to check the rules!
Entries will be accepted from 12:01PM PDT on Friday, December 10, 2010 through 11:59AM PDT on Monday, December 13, 2010. Winner will be selected by December 20, 2010.
This contest is unfortunately only available to US residents in one of the 50 states. Sorry to our international readers, but we are looking into expanding our prize packages in the future.

You are only allowed to enter using each method once. Multiple entries will disqualify you.

Must be a registered user to be eligible to win (remember, if you are entering additional entries when applicable via Twitter/Facebook you must mention your MissingRemote username in that entry)

Editors and staff, and associated family of staff are not eligible to win

Each prize may have its own rules for eligibility established by Product Sponsors, please read the directions carefully

Users may reply to a thread as many times as desired, but only one post will be counted towards the drawing

Winners will be notified via e-mail, as well as posted in a news post on the home page of MissingRemote.com; Failure to respond within 72 hours will result in a forfeit of prize and the prize will be re-drawn

Most prizes will be shipped to winners via either USPS Priority Mail or Fedex Ground and tracking numbers will be provided. It is the recipient's responsibility to coordinate receipt of item.

Some prizes will be shipped to winners directly from Product Sponsor–tracking will still be provided to those as well

Prize packages are in excellent condition and have not been used outside of for review purposes and are delivered in AS-IS condition

Any attempt to circumvent contest rules will cause ineligibility for user