Ceton InfiniTV 4 Installation Tip and Experience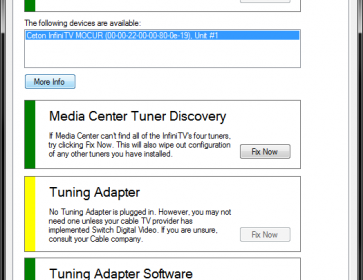 Yesterday was a big day in my household as I installed the long-awaited Ceton InfiniTV 4 CableCARD tuner into my HTPC (see mikinho's review here). My cable provider, Cox Cable, still requires a technician to come out and install the CableCARD, though, this will be optional by summer of 2011 thanks to the new FCC rules mandated in October.
Prior to my appointment, I installed the InfiniTV with the latest driver and decided to wipe my Windows Media Center (WMC) database of old tuner and guide information. Unfortunately, after wiping the database, WMC was not finding my InfiniTV tuner. With the technician showing up right at this point, I was a bit worried that I would need to reschedule the installation if I didn't get the CableCARD paired.
Fortunately, I found that Ceton provides an excellent utility to pair and troubleshoot the InfiniTV outside of WMC. After inserting the CableCARD into the InfiniTV, I brought up the following screen:
Clicking "More Info" brings up a browser-based diagnostic page:
The Cox Cable technician asked me to click the "Cisco CableCARD Host ID Screen" which brought up this tab:
The technician called in the information so that the pairing could be performed. I then brought up this "CableCARD" tab in the Ceton diagnostic tool:
I entered in several channels from my subscribed channels using the "Tune Channel" button. Once I verified that a few of my subscribed channels appeared okay, I checked the signal and signal to noise levels using the following diagnostic page:
Everything looked great with the installtion so I let the technician go. Later on, I was able to get WMC to detect the InfiniTV tuners by reinstalling the Ceton IniniTV drivers. So if you need to pair the CableCARD with the InfiniTV, you can simply use the Ceton diagnostic tools and configure WMC at a later point in time. Another benefit of this method is that it is much faster than navigating through WMC TV setup if the goal is simply to get the pairing done and the installer out of your home.