XtremeMac InCharge Home BT Wireless iPhone Audio Streaming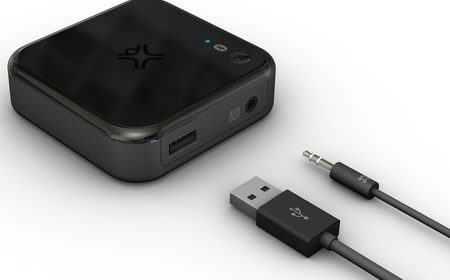 As the cellular phone has continued to improve its feature offerings, so too have companies attempted to find a home for that product within the connected home theater. Over the years we have seen universal remotes, video docking stations and a number of other devices which aim to capitalize on the popularity of those mobile devices. XtremeMac sure is hoping you are one of these and have the InCharge Home BT (Bluetooth) device which aims to connect your iPhone to your stereo via Bluetooth. Sounds simple enough.
A quick glance at the XtremeMac homepage and it is obvious that the company focuses on a very particular category of products: accessories for the iPhone and iPod. From cables to cases, there's not much I could think of wanting as an iPhone user that this company doesn't make.

The InCharge Home BT unit is along those lines as well, but with a nice home theater twist. Let's take a look at how XtremeMac describes it:
XtremeMac's InCharge Home BT turns any line-in enabled stereo/music system into wireless audio receiver solution for home or office. The Bluetooth pairing is fast and easy with the push of a button while the LED indicator ensures connectivity. A USB port provides 10 watts of power for fast charging simultaneously while transmitting music. The low-profile design allows access to a second outlet for convenience.

Features:

Wireless audio playback
Bluetooth pairing activation button
USB port with 10 watts for rapid charging
Low profile design allows access to second wall outlet
Standard USB connection
As we can see, it's a pretty straight forward device in regards to features. The unit arrived in a small compact box and contains everything one would need to get started–the InCharge Home BT device with wall plug, an iPhone USB charging cradle, a 3.5mm cable and a small leaflet for connection instructions.
Everything is very clearly spelled out on the packaging and the included documentation, making installation a snap. You simply plug the unit into the wall and connect the unit to your stereo via any available input channel. If you are using a traditional A/V Receiver (AVR) like I was, then you will need to purchase your own 3.5mm to RCA Left/Right adapter cable.
Once connected to the AVR, the final connection step is accomplished by navigating to the Bluetooth option on the iPhone, selecting the InHome BT network found and connecting to it. Then, when playing music from the iPod section of iOS, the audio is seemingly magically transmitted through the stereo instead of the phone's speaker.
Usage
Testing the InCharge Home BT from XtremeMac was a breeze–I had no problems connecting it to my phone and the range was not a problem in my apartment. The audio quality was crystal clear and there was no audio dropoff. Since this is an audio-only device, iPhone videos can be played and heard through the stereo, but of course no image will appear on the theater screen. In addition to music and videos, voice mails also work; unfortunately making actual telephone calls refused to work as the Bluetooth device was not recognized as a compatible speakerphone.
I ran the device through my Kill-A-Watt device to measure the wattage it pulled when streaming and was fairly stunned to see, at least according to the device, that it consumed 0 watts. I'm not sure how this is possible, so I'm going to make an educated assumption that the device does in fact use electricity, but it's just too little to be measured by the Kill-A-Watt. While charging the unit drew anywhere from 2.4-3.4 Watts.
Since the device latches onto the Bluetooth of the telephone, this remains the case until it is actively disconnected or unplugged. This became noteworthy when I switched inputs on my AVR and did not hear my telephone ring since it routed the ringtone through my AVR. Luckily, my iPhone is jailbroken, so it's a simple switch to turn the Bluetooth on and off, but for non-jailbroken iPhones, it's something to pay attention to.
The device will work just as well with iPod Touch and iPad devices as well, assuming they are compatible with Bluetooth.
Conclusion
The XtremeMac InCharge Home BT device has a suggested retail price of $79.99 and does exactly what it says it will do quite well allowing audio from an iOS-compatible device to wirelessly stream to an AVR or any radio stereo device with excellent quality and clarity. At its price point, do I wish that the device supported video broadcasting as well? Of course, but looking around the market the price is more than fair–I found some wireless iPod streaming devices for over $100.
The InCharge BT allows freedom of movement anywhere in the home within range and streaming of tunes through any audio setup and it does so as simple as possible.
Pros:
Super simple setup and installation
Crystal clear audio
Draws virtually no power
Cons:
Audio only
Can't be used with telephone feature
Thanks to XtremeMac for providing the review unit.