Intel DH61AG Media Series Mini-ITX Motherboard and Core i5-2390T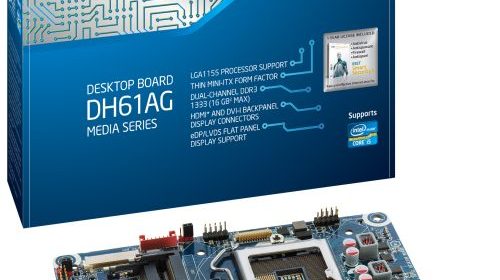 Not that long ago it was a significant challenge to build a small and quiet home theater PC (HTPC). Mini-ITX was an option, but case selection was limited and more importantly the form factor was held back by the lack of decent integrated video performance and the power/heat dissipation requirements of the processor (CPU) and graphics (GPU). With both of those concerns addressed with Intel's Sandy Bridge (SNB) architecture the next, natural evolution turned toward the mainboard. Intel responded again with a thin PC standard and today we have a chance to look at the first full featured implementation – the Intel DH61AG Media Series motherboard. In our first look several features were outlined besides the slim physique that make it especially interesting to the HTPC crowd; including a built in 19V DC power connector, mSATA support, eight channel analog line level audio and the brand new "HTPC" header which, with the right hardware can enable affordable HDMI CEC on the PC; today we couple it with a 2.7GHz 35 watt Core i5-2390T to find out if DH61AG makes good on the initial promise.
Since we have already covered the SNB integrated processor graphics (IPG) platform in significant depth in our previous looks at the family, so we will not spend too much time discussing the capabilities and feature set introduced in January. The Core i5-2390T does have some unique characteristics that make it stand out in the list above–most notably to achieve its 35W TDP Intel sacrificed two physical cores making it the only two core/four thread i5. This means in practice that the i5-2390T is architecturally more similar to an i3 than the other i5s – including the smaller 3 MB of L3 cache, but unlike the i3 it does have the other features like Turbo Boost and advanced virtualization support (making it more suitable as a low power Hyper-V server than the i3) found on "real" i5s so it will provide an interesting data point during our discussion on compute performance.
Hardware
DH61AG – Specifications
Form Factor:
Low Profile Mini-ITX (20mm[0.79"] x 170.18mm [6.7"] x 170.18mm [6.7"]))
CPU Support:
LGA1155 Core i5, i3 / Pentium / Celeron / Xeon – 65W Maximum TDP
Memory:
2x 204-pin DDR3 SO-DIMM 1333/1066 MHz (16GB Max) Supports 1.5 V and 1.35 V JEDEC-compliant memory
Chipset:
Intel H61 Express Chipset
Video:
1 HDMI / 1 DVI-I / Flat panel display support, including: Embedded DisplayPort (eDP) display panel interface LVDS display panel interface
Audio:

10-channel (8 + 2) analog audio via Realtek ALC892 audio codec supporting:

Digital/analog stereo line-out (2-in-1 digital/analog backpanel)
In-chassis stereo speakers support (internal)
AV-compliant 7.1 surround support (analog line-level via an internal header)

Secondary S/PDIF digital audio output (internal)
DMIC digital microphone input (internal)
Analog line-in (backpanel)
Front panel HD Audio/AC'97 headphones/mic support (internal)
8-channel (7.1) Intel HD Audio via the HDMI interface

LAN:
Intel 82579V 10/100/1000 Mbits/s Ethernet Controller
I/O:
2 USB 3.0 (back panel), 7 USB 2.0 (2 high-current back panel / 5 internal), 3 SATA 3.0 Gb/s (2 internal / 1 eSATA back panel), 1 mSATA 3.0 Gb/s (Full-Mini PCIe slot)
Expansion:
1 x PCIe 2.0 x4 / 1x Full-/Half-Mini PCIe (including mini-SATA (mSATA) support) / 1x Half-Mini PCIe
Consumer Infrared (CIR):
Nuvoton W83677HG-i I/O CIR (internal header)
Cooling:
2 PWM (4-pin) fan headers
The Intel DH61AG's slim profile makes it an interesting motherboard because it takes the DIY (do it yourself) HTPC builder one step closer to finally being able to replicate the small form factor (SFF) systems offered by OEMs like ZOTAC and AOpen. To assist with this goal the board includes a full size Mini-PCIe which also supports mSATA SSDs (small SATA solid state drives that are pin compatible with Mini PCIe), a half size Mini-PCIe and horizontally mounted DDR3 SO-DIMMs. An Intel 310 Series 40GB SSD and Intel Centrino Wireless-N 1000 WiFi module were provided to evaluate the performance of the Mini PCIe slots; please note that while pictured above they, along with the power supply, will not be included with the retail version of the DH61AG. It is completely understandable that two card are not be included as many users would not need them, but I was a bit perplexed by the decision to not bundle a PSU as finding the right model might present a challenge. When asked, Intel pointed out that just like other desktop boards a one-size-fits-all approach would not be appropriate as users will have varying demands of the system. With that in mind, several 19V and 19.5V power supplies were tested with the board with output ranging from 65W to 150W. Each worked perfectly but efficiency measured at the wall with a P3 International P4460 Kill A Watt EZ did vary slightly between units.
They do recognize the difficulty in locating a compatible power supply however, and are working with some vendors to compile a list which should be available soon. While we feel that it should be easier to obtain these items, it is important to recognize that as the first all-in-one SFF motherboard with broad retail availability there will be growing pains – a small price to pay for the innovative features provided.
UPDATE
For anyone having trouble locating a compatible PSU. We just received an email from Intel letting us know that Mini-Box.com offers two adapters that will work with the DH61AG. Unfortunately, both are currently out-of-stock but the 150W should be available August 3rd.
Because of the form factor some compromises versus a traditional Mini-ITX motherboard makes their way into the rear I/O panel–mostly with the loss of additional USB 2.0 ports. Unlike some other SFF systems which can be a bit minimalist, I did not find that functionality was necessarily hampered however – mostly because there are two USB 2.0 ports available for an external infrared (IR) receiver and combo keyboard/mouse. Alongside those ports we find standard 3.5mm headphone and microphone connecters which also provides a mini-TOSLINK (optical S/PIDF), Gigabit Ethernet, eSATA, HDMI, DVI (does not provide audio when used with a DVI->HDMI adapter), two USB3.0 ports and a feature I've never seen before – a 19 (± 0.5) volt power connector which eliminates the need for an internal power supply unit (PSU) like the picoPSU. Although if the case has an internal PSU capable of providing a 19V output, the DH61AG also provides an internal connector located directly behind it.
Besides the consumer IR (CIR) header found on other Intel Media Series boards which supports an internal Microsoft eHome IR receiver, the DH61AG also includes two other connectors that position it perfectly for HTPC use. The first is the appropriately named "HTPC" header which can be used to enable the "RECORDING_LED" feature as well as the much more interesting potential for HDMI CEC device control from the PC. Like the CIR header, third-party hardware will be required to enable CEC, but for those who are interested in the RECORDING_LED's simple on/off status indicator LcdWriter supports it currently. Unfortunately the CEC controller hardware is not yet available from third party suppliers so the feature went untested; hopefully this omission can be corrected shortly.
The other new HTPC specific feature found on the board is the eight channel line level analog audio header. Sadly we lacked the appropriate connector to test it as well, but Intel did let us know that the first revision of the board (G23736-400) shipped with a hardware issue which mixes audio from the center and LFE channels into the left and right side surrounds respectively when configured for 7.1 output – 5.1 configurations are unaffected by this issue. Second generation DH61AG (G23736-500) boards have the issue addressed, and they will honor the standard warranty process to exchange the affected motherboards if desired. It is unfortunate that the issue escaped validation; but I'm glad that Intel proactively identified it, let us know, and is doing the right thing for end users.
The DH61AG's BIOS is standard Intel Media Series so the same flexibility to choose power LED behavior in S3 standby exists (a highlight for me) as well as some Fast Boot options that dramatically reduce boot time are available. It is important to note that when all of the Fast Boot features are enabled getting into BIOS can be somewhat tricky, so make sure you read the caveats and instructions before turning them on.
Build
Test Configuration:
| | |
| --- | --- |
| CPU: | Intel Core i5-2390T (2.7-3.5GHz) |
| HSF: | GELID Solutions Slim Silence i-Plus, Noctua NH-C14 |
| Motherboard: | Intel DH61AG |
| RAM: | G.SKILL 4GB (2 x 2GB) 204-Pin DDR3 SO-DIMM DDR3 1333 |
| Storage: | Intel 310 (mSATA) 40GB SSD |
| Optical: | Sony BC-5600S Blu-ray drive |
| Power Supply Unit: | 150W LITEON PA-1151-03 |
| Case: | Wesena ITX7, Wesena e5, HDPLEX H5.S, HD Plex H3.SODD, Mini-Box M350 |
| OS: | Windows 7 SP1 Ultimate 64-bit |
| Tuner: | Ceton InfiniTV 4, AverMedia Duet, AverMedia M780, Hauppauge HVR-2250, Hauppauge HD PVR Colossus |
| AVR: | Denon AVR-1909 |
| Display: | Panasonic TC-P58VT25 |
We did not have a case available that really highlights the capabilities of the DH61AG's form factor, so quantity will have to do. Working with the board was quite easy; several tuners were installed in the PCIe x4 slot with nothing to report but success. There were some trade-offs in the larger chassis like the Wesena e5 (review coming shortly) where the included power connector (which plugs into the left side of DH61AG) was not long enough to reach the drives located on the other side of the enclosure –something that can be clearly be addressed with some extra cabling, so plan ahead.
Space was at a premium, so there was an issue with the GELID heat sink and fan (HSF) where it overlapped a row of each front panel USB2.0 header. This issue was only observed with this HSF though because of its shape (i.e. the round retail Intel HSF did not block access), and a little time with the Dremel to cut a couple notches would cleared it up as well.
The only other issue worth pointing out was noted with the HDPLEX's passive cooling solution where the mounts needed to be modified to prevent collision with some of the chips on the bottom of the board. To be clear this issue was not present with the GELID, which also uses bottom mounts secured to the board, because the diameter is much shorter.
Windows 7 SP1 installed quickly and without issue, but like many newer systems the network interface controller (NIC) drivers were not included with the OS so at the very least make sure you have them on hand. Generally I prefer to install drivers in a specific order starting at the most basic level, then going upwards until all of the exclamation marks have disappeared from Device Manager. Putting a copy of the chipset, storage (RST), NIC, Management Engine Interface (MEI) and video drivers on a USB drive then installing in that order is recommended. It should be noted that anyone using this system as an HTPC must install the MEI and video drivers, as both are required for proper audio and video playback with PAVP (protected audio video path).
Along with the drivers, Intel Desktop Utilities (IDU) is highly recommended on their motherboards because it is a convenient way to judge the cooling performance of a build. Three different scenarios are included in gallery above with both of the Wesena enclosures at idle and at full load. The ITX7 was setup in two configurations; the first with just the HSF installed and another with an 80mm exhaust fan used as well. As we can see from the results the DH61AG and Core i5-2390T performed quite well under stress, but depending on the enclosure (i.e. the ITX7 has limited natural convection) a second fan provides extra headroom.
Media Performance
The Intel Core i5-2390T's audio capabilities were consistent with the other SNB systems tested–which means full support for multi-channel LPCM and HD audio bit streaming, but continues to exhibit the issue with decoded content over HDMI where six channel files played on a 7.1 configuration improperly map left/right surround audio to the left/right rear surrounds instead of the correct left/right side speakers.
Consistent with the earlier reviews levels performance continues to be handled well, with correct 16-235 output as the span from black to white for video and 0-255 for PC content. Blacker than black (BTB) and whiter than white (WTW) are clipped by default by the driver, with the same option available as before for those who prefer to maintain it for calibration.
Overall picture quality results were also the same as what was observed previously with the real world examples of 480i, 720p, and 1080i source material.
Given the previous results it was not surprising that the screenshots above showing refresh rate precision with UAC disabled in line with our measurements from before. I have heard that Intel is working on enabling better precision than is currently observed with UAV enabled, but it was not able to produce results significantly different from what we have seen before with the current drivers.
Power consumption is an important metric when building a small form factor (SFF) HTPC, and previously required unpalatable compromises in system performance to meet a specific design goal. With an average idle draw of only 14.6W and a maximum of 57.1W alongside excellent hardware accelerated (DXVA2) and software based playback the Intel DH61AG and Core i5-2390T demand few trade-offs in this area. DXVA2 support is an issue with the built in MPC-HC video decoder for both AVC and VC-1, but it can be substituted with a commercial filter or by enabling the Ffmpeg based software decoding if that is preferable.
Compute Performance
With unparalleled flexibility and capability, the HTPC is unmatched in the A/V stack so when evaluating a system we like to also include overall media consumption which includes features like commercial scanning and transcode performance. For starters let's take a look at ShowAnalyzer (SA), a utility used to detect commercials in recorded TV files which can be used to skip them during playback or while transcoding, performs on the Core i5-2390T and DH61AG.
SA is a great tool for stressing a system because it consumes large amounts of CPU and I/O resources. In this test three files utilizing different containers and codecs were scanned on each system with the time to completion represented in the graph above. As we can see the Intel Core i5-2390T performs quite well, with results that are very close to those produced by its four physical core sibling thei5-2400S and surprisingly better than the 2.5GHz i3-2100T – most likely due to Turbo Boost.
Taking a look at Handbrake, a popular open source CPU based transcoding utility, we can see that the 2.7GHz i5-2390T produces results quite similar to what we observed with SA with differences between CPUs attributable to core count, clock speed and Turbo Boost. Raw performance is not generally why one selects a 35W CPU though, so there is more to the story.
Nothing is free, and the power results are indicative of the trade-offs required by moving from an i3-2100T to the i5-2390T as both are 35W CPUs.
By now we should all be familiar with the Quick Sync (QS) feature introduced with Sandy Bridge, but for those who are not it is essentially fixed function transcoding hardware intended to compete with GPU compute instruction sets like CUDA and APP. Having examined the performance benefit versus the other approaches previously instead of rehashing, the i5-2390T will be added as an additional data point when using ArcSoft's Media Converter 7 (MC7) with the HTC EVO 4G transcoding profile.
The results are not terribly interesting when just looking at the metrics for software based transcoding where a clear relationship can be observed between core count/frequency and encode duration. The numbers for QS on the other hand are, where there appears to be a small performance penalty for moving from a four core to a four thread CPU but a more significant delta as maximum single core frequency declines.
There is a difference in target bit rate in the output files between the two methods, so the graph above corrects for that with essentially the same conclusions drawn.
There is a slight surprise in the power numbers, but only for 480i where the i5-2390T (and i3-2100T) has a higher average draw when using QS than CPU. With the other two file formats power consumption is consistent with the other results.
Correcting for bit rate easily explains the previous results however, as a clear downward trend towards the lower frequency/fewer cores CPUs is observable.
Finally the average CPU utilization numbers captured during the test runs are also presented. There is not much that can be drawn from a comparison except that QS provides a significant offload of processing cycles, freeing the CPU for other things.
Conclusion
To say that I am enthusiastic about the Intel DH61AG Media Series motherboard is an understatement–not just because of what is now, but because of what it signals about the future. HTPC is clearly a niche but many of our needs mirror the wants of the greater consumer electronics community and as Moore's law brings the capabilities of our hardware into their power envelope we will see more systems like this that can serve us both – providing features like the HTPC and audio headers at a scale that makes it viable in the marketplace and hopefully into other motherboards as well. We were not able to nail down an exact MSRP for the DH61AG, but the expected price should settle around ~$117 for the retail version, with the current street price at $119 it is an excellent value for the feature set, and potential.
Pro:
Form factor
HTPC centric features (CIR, HTPC, line level audio)
Sandy Bridge IPG in a smaller, easy to use system
Stability
Intel NIC
mSATA and 2x (1x Full/1x Half) Mini PCIe slots on-board
Con:
Expandability somewhat limited (e.g. hard to use as a Windows Home Server with only 2x internal SATA ports)
Hardware/software for HDMI CEC does not exist yet
Limited retail availability for CIR and analog audio header hardware
Limited retail choice for mSATA SSD
Thanks to Michael Welter and Mike Garcen for contributing to the review and Intel for the review samples.