Hauppauge Colossus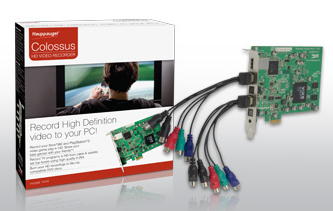 We have been providing a Q&A thread at Missing Remote to help answer questions regarding the Hauppauge Colossus. Now that the Colossus has been out for several months, we think it's a good time to provide a review.
For those unfamiliar with the Hauppauge Colossus, it is an HD-capable video capture device that can be used to capture all types of video whether it comes from a TV provider's set-top box, video game console or VCR. The Colossus features a plethora of inputs and outputs all in a single PCIe x1 slot to cover all of these capture scenarios. Compared to tuner-based solutions, the Hauppauge Colossus can potentially offer the ultimate choice in HDTV programming providers as well as provide the ability to record content completely free of DRM.
We'll take a look at how well the Colossus performs as both a capture device for HDTV sources in a home theater PC (HTPC) scenario as well as when used as a general capture device for tasks such as videogame recording.
Specifications
Inputs

Video

Component, Composite, HDMI (un-encrypted)

Audio

Analog, S/PDIF, HDMI (un-encrypted)

Infrared

IR Sensor (40")

Outputs

Video

Component, Composite

Audio

Analog, S/PDIF

Infrared

IR Blaster (117")

Encoder

Video Coding

H.264, 1 – 20 Mbps

Video Input Formats

1080i (60/50), 720p (60/50), 576p (50), 576i (50), 480p (60/50), 480i (60/50)

Audio Coding

AAC (PCM source), AC-3 Passthrough

System Requirements

Operating System

Windows 7 (64/32-bit), Vista (64/32-bit) or XP SP2(32-bit)

Motherboard

PCIe x1 Slot

GPU

256MB or greater

CPU

Dual Core 2GHz or greater

Physical

Dimensions

6" L x 4.5" H
Test System
| | |
| --- | --- |
| Motherboard | Gigabyte GA-MA790X-UD4P |
| CPU | AMD Phenom II x3 720 Black Edition AM3 2.8GHz |
| Memory | Crucial Ballistix PC6400 DDR2 800MHz (2x2048MB) |
| GPU | HIS Radeon HD 4850 IceQ4 1GB |
| Hard Drive | Seagate ST3500418AS 7200.12 7200RPM 500GB SATA |
| Optical Drive | Samsung 22X DVDRW SATA |
| Power Supply | PC Power & Cooling Silencer 750W 80Plus |
| Chassis | Cooler Master SGC-2000-KKN1-GP Storm Scout |
| Operating System | Windows 7 Home Premium 64-bit |
| Cable Set Top Box (STB) | Scientific Atlanta Explorer 4240HDC (Qty. 2) |
| Cable Provider | Cox Cable, South San Diego County |
Packaging and Hardware
Unfortunately, our review samples did not come packaged in a retail box nor did we receive the remote control that is bundled with the product so we are unable to comment on those aspects.
When purchasing the retail package, the following items are included:
Hauppauge Colossus PCIe Card (Qty. 1)
Component Video/Composite Video/Analog Audio Dongle (Qty. 2)
Component/Analog Audio Cable (Qty. 1)
IR Sensor/Blaster (Qty. 1)
Infrared Remote Control (Qty. 1)
AAA Batteries (Qty. 2)
CD Containing WinTV v7 and ArcSoft ShowBiz Software (Qty. 1)
Looking at the card physically, it is worth noting that the Hauppauge Colossus is a full-height PCIe card so this precludes installation into a low-profile small form factor (SFF) chassis. The number of physical input and output ports obviously would require a second slot or a redesigned breakout dongle if the card were to be designed in a low-profile form factor.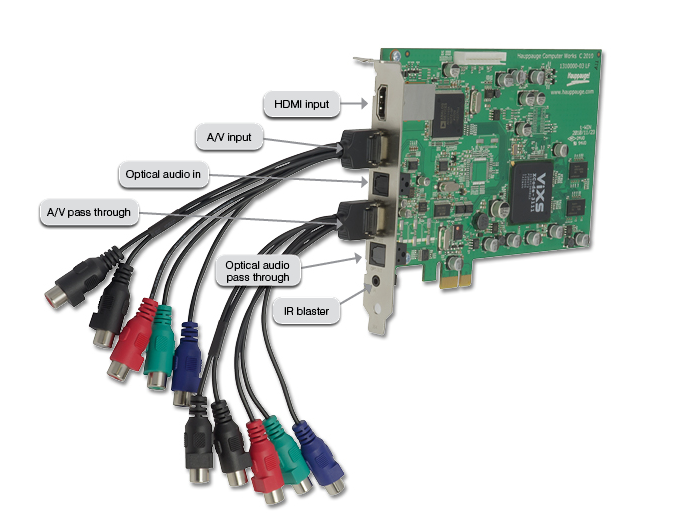 When inspecting the dongle required to connect analog video and analog audio, one might be concerned about it coming loose with the weight of the cables or any sort of tugging. There is no need to worry because Hauppauge has designed the dongle to lock into the connector when it is inserted. In order to remove the dongle, a button on the connector must be pressed to unlock it and enable removal.
A white receptacle is also present on the Colossus that serves as an auxiliary composite video and analog audio input. The required cable is not currently available at retail so it must be purchased by contacting Hauppauge directly. The cost of this cable is unknown at this time.
When planning to use the analog inputs and outputs, the amount of space required for all the cables should be accounted for, especially if quarters are tight behind the PC housing the Colossus. One last note regarding cabling is that the included IR sensor is relatively short at 40 inches in length though this is of little concern if using an external IR receiver or the IR sensor is not required for the application at hand.
Performance and Usage
All commentary regarding the Hauppauge Colossus in this review is based on the performance and feature set offered by the 29168 drivers unless otherwise noted.
General Video Capture
The Hauppauge Colossus accepts unencrypted video (1080i, 720p, NTSC, PAL) and audio (PCM, AC-3) on the inputs listed in the specifications table above and encodes video using standard H.264 (High Profile 4.0 with HD video) while analog audio is encoded using AAC-LC (variable bit rate). If the digital audio input is AC-3 (Dolby Digital), the AC-3 audio is passed through the Colossus encoder and kept intact as it was originally received. The Colossus does not yet accept DTS audio, though it is something planned for in a future driver. Note in the image below that while it shows HDCP as "Supported," the Colossus is not capable of accepting encrypted video.
The Colossus also outputs the received video and audio on the outputs listed in the specifications table as they were received. While there is no HDMI output, users desiring that functionality could purchase a relatively inexpensive HDMI splitter to send the HDMI source to the Colossus and the display. There is no perceptible lag using the outputs so this feature is useful if the video being captured needs to be monitored in real-time. Gaming is a perfect application requiring the output connector use. Another use case would be when access to a STB is desired for configuration purposes or access to video on demand services.
Hauppauge provides a copy of ArcSoft ShowBiz which is used for general video capture tasks as well as providing a way to adjust some of the Colossus driver settings. The ShowBiz application is extremely straightforward and easy to use with the capture workflow defined by the tabs: Capture, Edit and Produce.
Under Capture, a window is provided with the video being processed by the Colossus. The inputs can be set appropriately as well as what type of container the video should be captured to. In the Edit tab, video can be dragged into a timeline and trimmed as necessary. Finally, in the Produce tab, the final video can be burned to disc, saved to file or uploaded to YouTube.
Using ShowBiz, the Colossus can serve as a capable solution for anyone seeking to digitize analog sources or liberate content from some other type of device.
Audio/Video Quality
Overall, quality from the Colossus was excellent. While it is virtually impossible to find the exact same frame within two different video files, I attempted to obtain nearly identical capture samples from a Ceton InfiniTV 4 recording and a Colossus recording of the same program. The default video bitrate of 8 mbps average able to vary up to 12 mbps configured by the Colossus was used.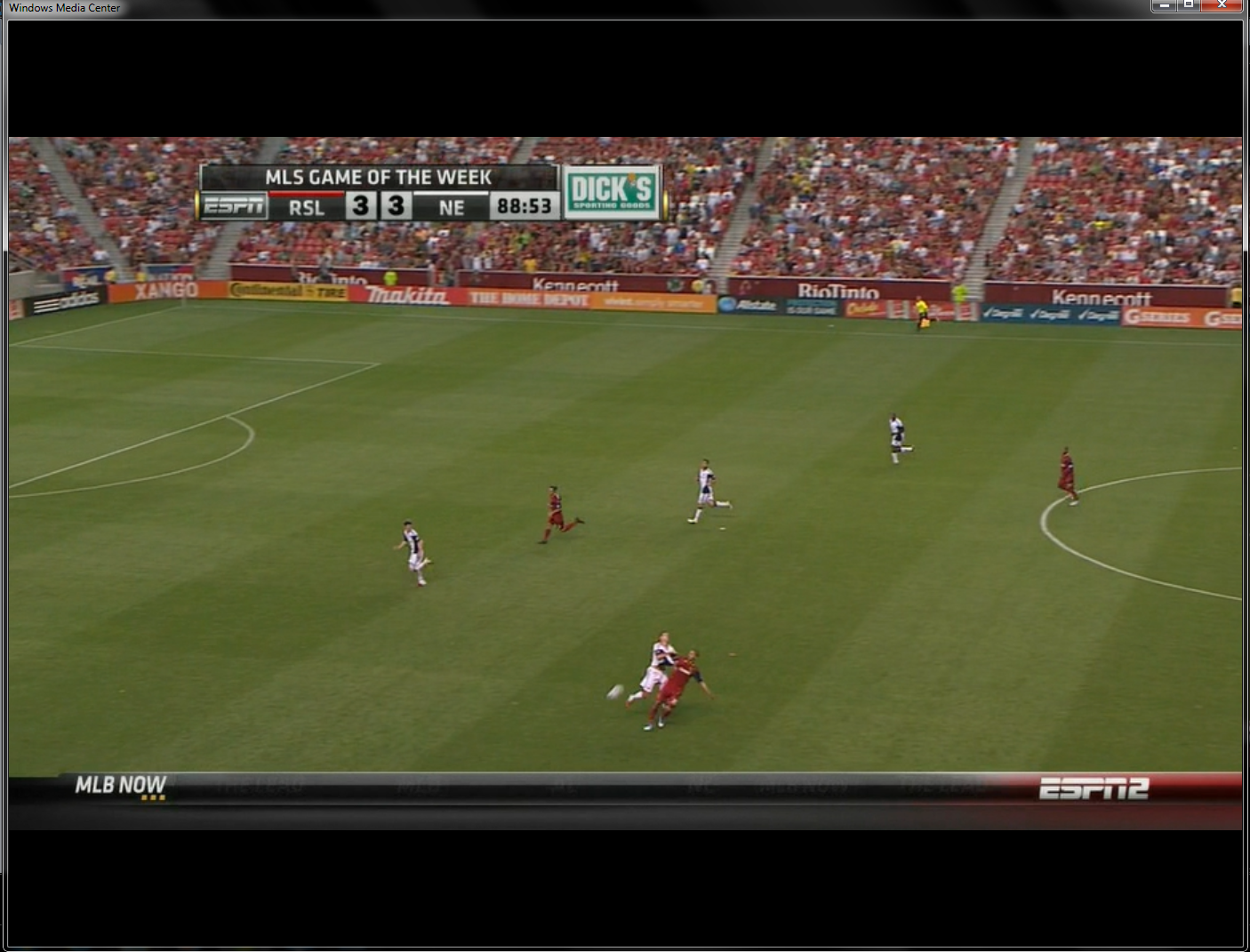 Ceton InfiniTV (click on image for original)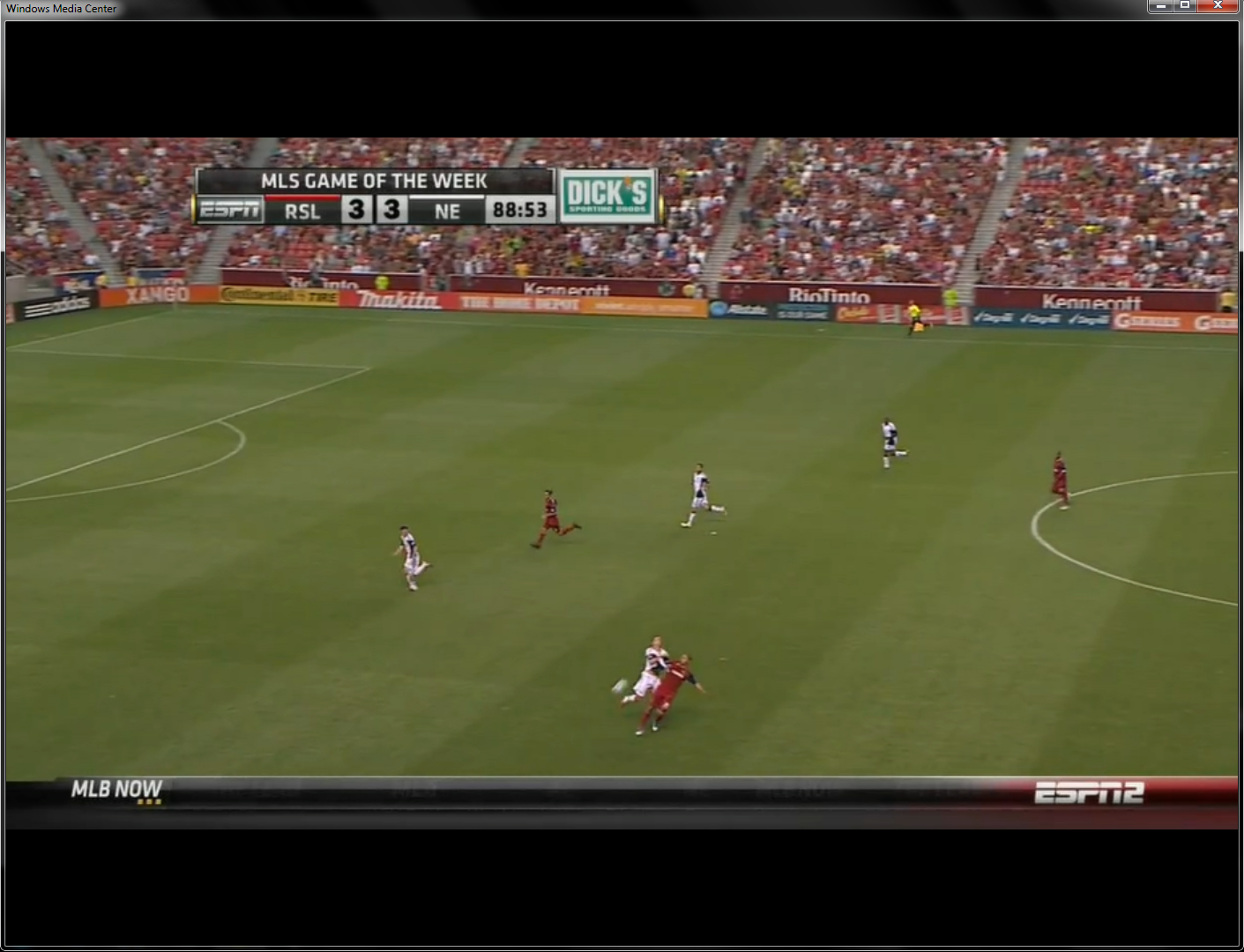 Hauppauge Colossus (click on image for original)
Looking closely, it can be seen that the Happuage Colossus is very good although not equal to that obtained by the Ceton InfiniTV 4. Looking at the grass in particular, details apparent in the InfiniTV recording are absent in the Colossus recording. To be fair, the Colossus is working at a disadvantage because the video it is fed has been decoded by a cable STB and must be encoded again by the Colossus whereas the InfiniTV recording can display the video exactly as it was provided. The quality of the STB decoding certainly can play a role in how good the source video and audio input to the Colossus is, thus, your mileage may vary.
Most viewers will likely be satisfied with the default settings provided by the driver. That said, it may be possible to obtain a better quality encode from the Colossus by increasing the bitrate setting although it will result in larger file sizes.
On the audio side, no aberrations in quality could be detected. When capturing with optical, quality on Dolby Digital soundtracks will be identical to the source since the compressed bitstream is passed through the Cable STB and through the Colossus encoder. For stereo audio sources, quality was still excellent, even with the extra transcode cycle. Both audio input sources performed well with respect to audio-video synchronization.
Windows 7 Media Center
In the 29168 release of the Hauppauge Colossus drivers, Windows Media Center (7MC) is limited to a single card though I was able to beta test two cards through some help from Hauppauge.
On its own, Windows 7 Media Center (7MC) does not support capture cards. However, Hauppauge has provided some additional software to allow the Colossus to be detected as a "Digital Cable" tuner in 7MC. The first step is to configure the Colossus in the Hauppauge 7MC TV setup application which allows a selection between audio inputs (Line, S/PDIF or HDMI) and video inputs (Component, HDMI, Composite).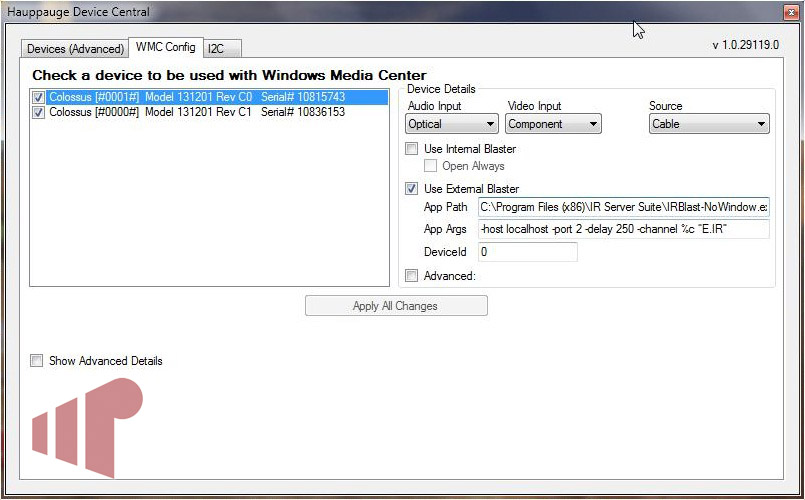 In addition, an internal or external blaster can be chosen. The internal blaster utilizes the included IR blaster. The external blaster can utilize any number of applications to control the STB which may control it via FireWire, serial port, Ethernet or IR. The internal IR blaster worked perfectly, however, when using two Colossus cards, internal IR blasters are not supported so an external ehome IR blaster was utilized using IR Server Suite (IRSS) which also worked perfectly.
After running the Hauppauge Colossus 7MC TV setup application, the normal 7MC TV setup is performed. 7MC detects each Colossus as a "Digital Cable" tuner. During the final stages of the TV setup when 7MC tries to detect all of the channels, there is a bit of an oddity in the procedure where even though 7MC says it has finished, it really hasn't and time must be allowed until HDD activity LED ceases before concluding the setup.
Once the configuration procedure was complete, testing commenced. Twenty recordings were scheduled over a period of one week with the system allowed to sleep between recordings and also two periods of 24-hour marathon recording sessions were undertaken (one with a single Colossus and internal IR blaster and the other with two Colossus cards using external blasters). The cable STBs were allowed to supply the native source resolution of each program to the Colossus inputs. Unfortunately the cable STBs used seem to apply HDCP so the Colossus HDMI input could not be tested. Instead, component video and analog audio inputs were utilized. While not every piece of every recording was studied, all recordings were examined in at least five intervals from beginning to end; at no time did any recordings fail or show any anomalies.
Another 24-hour marathon recording session was scheduled, but this time with optical audio as the input so that Dolby Digital soundtracks could be recorded when available. Unfortunately, there was a single recording failure where the audio was badly out of sync and video was choppy so the success rate was 98%.
Recordings made with the Hauppauge Colossus were all free of the "Copy Protected" status on channels that are typically copy-protected when utilizing the InfiniTV Digital Cable Tuner (DCT). This is of great benefit to anyone looking to use automated commercial skip software or archive recordings for playback on multiple HTPCs and devices other than the recording PC.
Because the Colossus is a capture card and relies on a STB (and IR control in our tests), channel changes are a bit longer than what can be achieved using a DCT. We measured anywhere between seven and ten seconds for a channel change with the Colossus while a Ceten InfiniTV 4 clocks in around around four to five seconds.
It should be noted that the aspect ratio driver setting had to be configured manually in order to get the correct aspect ratio for SD content and to avoid some amount of recording failures that were observed in early testing. Hauppauge has fixed the issue in a beta driver that was made available for testing so this issue should be resolved in the next public driver release.
SageTV
In SageTV 7.1.9, the Colossus is natively recognized as a capture device. Due to the limitation of using the internal blaster with two Colossus cards mentioned previously, an external ehome IR blaster was again utilized using IRSS and a SageTV plugin called ExeMultiTuner.
Multiple tests of 24-hour recording marathons were scheduled, however, in all of the tests, a Blue Screen Windows crash (BSOD) occurred after three to four hours of recording. This information along with debug files have been provided to Hauppauge and hopefully a fix will be able to be developed soon.
Update: Some additional testing utilizing the new 29192 driver and disabling a Hauppauge utility service used for 7MC looks as if it could be a workaround to the BSOD issue that was experienced. Testing is still underway, but after 12 hours of recording, there have been no BSOD!
Power
Power usage of the system was measured at the wall using a P3 International P4460 Kill A Watt power meter. The measurements seem a bit odd– a single Colossus added 7 watts while adding a second Colossus only added an additional 2 watts. Recording with a single Colossus installed only added an additional watt while recording with two Colossus cards added 7 watts. Perhaps the non-linear increase in power usage as the additional card and tasks were added could be explained by some sort of power-saving circuitry that exists in the AMD chipset handling the PCIe lanes.
| State | Power Draw (watts) |
| --- | --- |
| Base System, Idle | 94 |
| Base System + Colossus, Idle | 101 |
| Base System + Colossus, Recording | 102 |
| Base System +2x Colossus, Idle | 103 |
| Base System + 2x Colossus, Recording | 110 |
Conclusion
For general video capture, the Hauppauge Colossus performs admirably and offers a compelling value to anyone looking to record video gameplay or liberate video content from VHS, an old DVR or other source. Audio and video quality are both excellent using the default out-of-the-box driver settings and can be altered to fit the desired use case. The inclusion of ArcSoft's ShowBiz will be welcome to anyone desiring the general video capture feature and makes the capture process quick and easy.
When it comes to HTPC usage, the Colossus has a few flaws that need to be worked out to be fully relied upon as a primary recording device. Usage under 7MC was the most stable and with a new driver fixing the aspect ratio configuration, the Colossus could very well be ready for use as a primary recording device. At least on the tested PC, using the Colossus with SageTV 7.1.9 as a primary recording device is impossible due to the BSOD crashes experienced every three to four hours.
For purely HTPC use, the asking price of the Colossus is quite a bit more than a typical DCT. A single Colossus retails for $159 while the upcoming dual-tuner Hauppauge WinT-DCR-2650 DCT will retail for only $149. There is also generally a fee to be paid for renting a STB as well which is more expensive than the cost of a CableCARD rental. Of course, the Colossus brings its own value to the table with its ability to capture any video from many different sources including satellite TV providers and provide DRM-free recordings. There is certainly an HTPC-only category of user though who will not use the general video capture functionality so it would be ideal if there were a less expensive version of the Colossus that did not bundle ArcSoft ShowBiz and the remote control.
We'll continue to work with Hauppauge on the issues we experienced and will be sure to update this review when the issues have been resolved. We also look forward to future drivers bringing official support for multiple Colossus cards in 7MC which worked perfectly during testing for this review.
Pros
Recordings are free of DRM
Gives HTPC users flexibility in choice of programming provider
Flexible I/O
Ability to capture HD video from a variety of sources such as videogame play and video recordings
Cons
No card-only package for HTPC users
BSOD crash after a few hours of recording using SageTV
98% recording success rate in 7MC when using optical audio
Currently limited to a single card in 7MC
No HDMI output option
Not low-profile
Internal blaster only works with a single Colossus
Channel changes can take as long as 10 seconds
The Hauppauge Colossus can be purchased from Amazon or Newegg.
Thanks to Hauppauge for providing the Colossus review samples.