Elgato EyeTV Hybrid USB Tuner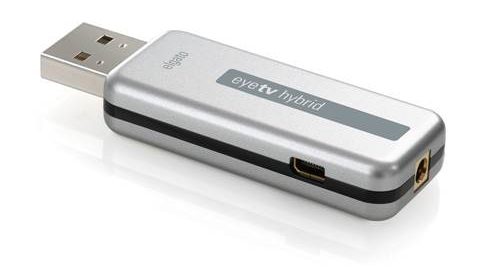 When home theater computers first came to market almost 10 years ago, the television tuners that were available were few and far between, all internal, and featured a whopping single tuner. How times have changed. Now, dual tuners are a given and hybrid tuners seek to accomplish the duty of one-size-fits-all for all customers. The Elgato EyeTV Hybrid is one of those that within its tiny dongle of a body contains an NTSC, ATSC and DVB-T tuner for $129, and works with both Windows and Mac computers. With competition so steep in the tuner world however, how does it match up in a real world evaluation?
Technical Specs
First a bit about Elgato…
Elgato produces award-winning TV software together with a complete range of TV tuners and capture devices to watch, record, and edit TV and HDTV on Macs and PCs. Elgato is the home of EyeTV, the world's leading television solution for Mac computers. Elgato also produces a variety of world-class H.264 video conversion and streaming products. Elgato is privately held with offices in Munich, Germany and San Francisco, California.
…and the EyeTV Hybrid tuner:
Our smallest hybrid TV tuner ever, EyeTV Hybrid packs a lot of features into one very small TV stick. Powerful and versatile, EyeTV Hybrid is the right choice if you get your TV signal from basic (unscrambled) cable. But that's not all – EyeTV Hybrid can receive digital TV with an antenna, and can also capture standard definition video from analog sources such a camcorder or VCR.
The tuner used within the device is the ATI Theater HD 750 chip and offers a number of features according to the product page. Here are the technical specifications of the tuner:Analog- /ATSC-Tuner
Frequency Range: 48-801 MHz (VHF and UHF)
Analog TV Standards: NTSC
Digital TV Standards: ATSC, Clear QAM
Input and Output

USB 2.0
Antenna input: MCX (includes adapter to standard F connector)
S-Video (via break out cable, included)
Composite video (via break out cable, included)
Stereo audio (via break out cable, included)
IR remote control sensor

Power Supply
Dimensions
Weight
Inside the Box
As you would expect from a product touted as the "world's smallest tuner," the Elgato EyeTV Hybrid box is extremely small and includes everything you will need to get up and running. In addition to the minuscule USB tuner comes the coaxial adapter connector, a USB extension cable, RCA/S-Video adapter cable, software key and quick-start guide.
It's important to note if you are shopping around that Elgato has already had a previously named "EyeTV Hybrid" product from several years ago that is a different unit. It looks different and I believe contains a different tuner, so if you're looking for the best price please be cautious and make sure it's the new model.
As you can see from the images of the tuner itself, it is shockingly small in size weighing 16 grams and sizing up at 62x21x10mm–that's tiny! Of course, when you add the coaxial adapter or the S-Video cable it makes the unit larger, but you would have that issue with any tuner of this size.
Setting It Up & Testing – Windows 7
I used my main Windows 7 Ultimate PC for my initial tests (Intel Core i5-330, 4GB DDR3, 80GB SSD). Installing the Elgato EyeTV Hybrid could not have been simpler–you plug it into your system and–in Windows 7–let the unit self install. I did not need to install any drivers before Windows 7 Media Center prompted me that a new TV Tuner had been detected and asking if I wanted to set it up.
Tuner setup was a smooth experience with everything being detected–including both an analog NTSC signal as well as a digital QAM signal. For the purposes of this review, since NTSC is pretty much extinct, I will solely focus on the digital experience. By manually configuring the tuner within Windows 7 Media Center, I was able to exclusively use the digital tuner of the Elgato EyeTV Hybrid tuner and it detected the same amount (38) of unencrypted QAM channels as my other QAM tuners. In real-world testing, the tuner performs fantastic. Picture quality was sharp and channel changing was very prompt–approximately 2 seconds digital-to-digital.
I used the 4-1-1-Info tip for Windows Media Center to compare the picture quality of the stream to that of an HDHomeRun and the quality was comparable. On the Elgato a recording was 10,907,378bps and on the HDHomeRun it was 10,648,516bps; essentially identical as the slight difference can be attributed to the time of the show being recorded. Picture quality excellent and indiscernible between the two tuners, as expected.
I tested starting and stopping recordings as well as jumping around channels and never had a problem neither with speed (less than 2 seconds) nor any signal loss.
Mac OSX Experience
Elgato promotes the EyeTV Hybrid tuner to be fully compatible with the often ignored Mac OSX operating system in addition to being able to support virtually all TV signals (sans CableCARD). I tested the tuner on my Macbook Core 2 Duo 2.26GHz with 4GB DDR3 and Mac OSX 10.6.7. As you may or may not know Mac OSX does not include any native TV software (as Windows does with Media Center). Fortunately (and a large reason why you would purchase this tuner), included with the EyeTV Hybrid is the EyeTV 3 software application–essentially a DVR software designed for Mac OSX users which is fairly feature rich and includes some integration with iPhone and iPad devices.
If you are a Mac OSX user, you certainly by now have dealt with the frustrations that are finding a compatible TV tuner. It's only been recently even that SiliconDust and Elegato joined forces to offer the HDHomeRun in a compatible Mac version. Tuners aside, none of the major free HTPC frontends such as Plex or XBMC support television viewing. SageTV does offer their $80 commercial offering for Mac which would bridge the gap between media and TV, however at the time of review this newer Elgato Hybrid tuner was not listed as a supported tuner. Fortunately for all readers, Apple does include Front Row with their OSX platform–a free HTPC front end which has a plethora of plugins for your HTPC enjoyment. Conveniently there is a plugin called FrontTV which will bridge the Front Row software with the EyeTV application; it acts as a shortcut to the EyeTV application and maintains it on top so that the remote control remains functional without having to pull out your mouse.
The interface of the EyeTV3 software is fairly basic with a 100% emphasis on TV watching–no movie, music or other tie-in. While normally I would say any HTPC software bundled with a tuner is a waste, given the lack of comparable software with TV tuner support, it's fair to say it's required.
Included with the software is an integrated TV guide with one year of complimentary guide data, but if you wish to continue after the first year it will cost $19.99 per year. Also TV shows can be edited and exported if desired, and there's even a plugin called ETV which will allow you to utilize commercial skipping just as you would on Windows with DVRMSTB. The main thing I found missing within the software actually wasn't what was included but more what was not. As I mentioned above, there is no comparable HTPC software for Mac systems that supports television so it would have been great if even at a basic level the EyeTV3 software could support multimedia formats such as music, photos, videos and movies so that Mac users could finally have a complete solution. (Editor's Note: I've been told that this was by design. There are plugins to tie into Mac's Front Row, however I still would have liked to see something all inclusive out of the box)
The software is more than just a throw in and is a large reason the cost of the hardware is higher than the typical single hybrid tuner–I found it fairly easy to use.
Not so intuitive though is the included remote control and its colored but unlabeled buttons which required a bit of a learning curve. From the remote control, you can control most of the options you would need–volume, channel, menu, guide and even picture in picture. The remote control is infrared so it does require line of sight, which makes it a deal breaker if you were looking at using this tuner and remote connected to the back of your HTPC–the remote needs to be able to connect with the tuner dongle. It's not the fanciest remote you will use but it gets the job done, and even controls the volume levels on your Mac.
As it comes to actual performance and reliability, in both Windows 7 and Mac OSX the Hybrid tuner performed exactly as you would hope. It was reliable, the picture did not contain any macro-blocking. While all testing was done within a short period of time, I have no reason to believe this tuner would not remain consistently reliable over an extended time.
CONCLUSION
In a world where tuners stand alone, the Elgato EyeTV Hybrid is a great product–it caters to a number of different customers across the world and works just as good on laptops as it will on your home theater PC. The problem comes when you compare it to the competition on a price to benefits ratio. Assuming you are a home theater PC user (which if you're reading this article we're going to assume), then the size and portability which really make the EyeTV Hybrid stand out is rendered neutral. If you are a conventional Microsoft Windows HTPC user then there are just too many more affordable options to choose from. In the $129 price range specifically you can target something like SiliconDust's HDHomeRun which for the same price as the Elgato EyeTV Hybrid gets you a second digital tuner, as well as the network ability to connect from any computer in the house (Note: The Elgato version of HDHomeRun we mentioned compatible with Mac costs around $170).
The ability to watch TV on a Mac is unique as there are not a lot of options available, but a lack of integration with popular frontends such as Plex or XBMC (as well as the lack of support within SageTV) is a disappointment. Fortunately for users the free Front Row software has a plugin for the app, but it's simply a shortcut to the EyeTV application instead of a truly integrated plugin; not to mention that Front Row just does not offer as much customization as Plex, XBMC or SageTV.
To be fair to the hardware itself, Elgato has designed and marketed the EyeTV Hybrid for precisely what it does very well–watch TV on a Mac in virtually any television format you would need (except CableCARD which is not supported on Mac) and be small enough to be extremely portable. The picture quality is great and its investment is flexible as it works just as well on Windows as it does Mac OSX. There are plugins available as well for iPhone and iPad if streaming or converting to those devices for portability interests you as well. If you are a Mac user, you can save a bit of money by opting for the EyeTV One which includes just the digital tuner instead of the Hybrid's support of ATSC, Digital and DVB-T in addition to the inputs.
In the end it's all about needs, and unfortunately for my specific environment the portability and Mac benefits are overshadowed by my preference to record multiple digital channels. For Mac users however, when you factor in the standalone cost of EyeTV3 along with the various tuners, the price is quite fair. If you use a Mac as your HTPC which we know a few of you do, then the EyeTV Hybrid is a solid combination of software and hardware to bring TV into the mix.
Pros:
Tiny Body, Very Portable
Multiple TV inputs–NTSC, QAM, OTA, DVB-T
Supports Video In via S-Video/RCA
Supports Mac OSX with 10' Interface and included software
Remote control included
Free Plugin available for Front Row HTPC frontend software
Cons:
EyeTV3 software is exclusively for TV content
Remote requires line of sight, no extension dongle
Not yet supported with SageTV for Mac
No integration with popular HTPC software (Plex, XBMC, etc)
Special thanks to Elgato for providing the review unit.