Intel Sandy Bridge: Core i5-2500K and DH67BL Motherboard
When Intel gambled by packaging its graphics processing unit (GPU) with the central processing unit (CPU) in last year's Clarkdale the home theater PC (HTPC) niche benefited immensely from the power saving, performance gain and features like HD audio bit streaming provided by the new platform. The bet obviously paid off, because this year's Sandy Bridge melds the GPU and CPU on the same die promising significant performance improvements for both units, dedicated transcode hardware, further reductions in TDP and frame sequential 3D Blu-ray (BD)/HDMI 1.4 support. As good as Clarkdale was it was not perfect however, with issues in the level of refresh rate precision used to playback video content – most notably using 24Hz instead of 23.976Hz to handle 24p. Today we are fortunate to have an Intel Core i5-2500K CPU/GPU and DH67BL motherboard on hand to find out if Sandy Bridge is a worthy successor and viable competitor to the last twelve months of progress in our marketplace.
UPDATE: The model number has changed to DH67BLB3 for motherboards with the updated H67 PCH.
Platform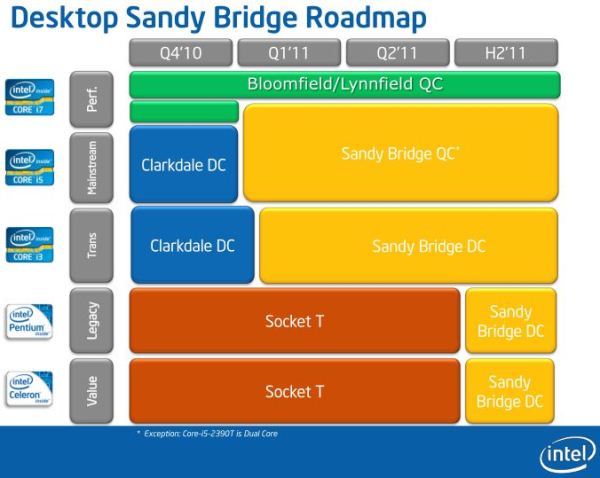 The distinction between an LGA 1156 i5 with Intel HD Graphics and one without was often lost on the non-propeller heads, leading to some end-user confusion after inserting a quad core i5-750 in an H55/H57 motherboard only to discover that the video did not work. The 32nm LGA 1155 Sandy Bridge (SNB) fixes that while also addressing the needs of those who want more CPU performance than the dual core Clarkdale i5 could provide, by widening its footprint across market segments. While there is still some potential for confusion–as the i7 brand is now shared in the performance segment with LGA 1366 CPUs–the risk is greatly reduced because all CPU and motherboards with the same socket will provide consistent functionality.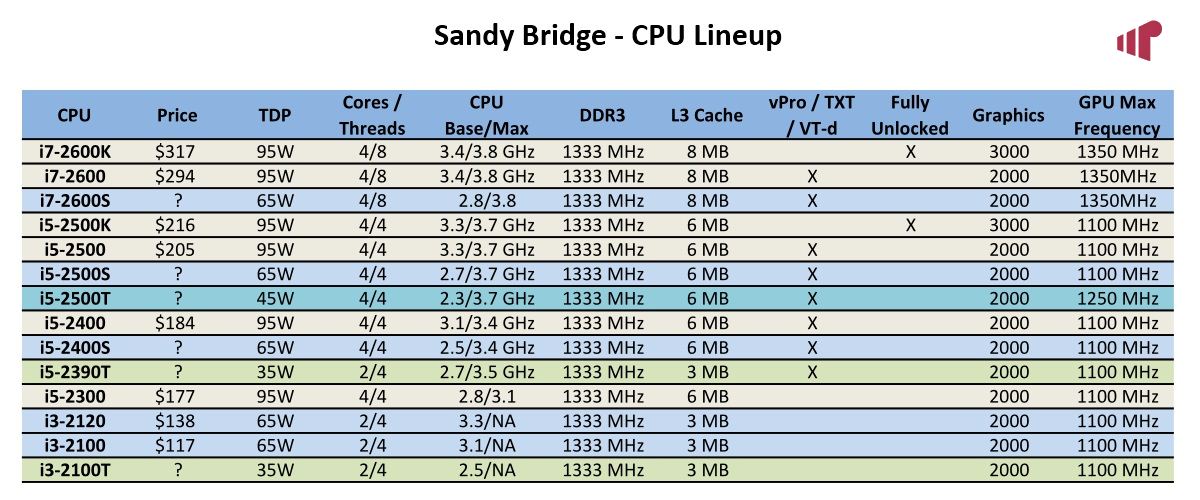 (click to view full-size image)
Hyper-Threading (HT) and CPU/GPU frequency are the major features that separate the i7 from i5; where the step down to an i3 brings back HT at the cost of two physical cores and Turbo Boost. There are also differences in L3 Cache and the maximum GPU frequency between the different models, but for the most part those will not affect HTPC performance. Unfortunately the more interesting, low power, members of the family will not be available until February (everything without a price tag) so the upgrade path from Clarkdale is not as straight forward as it would be otherwise. For those contemplating a new build in the next month at the mid-to-high end however, the 95W maximum TDP is not as concerning as it could be (more on that later); anyone who has been holding off on a Clarkdale i3 build, choosing a SNB i3 is a no-brainer because of their higher clock and lower TDP (65W v. 73W) at a similar price point. All of the SNB desktop CPUs should have the same media performance characteristics irrespective of CPU frequency and GPU level (i.e. 2000 v. 3000), but it is definitely something that will require validation as the parts become available.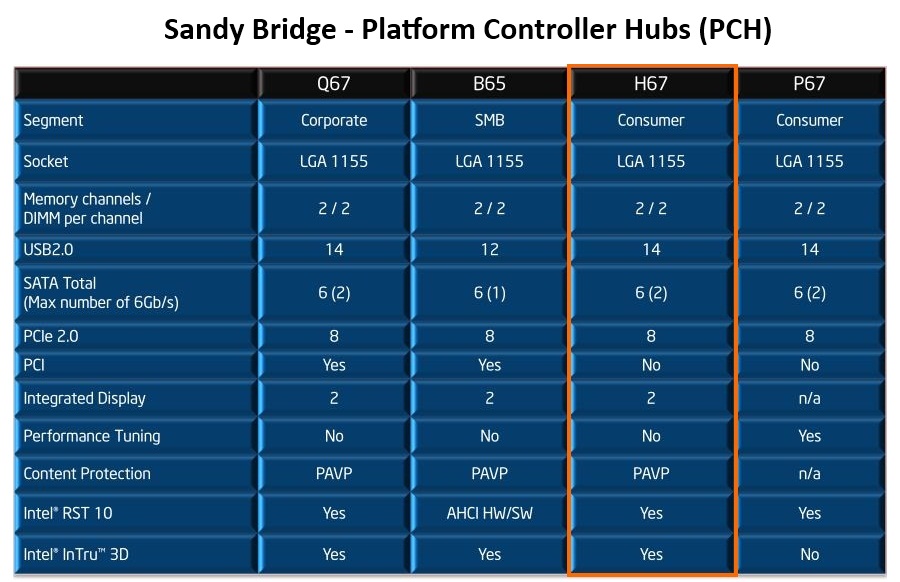 Four Platform Controller Hubs (PCH) will be launched to support SNB CPUs, three of which provide the plumbing necessary to output audio and video while also supporting protected audio video path (PAVP) – which is required for BD playback. It is hard to say exactly how OEMs will utilize the chipsets but I expect that most will follow Intel's lead and leverage the H67 in motherboards intended for HTPC use.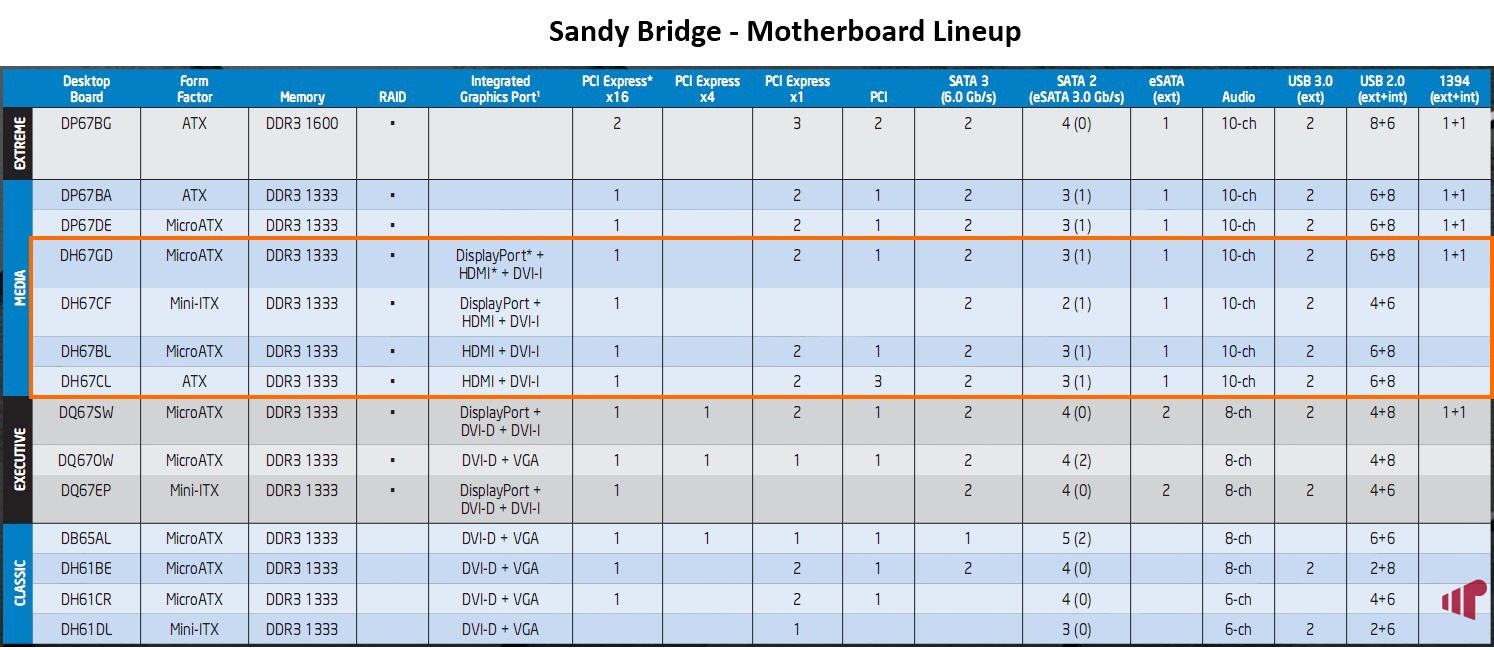 (click to view full-size image)
We will see four H67 motherboards targeting the HTPC space from Intel including two micro-ATX and a mini-ITX. Last year we had to wait a few months for the media focused H57 boards, so it is great that this launch includes solid hardware across the board; I was not able to chase down availability for the mini-ITX DH67CF before publication, so an update will be provided as soon as possible.
Intel DH67BL and Core i5-2500K
Specifications:
| | |
| --- | --- |
| Form Factor: | micro-ATX – 9.6"x9.6"x9.6" |
| CPU Support: | LGA1155 – Core i7, Core i5, Core i3, and Pentium |
| Chipset: | H67 |
| Memory Support: | Four 240-pin DDR3 1.2-1.8v 1066/1333 – 32GB Maximum |
| External Connectors: | 6 x USB 2.0, 2 x USB 3.0, 1 x E-SATA, 1 x DVI, 1 x HDMI 1.4, 1 x TOSLINK, 6 x 3.5mm audio |
| Internal Connectors: | 1 x CIR input, 1 x CIR output, 1 x S/PDIF, 2 x SATA3, 2 x SATA2, 1 x E-SATA, 3 x 4-pin PWM fan, 4 x USB 2.0, 1 x Intel HD Audio |
| Expansion: | 1 x PCI-e x16, 2 x PCI-e x1, 1 x PCI |
| LAN: | Intel 82579V 10/100/1000 Ethernet |
The DH67BL is a very well thought out board, with no issues being noted during installation in the low profile Moneual 312B HTPC case. The only potential issue I can see is that the memory slots are quite close to the CPU socket, which can cause issues with some of Intel's retail heat sink and fans (HSF) if careful attention is not paid to orientation during installation. Unfortunately the review sample did not include a retail HSF, most likely because like AMD's Black Edition CPUs the Core i5-2500K is multiplier unlocked and Intel figured any HSF provided would not see use. Because of this I was unable to access the noise level and cooling ability of the Core i5 SNB retail HSF. I did attempt to use a spare 87W Clarkdale HSF, but found the noise levels unsuitable, so it was quickly replaced with a Swiftech MCX-VCore heat sink and 80mm Arctic Cooling PWM fan. Intel Desktop Utilities (IDU) has not yet been updated to support SNB so it is impossible to adequately quantify CPU and case temperatures, but given the environment (i.e. the 312B is a low profile case, and besides the PSU no other active cooling was used) it says something that in this configuration the PC remained extremely quiet and stable during all of the testing.
The Consumer Infrared (CIR) headers found on Intel's media series motherboards are a feature that is incredibly useful and often overlooked; it is easy to see why because it is very difficult for non-OEMs to find the right IR hardware unless you look on Ebay. With the right receiver the CIR functions as a regular Microsoft Ehome IR device, providing the same experience without the unsightly external hardware after mounting the receiver inside the chassis.
(click to view full-size image)
On the back I/O panel we find six USB 2.0, E-SATA, Ethernet, DVI, HDMI 1.4, S/PDIF, five stereo audio and two USB 3.0 connectors. It is worth noting is that with an appropriate DVI-to-HDMI adapter the DVI port can also function as an HDMI 1.4 port, so the DH67BL is capable of utilizing two HDMI cables to provide HDMI 1.4 to a display and HDMI 1.3 to an audio video receiver (AVR) simultaneously for those who wish to enjoy a 3D BD and lossless audio but do not have an HDMI 1.4 compatible AVR.
The BIOS will be familiar to anyone experienced with Intel motherboards, but there are some notable differences to previous generations as well as overclocking (untested) options not previously available– the most welcome is that the BH67BL storage controller defaults to AHCI, which is appreciated– especially as someone who has forgotten to change this value before installing Windows in the past, which can be a pain to change afterwards. Like other Intel boards, the BIOS also provides an option for how the power LED should behave in S3 standby (blink, off, etc) enabling user choice and a more CE experience (i.e my AVR does not blink when it is "off").
System
Test Configuration:
| | |
| --- | --- |
| CPU: | Intel Core i5-2500K (3.3-3.7GHz) |
| Motherboard: | Intel DH67BL |
| RAM: | G.SKILL Ripjaws Series 4GB (2 x 2GB) 240-Pin DDR3 SDRAM DDR3 1600 |
| Storage: | Intel X25-M G1 80GB SSD (32-bit) / OCZ Vertex 2 60GB SSD (64-bit) |
| Optical: | LG GGC-H20L Blu-ray / HD-DVD combo drive |
| Power Supply Unit: | Antec Earthwatts 380W 80+ PFC |
| Case: | Moneual 312B |
| OS: | Windows 7 Ultimate 32-bit / 64-bit |
| Tuner: | 2 x AverMedia M780 PCI-e, 1 x Hauppauge HVR-1600 PCI |
| Discrete GPU: | NVIDIA GT 430, AMD 5550 |
| AVR: | Denon AVR-1909 |
| Display: | Panasonic TC-P58VT25 (1080p Plasma / HDMI), Samsung HLN437W (720p DLP / DVI) |
For completeness both 32-bit and 64-bit Window 7 were installed on separate SSD and used in day-to-day operation as a Windows 7 Media Center, SageTV 7 client, Blu-ray player and development machine. For most of the tests both SSD were left connected to the motherboard with only the boot drive changed in BIOS. No notable differences were observed between platforms, so no distinction will be made going forward.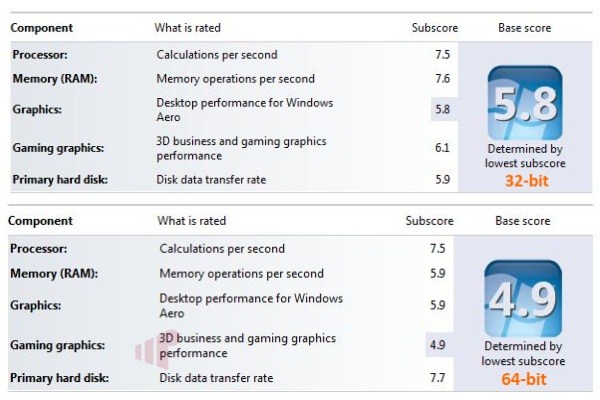 Windows 7 installed without issue, but like most new systems the network interface controller (NIC) drivers were not included with the OS so make sure you have the latest set handy before getting started. Also do not read too much into the difference between Windows Experience Index scores on both platforms, it is normal for 64-bit scores to be lower, not because of performance differences between them but because as a relative index the bar is lower on a 32-bit OS.
To access overall stability and extensibility TV tuners were inserted in each of the expansion slots, including the PCI-e x16, both individually and at the same time as well as subjecting the system to a variety of stress tests, which we will discuss in greater detail later (in each case the system performed as expected and without issue). Both NVIDIA and AMD graphics were also tested in the system, but while the platform supports heterogeneous GPUs the feature is not enabled by the BIOS on the DH67BL so the Intel GPU will be disabled (including audio and transcode features) after adding discrete hardware.
I like to install all of the drivers provided by an OEM (the exclamation marks in Device Manager bother me), but I can empathize with minimalists who do not agree with this approach. With that said, for anyone using this system as an HTPC at the very least the Management Engine Interface (MEI) and video driver must be installed, as both are required for proper audio and video playback with PAVP. Also worth noting for Windows Media center users, the KB974324 hot fix from Microsoft is required to fix an issue with a white line being displayed along the side of the screen in Media Center.
I am fan of Intel NICs not only because of their stability and performance, but also because of the feature set. It was somewhat refreshing to see that the BH67BL's 82579V Gigabit Ethernet adapter includes Jumbo Frame support, a feature missing from both the DH55TC and DH57DD motherboards.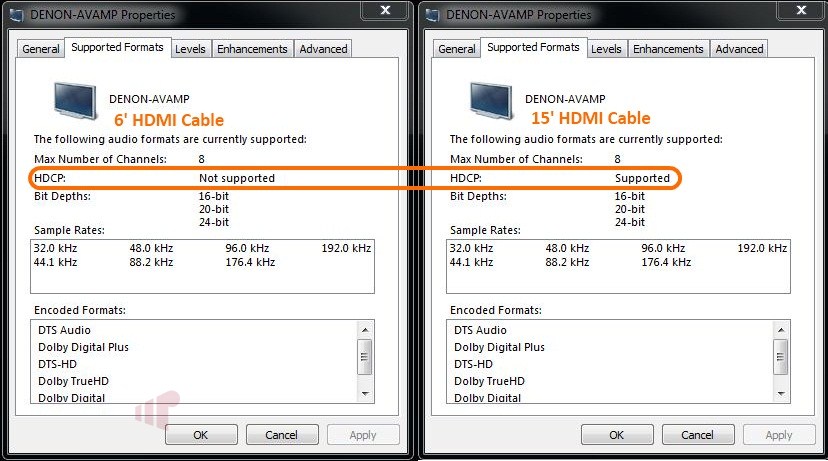 Like Clarkdale, SNB based systems support HD audio bit streaming for lossless audio codecs, including Dolby TrueHD and DTS-MA, but also like Clarkdale HDCP issues were observed with the Denon AVR-1909 used for testing when connected via a shorter HDMI cable. The root cause of this issue was identified earlier, and is isolated to this particular AVR, but it is worth pointing out for those with similar configurations.
For those who use HDMI with multi-channel LPCM content, it is worth noting that the audio driver supports 5.1 and 7.1 configurations. Eight channel audio files played on a 7.1 system map each channel correctly, but six channel files played on a 7.1 configuration improperly map left/right surround audio to the left/right rear surrounds instead of the correct left/right side speakers. The issue has been reported to Intel and they are looking into it, but unfortunately there is no ETA on a fix.
Several new features were added to Intel's graphics settings utility including "Quantization Range" which controls levels (16-235 or 0-255), "Total Color Correction" and "Skin Tone Correction" Still missing however, is an obvious way to change SNB's RGB 4:4:4 8-bit output to any YCbCr variant or utilize greater bit depth when connecting to a display able to take advantage of those features. That said, checking the option to enable "xvYCC" support actually does change the output to YCbCr, but either due to driver issues or player support changing to this mode negatively impacts video levels, annihilating any black level detail. Ideally these options will be segmented in future driver releases enabling end users the flexibility to chose the correct color format and bit depth for their display and calibration.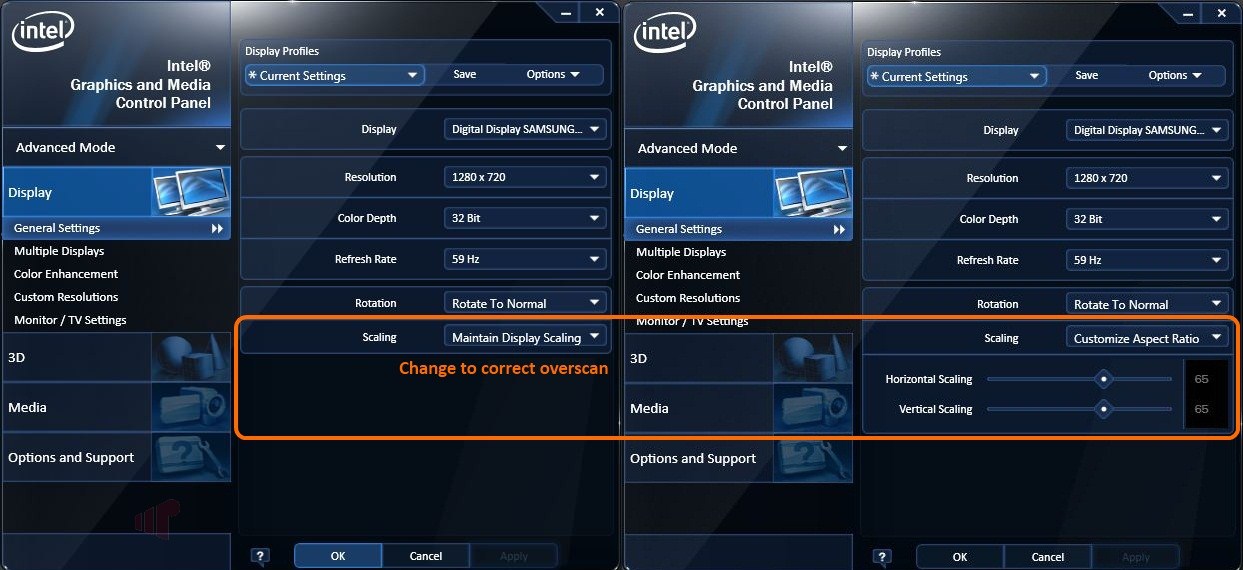 (click to view full-size image)
For those with displays that overscan, like the Samsung rear projection DLP used in testing, the graphics driver provides an easy way to adjust both horizontal and vertical aspect ratio. It was somewhat unintuitive on how to make the adjustment, so it is worth pointing out the appropriate "knob" in the settings tool.
Compute Performance
Home Theater Computers HTPCs serve many purposes–in system reviews we not only focus on the playback experience but also address overall media consumption which includes commercial scanning and transcode performance. Let's start with ShowAnalyzer (SA), a utility used to detect commercials in recorded TV files.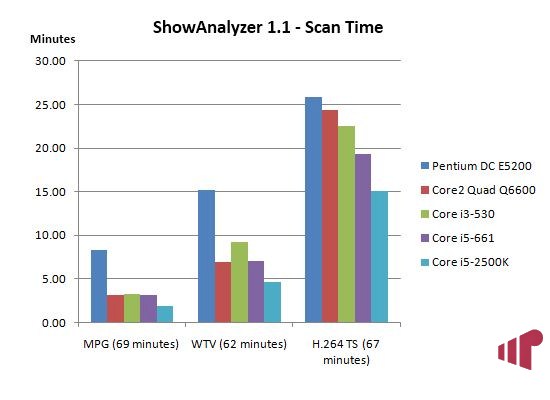 SA's ability to punish a system both at the CPU and I/O level makes it a good way to test overall performance and put stress on a PC. Looking at the results above, three generations of Intel CPUs are compared using the same three files noting significant gains in performance with each step forward. Where the dual core i5-661 with HT was roughly equivalent in performance with the older quad core Q6600, we can see that the Q660 is no longer competitive.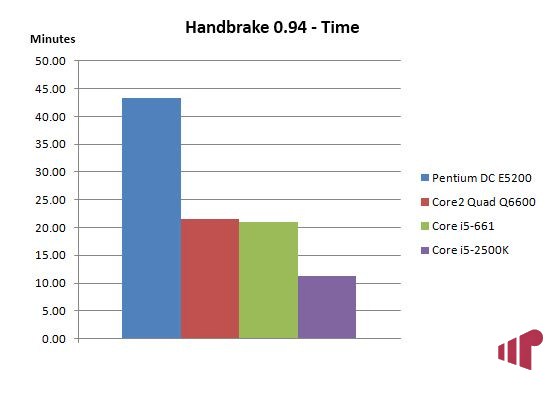 Turning our attention to Handbrake, a popular free open source CPU based transcoding utility, we see a similar performance story as we move forward across the different CPUs.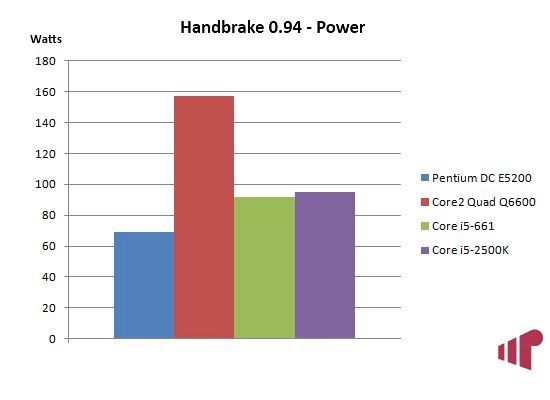 It is not that surprising that the i5-2500K is significantly faster than the older CPUs used in the test, but the power usage numbers are interesting; especially when comparing the dual-core i5-661 with the quad-core i5-2500K, which consumes only three watts more–quite an accomplishment considering both are fabricated using a 32nm process.
Dedicated transcode hardware is one of the major features introduced with SNB, so while Handbrake is a good way to judge relative CPU performance, it is necessary to use a commercial application to take a closer look at what the GPU can do to assist. Three approximately 30 minute test files were converted using ArcSoft MediaConverter 7 (HTC EVO 4G profile) using the just the CPU, Intel QuickSync, CUDA (via an NVIDIA GT 430) and Stream (via an AMD 5550) installed in the test machine. Time and average power consumption were captured during the test, but it is important to note that the bit rate of the output files varied between methods, so a calculated efficiency metric is also shown to adjust for relative performance. In all graphs, lower is better.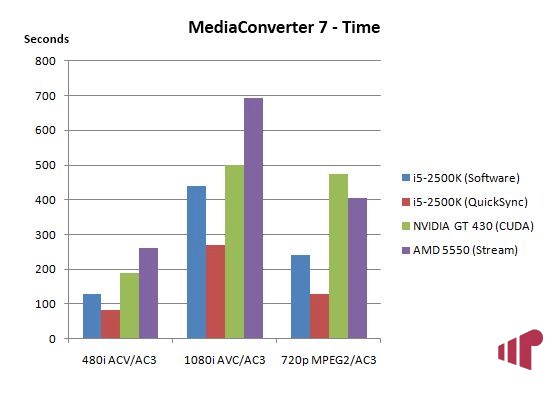 As we can see just using a simple measure of time, the i5-2500K's hardware accelerated transcoding is significantly faster than any of the other methods.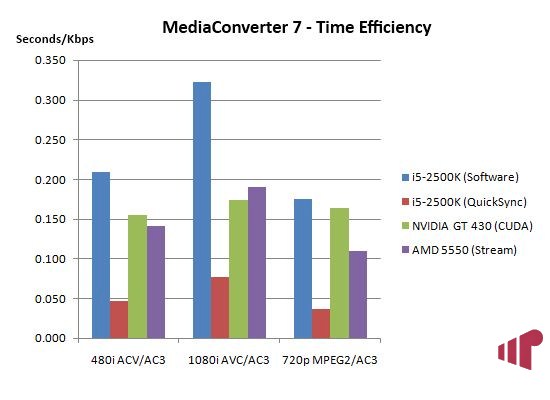 After adjusting for bit rate the performance delta becomes even more marked.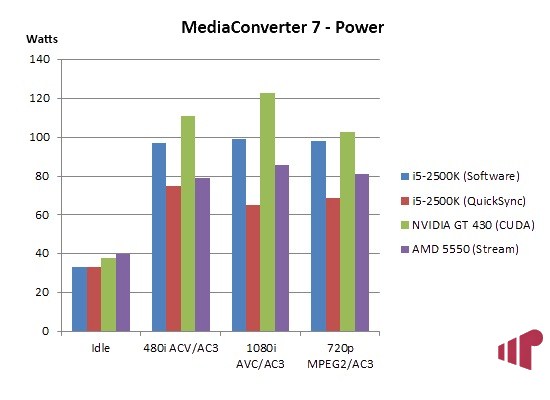 Turning our attention to the power consumption numbers, the i5-2500K fixed function hardware displays an advantage over all of the other methods. It is also worth noting that the peak power consumption measured during the "Software" transcode was just under 100W at 99% CPU load.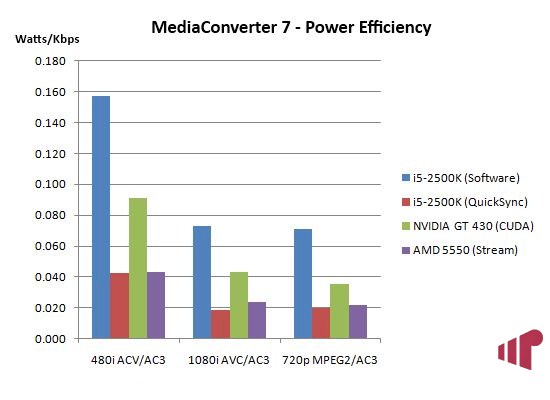 Adjusting for bit rate however, the result is not quite as clear compared to Stream, but holds in respect to the other methods.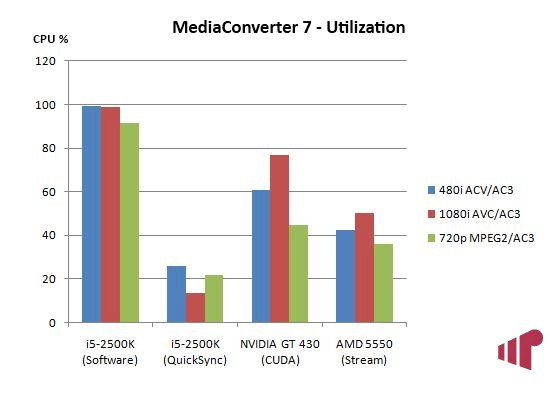 Depending on perspective, it is not necessarily true that lower CPU utilization is "better" in the same sense as the other metrics, so this data should be taken only for what it is. With the QuickSync dedicated hardware taking on more of the relative load compared to the other solutions.
Clearly there are tangible benefits to GPU compute in general and QuickSync specifically – there is something truly beautiful when a 1080i AVC recording can be converted to a phone friendly format in less than five minutes. Extending support to other applications is relatively easy as well thanks to the Media SDK; for example the current EA release of DVRMSToolbox (1.2.2.3 R2) includes QuickSync support and as soon as I can figure out frame rate control it will become publicly available.
Media Performance
To readers conversant with MissingRemote's previous GPU reviews, this series of screen shots capturing levels information should be familiar. What is unique in this case is not that they are correct for both video (16-235) and PC (0-255) content with no user intervention, but that it holds for both HDMI and DVI connected displays. Intel's video drivers have always clipped blacker-than-black (BTB) and whiter-than-white (WTW) by default, but it was possible to change the behavior by checking "Override Application Settings" in the "Color Enhancement" section of the settings tool. Unfortunately this does not work currently, but should return in a future driver revision to make calibration easier on the low-end and enable the flow of WTW for the content that contains it.

ArcSoft's TotalMedia Theatre (TMT) 3 and 5, Corel WinDVD (WDVD) and Cyberlink PowerDVD (PDVD) 10 were tested to access BD playback capability. The only major issue encountered was with WDVD where it simply does not work (screenshot below) while using a display that supports xvYCC even when it was not enabled. The player does function as expected on other displays, and this issue should be fixed in the latest build, but I have not been able to verify it yet. A minor issue, which should also be addressed in a pending update, was noted with PDVD where it would infrequently display white static when starting playback–closing the application and restarting playback always resolved it. Like any new platform there are teething issues with beta patches and pre-release drivers, so it is important to process these results in that context. I will update this section post-launch as the updated versions of WDVD and PDVD become available.
Flexibility is one of the main strengths of the HTPC as a media consumption device, but it can be a pain-point for overall usability. Often the trade-off is even more pronounced as new functionality is enabled. Fortunately SNB's support for frame sequential 3D BD via HDMI 1.4 is not one of those areas of compromise – it just works, even when mixing HDMI 1.3 and HDMI 1.4 equipment. In fact, when using a single HDMI cable to the 3D TV none of the three functional BD players required any additional configuration. Only after adding a second cable to enable HD audio to the HDMI 1.3 AVR did PDVD need to be set to a specific display type (TMT 3/5 did not require any changes).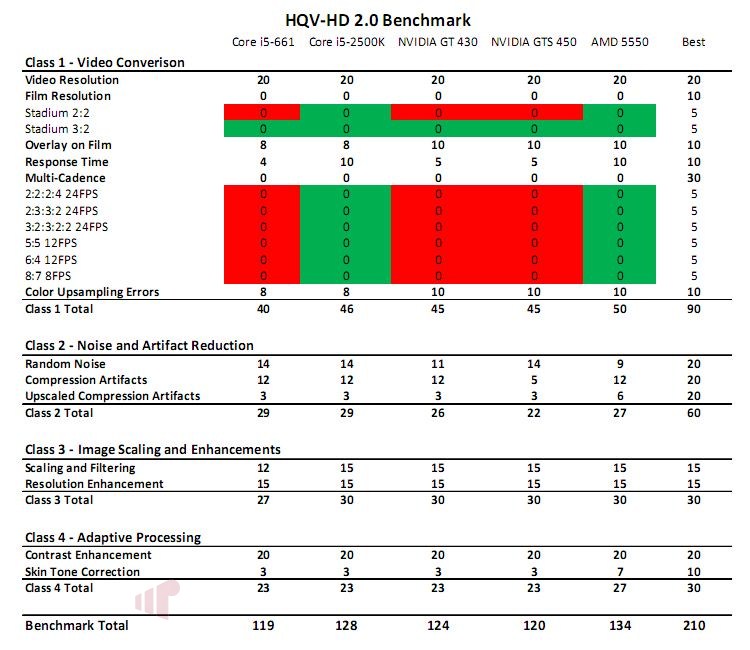 (click to view full-size image)
When evaluating HQV-HD scores it is important to remember that while numbers are produced, the outcome is still somewhat subjective and results should only be evaluated within the context that created them; in this case, while connected to a Panasonic TC-P58VT25. Given AMD's recent focus in improving picture quality, it is not surprising that the 5550 produces the strongest showing versus the NVIDIA GT 430, Core i5-661 and Core i5-2500K. I was very pleased to see the generational improvement moving between the i5-661 and i5-2500K, with the main gain coming from improved performance in the "Video Conversion" section of the test. While no card received a non-zero value in the cadence detection sections because moiré was present throughout, both AMD and Intel deserve kudos for passing them all–hopefully this is a signal of good things to come.
HQV is a useful way to measure overall video performance, but it is important to understand the limitations of the test when it comes to real world performance. Looking at the screenshots above taken at approximately the same time from a 480i HD PVR capture (AVC/AC-3) we can see differences in color and noise, but it is difficult to say definitively which is better with each GPU producing similar results as they struggle with deinterlacing and noise reduction in a what is arguably a worst case scenario (highly compressed, low resolution, interlaced sports programming).
(click to view full-size image)
During the transcode discussion CPU and power numbers were captured with both SSDs installed because I needed the space–with that no longer a requirement the Intel X25-M G1 SSD was disconnected when capturing the numbers above. Looking at the results, we can see that the i5-2500K does an excellent job of dialing back its power requirements when at idle, as well as putting up very impressive CPU utilization numbers for VC-1 decoding when utilizing DXVA2 hardware acceleration (TMT video decoder). MPC-HC users cannot make use of these capabilities with the built in DXVA2 decoder (or leverage that standalone filter in other applications) however as both AVC and VC-1 failed to decode with hardware acceleration enabled. MPC-HC users on Windows 7 can substitute the "Microsoft DTV-DVD Video Decoder" for MPEG2 and AVC content for DXVA2 support, but the Ffmpeg based software decoding also worked well for AVC and VC-1 content.

(click to view full-size image)
Clarkdale's inability to properly output 24p (i.e. 23.976 FPS) content at 23.976Hz was a blocking issue for many enthusiasts. Taking a look at the screenshot above, we can see that SNB also displays the same lack of precision in refresh rate – at least by default…
Maybe it is an Easter egg or just an alpha feature that Intel is not quite ready to share, but there is definitely something interesting going on after disabling User Access Control (UAC). While 23.973 is not perfect, it is very close and after observing the feature in the last two driver revisions on both x86 and x64 it does not seem to be an anomaly. Huzzah! Obviously this is less than ideal, because while UAC can be annoying I think it is a valuable feature that provides an extra degree of protection from malicious software. Hopefully proper refresh rates will become an official, supported feature without the need for this change in the future.
Conclusion
As a platform Sandy Bridge is a solid improvement on what Clarkdale provided to the Home Theater PC enthusiast. With current models offering frame sequential 3D Blu-ray support, HD audio bit streaming and an excellent overall media experience it is hard not to see the HD67BL and Core i5-2500K as a solid option for the HTPC; an argument only made more compelling after factoring in SNB's outstanding transcode performance and power efficiency even at 95W TDP (and more attractive TDPs coming later). It is difficult to say without evaluating a Core i7, but on its face I am not convinced by the additional features provided at its price point. On the other hand, both the Core i5 ($177-$216) and Core i3 ($117-$138) offer more performance and features, while consuming less power at a price that is lower than current retail for comparable Clarkdale CPUs. There is still work to do however, as the platform still lacks the flexibility of YCbCr support and some unanswered questions around 24p that will hopefully be provided later.
Pro:
Powerful and energy efficient
Correct levels out of the box for HDMI and DVI displays
Stable
HDMI 1.4 (frame sequential 3D Blu-ray)
Transcode performance
Price
Con:
Lacks proper YCbCr or greater than 8-bit output
No official 24p support
SNB CPUs better suited to HTPC use will not be available until February
Thanks to Intel for providing the Intel Core i5-2500K CPU/GPU and DH67BL motherboard.