OrigenAE M7 – Stereo Amplifier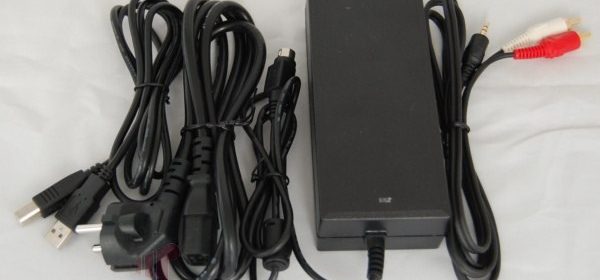 Home theater PC chassis manufacturer OrigenAE has consistently produced some of the most lust worthy high-end cases available on the market today. Intended as a companion to their M10 mini-ITX enclosure, the M7 integrated stereo amplifier marks the company's first foray into the audio space. Offering impressive specifications at an MSRP of $595 this little aluminum enclosed 25W hi-fi is targeted at the space limited audiophile who needs to support multiple devices.
Unboxed:
Specifications:
| | |
| --- | --- |
| Dimensions: | 9.45" (W) x 9.84" (D) x 2.95" (H) |
| Weight: | 6.17 lb |
| Power Output: | 25 W per channel @ 8 Ω / 50 W per channel @ 4 Ω |
| Frequency response: | 5Hz ÷ 120kHz (-3dB) |
| Signal-to-noise ratio (SNR): | > 85dB |
| Total harmonic distortion (THD): | < 0.05% (5Hz ÷ 120kHz) |
| Input sensitivity: | 1.7dB @ 1kHz |
| Channel Separation: | > 70dB @ 1kHz |
| Inputs: | 3 x RCA stereo / 1 x USB |
| Outputs: | 2 x speaker binding posts (accepts banana plugs) |
| Power Consumption: | Standby – N/A, Speakers Off – 25W, Speakers On – 27W, Playback – 29W |
With a thick brushed aluminum exterior and reassuring heft, the OrigenAE M7 oozes build quality. Across the front of the amplifier we find controls for power, high/low gain, balance, volume, input selection (USB, Aux, CD, Tuner) and speaker on/off as well as a 6.35mm stereo connector. An infrared receiver is notably missing however, so it is a good thing that all of the controls have excellent feel with the perfect amount of resistance to the twists and presses that are to come. Two banana plug compatible speaker binding posts are located on the far left and right of the back panel where we also find one USB audio and three RCA stereo connectors keeping the power input company. The device is clearly intended to used with a PC so the USB option was an understandable choice, but the amplifier's versatility suffers because it lacks both a remote and, with many audio/video components shedding analog outs, S/PDIF inputs for the other sources.­
The review sample included one A-to-B USB cable, 3.5'' to RCA stereo adapter and a power cord and 24V/5.0A brick. Looking closely at the picture shows that a European power cord was supplied (US spec will be provided with shipping units), but the brick is universal so a standard PC power cord will work.
Usage:
When plugged into a PC, the M7 is automatically detected and the audio device drivers install without any user intervention. Unsurprisingly the audio device exposes left and right channels, but I was a bit surprised to find only analog capabilities listed in the speaker properties dialog. This is my first experience with a USB audio device so I am unsure if that is typical, but is worth noting. When connected to a PC, audio quality was significantly better using USB than an analog connection; other analog sources such as the Dune BD Prime 3.0, were just as good as USB from the PC so the issue was most likely due to the lack of a discrete sound card in the system.
To probe the M7's limits, three varied sets of speakers were tested:
Yamaha NX-220P: small bookshelf (6Ω /100W Max), limited range
Pioneer S-HF41-LR: large bookshelf (8Ω /160W Max), full range
Definitive Technology Promonitor 1000: midsize bookshelf (8Ω /200W Max), full range
Because of their intended application (limited surround speakers with a separate subwoofer), I was not shocked to find that the M7 easily overwhelmed the Nx200-ps. It was surprising however that the 25W rated amplifier was comfortably able to push both the Pioneer and Definitive Technology speaker pairs well past reasonable volumes with excellent high and midrange clarity as well as deep bass in the "low gain" configuration. Combining the M7 and Promonitor 1000s produced the best listening experience of the three sets, and actually significantly outperformed the same speakers paired with the reference Denon AVR-1909 most notably at louder volumes.
Judged only on audio capability the amplifier is quite impressive, but there were a couple oddities worth noting. First, while the balance toggle does adjust the audio volume pushed left-to-right, the switch is mostly useless in application because turning it all the way to either side only lowers the opposite channel's volume by an insignificant amount. The second is that it takes almost thirty seconds for this M7 to turn on completely going through several cycles of where a loud click is heard and the power LED briefly turning red then off again. This issue is specific to early samples and will not be present in shipping units according to OrigenAE, but was documented anyway in the interest of full disclosure.
Conclusion:
Providing excellent sound from a tiny package, the OrigenAE M7's size belies it capability as a high quality stereo amplifier. As a companion for a dedicated audio device it provides significant value even at its $595 MSRP. Unfortunately, the device's versatility in a broader home theater application is quite limited given the lack of a remote and standby mode for faster startup even though it supports multiple inputs. Longer term, I hope OrigenAE judges the M7's success in that context and look forward to a subsequent revision which provides both features as well as S/PDIF inputs for better future compatibility.
Pros:
Sounds great
Excellent build quality
Small
Con:
No remote
No standby mode
No digital inputs
Thanks to Perfect Home Theater for providing the review sample.