Panasonic TC-P58VT25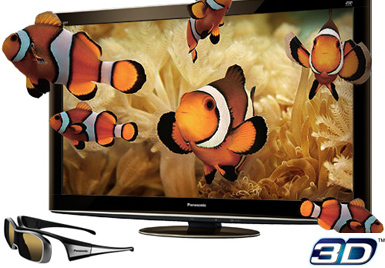 Following Pioneer's exit from the plasma display panel (PDP) market Panasonic moved from also-ran to market leader by delivering the right mix of performance and value to the full range of plasma buyers.  Ultimately the Pioneer Kuro failed to find the right balance between features and a price that enough buyers were willing or able to pay, so while it created a useful reference point the real question Panasonic needs to answer with its plasmas is if they can deliver enough of the features that enthusiasts want at a cost that the masses can afford. 

Keep reading to take a look at 2010's range topping TC-P58VT25 (part of the VT25 series); which delivers excellent picture quality, 3D and a decent IPTV offering.
The Device
Specifications:
External Dimensions:
56.3" (W) x 36.9" (H) x 3.6" (D) – 15.3" (stand)
Screen Size:
50.5" (W) x 28.4 (H) x 58.0" (Diagonal)
Weight: 
88.2 lb (TV) + 6.6 lb (pedestal) = 94.8 lb (total)
Inputs:
4* HDMI (3 back, 1 side) , 2 USB, 4 analog audio (1 side), 2 composite
(1 side), 1 D-sub (1280×1024 max resolution), 2 Component, 1 LAN
(10/100), 1 RS232
Ouputs:
1 TOSLINK
Audio Output:
3 speakers (10W x 3 = 30W)
Resolution:
2,073,600 pixels: 1920 (W) x1080 (H) – 1080p
Power Consumption:
599 W (Rated), 179 W (Average), 0.2W (Standby)
* "HDMI 1" supports Audio Return Channel (ARC)
With a dark glossy trim surrounding the panel the VT25 is a handsome set; clearly not as sleek or flashy as competing displays from Sony and Samsung but the only real complaint I have on the appearance is that the trim is made up of four individual strips – which cheapens the appearance.  Fortunately, once the display turns on minor niggles regarding thinness, trim and other design points no longer draw focus.  Being a giant piece of glass wrapped in shiny plastic, located in a room not designed to put light on the TV, it was very hard to get an accurate photograph of how the display actually looks in operation.  As we can see from the photo above (taken around 1 PM to demonstrate the worst viewing conditions) while the screen is equipped with an anti-reflective filter (AR) it still mirrors quite a bit – although it should be noted that the effect is much less noticeable in person than what was captured in the photo.  Compared to my previous plasma (a Panasonic  TH-C42FD18) however, the VT25's AR filter is significantly better.
The back includes one Ethernet, three HDMI, one D-sub (VGA), coax, two component, one composite, three stereo audio inputs and one optical (TOSLINK) S/PDIF output.  Located on the left side of the display we find two USB, channel up/down, volume up/down, menu/input selection buttons, another HDMI port, a SD card slot, one composite video, one stereo audio and the power button.  It is worth noting that only "HDMI 1" supports Audio Return Channel (ARC), a feature that feeds audio received in the TV back to the audio video receiver (AVR) removing the need for a separate S/PDIF link.  Both the display and AVR need to support the feature (I've heard that CEC must be enabled as well), so I was not able to test it on my HDMI 1.3-limited AVR.  The HDMI 1.4 specification also includes support for Ethernet over HDMI, but I was unable to find any reference to that feature in the manual so I assume that it is not included.
Ethernet is an important feature for the display, as it is required for VieraCast (Panasonic's IPTV/application hosting framework) and firmware updates.  As noted earlier the VT25 does have a 10/100 port on the back, but it also supports WiFi via a Panasonic USB dongle; I did try a non-Panasonic adapter and it was not even recognized by the display.
The remote is nothing fancy but is quite sturdy, has a decent feel in the hand, and includes some features not found on some of the other Panasonic devices–most notably a backlight and DVR style buttons along the bottom.
One pair of 3D active shutter glasses is included with the VT25, two nose pieces are included, a Croakiesqe strap (not shown) and a hard plastic box to store the glasses when they are not in use.  The display will only work with Panasonic glasses which have come down in price lately (~$110 per pair or ~$250 for the starter kit) but are still quite expensive.  Hopefully by the time a decent amount of content finally arrives they will be more reasonably priced.
Setup
Easy Setup:
The first time the TV is powered on it prompts you to run through a setup process that hits all the major points to get the set up and running.  The most important thing (unless you want a plasma tan) is selecting "Home Use" on the second menu, but the setup process also covers antenna usage, input names, network connectivity and oddly enough setting the clock.  With the exception of input names, which are unfortunately not editable, I mostly accepted all of the default settings and the auto settings worked out well with one glaring exception.
Picture Menu:
The VT25 defaults to "Standard" as the default picture mode either as a nod to the calibration industry or [more likely ;)] to reduce power consumption and earn a better out-of-the-box Energy Star rating.  Panasonic really should have chosen a different name because when in "Standard" mode the display is overly dim and frankly just looks bad.  Also, like many HDTVs, this mode also uses the "Size 1" size mode which uses a slight overscan.  Finding no reason to languish in that setting, I quickly selected "THX" which not only made immediate, noticeable improvement to the viewing experience but also changes to the "Size 2" 1-to-1 pixel perfect display mode (the main benefit of 1-to-1 or "pixel perfect" modes is that there is no additional scaling performed on the output).  While it is not difficult to make the change, I have to wonder if the focus on energy saving is counterproductive in this case. 
The default settings for "THX" mode are quite good so while it is possible to wring better picture quality out of the display with some tweaking, I think many users will be satisfied with the results as-is.  There is one exception worth noting however, as the TV defaults to 3:2 pulldown at 60Hz for 24p (24/23.976 frame per second) source material; changing to the more optimal "96Hz" mode requires navigation to the "Advanced picture" section of the menu during native 24p playback (the setting is disabled in otherwise). 
Other Menus:
Because this is a TV the other menu screens are not nearly as interesting as the one for picture control, but it is worth discussing one of them briefly.  Given the percentage of 3D content coming from devices without proper support (i.e. HDMI 1.3 using side-by-side or top-bottom modes) I find the location of the 3D mode toggle (buried several clicks in the menus) to be an odd choice – where a button on the remote similar to the zoom modes would have been a much smarter choice for Panasonic to make. 
Performance
Picture Quality:
Presenting deep blacks, realistic colors and native 24p support (@96Hz) to say that the VT25 is an impressive display when provided high quality 1080p content is an understatement – for many of my favorite Blu-rays (BD) the difference compared to my previous display (a 42" Panasonic plasma) was incredible.  Adding in the display's equally impressive 3D capabilities I can [literally] see why the TV recently received an "Editor's Choice" award from CNET.  That said, as much as I would like all of the content I consume to be high quality 1080p it is not, and that is where it gets complicated.
When evaluating HQV-HD scores it is important to remember that while numbers are produced, the outcome is still somewhat subjective and really only relevant in the context that created them.  Taking a look at the results above (measured in THX mode) it is obvious that the VT25's video processing capabilities are quite limited (full results can be found here).  I cannot say that the outcome was entirely surprising because my other Panasonic HDTV displays similar results, but the results are still very disappointing and should really be better given its price point and the segment targeted by the display.  Fortunately, for most this is an easy problem to fix because we can perform the video processing either at the source (i.e. HTPC, streamer, BD player, etc.) or in another device in the chain (i.e. audio video receiver or standalone video processor).
Power Usage:
Like all plasmas, the amount of electricity used by the 58" VT25 varies significantly with the type of content displayed on the screen – brighter scenes require more, and dark scenes less.  To get a good feel for the span I created four 1080p single color patterns, the value for my HTPC desktop (which uses a black background) and also measured the low/high values for the first ten minutes of playback for three standard and one 3D BD movies.  Overall I was not surprised by the high results given the peak power numbers Panasonic publishes (599 W), but found the low to be very interesting.
VieraCast
When the VT25 started shipping earlier this year Panasonic's VieraCast was in an unfinished state (if memory serves I referred to it as a "Cruel Joke" more than once), but they have done an admirable job of bringing new content to the platform including useful applications like Weather (although I cannot figure out how to make it put Chicago first), Amazon VOD, Netflix and Pandora.  There are many others, like YouTube (someday this might be useful), Twitter, Picasa, Bloomberg, Skype and tagesschau (a German language TV station – not sure why this is provided in the US) that I would not use.  Of the applications provided, I spent the most time with Netflix and Pandora. 
The Netflix application is quite good; providing a nice titled seek and functional fast forward, but does not have search so it requires a PC on hand to find something not previously placed in the Instant Queue or available on the intelligent pivots provided.  Usage is a bit odd at times (i.e. pressing "Return" on the remote does not back out), but for the most part control is intuitive and well thought out.  The Pandora implementation is also nice, but unless remote support is essential most users may find an iPod (or similar device) connected to the AVR a better choice given the huge difference in electricity usage and hours not clocked on the display.
The last thing worth noting about VieraCast is that the setup application is located on the last screen.  The most important function found here is the ability to reorder the applications, but since I really dislike menus sounds while navigating, being able to disable them is another critical feature also found here.
Conclusion
With native 24p playback, 3D support, outstanding picture quality and a good selection of IPTV services like Netflix the Panasonic TC-PV58T25 is a fantastic HDTV at a fair price.  Do not be fooled by the MSRP $3499.99; the PDP can be found for much less online as well as locally (I paid ~$2,900 in May when I pre-ordered from Abt) and in most cases includes a "free" 3D BD player and two additional pairs of 3D shutter glasses.  The display is not without flaws however, with a slightly less attractive appearance and sub-par built in video processing compared to other displays in this price range. 
I bought the VT25 based on its 2D performance at the time considering 3D as a novelty that just made the 2D performance better. I must admit however, that after experiencing it I now think 3D is a natural (and very cool) next step for the home theater.  We will have to see if enough consumers agree to drive device adoption, demand content and eventually lower accessory prices to a more reasonable point required for real mainstream acceptance in the home theater.
Pro:
2D and 3D picture quality
Excellent viewing angles (not a bad seat in the room)
VieraCast
Price
Con:
Poor built in video processing
Additional 3D glasses still too expensive
Like all large plasmas the VT25 buzzes at times