HP's MediaSmart Connect Extender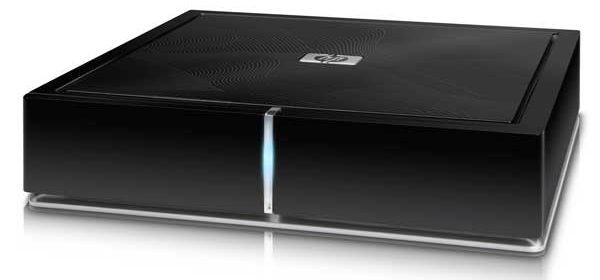 HP has always been involved in Media Center, since the early days of their z-line of PC's which really wanted to be placed into the living room. Times have changed, and things are different at HP, but with the introduction of the Media Smart line of products they have shifted gears in how they attack the market. HP initially released their Media Smart Connect services only as a part of their LCD HDTVs, ranging from 37"-47". The feedback was fairly positive, and HP decided to pull the brains of that MediaSmart TV into an Extender device that could be sold for less than the $1500 of the TV, which is how we got to the MediaSmart Connect which I'll be covering.
Features
Features Overview
The MediaSmart Connect has an awful lot of features, so let's see what HP has to say about it. As you can see from the chart below, there's not much missing.
Model
x280n
Features
Features
Play your music, photos, and video from any Windows-based PC in your house on your HDTV
Direct access to OnLine Media Services
Integrated Windows Media Center Extender functionality
HP Pocket Media Drive bay
Built-in wired and wireless networking – IEEE 802.11a/b/g/n
HDMI, Component video, and digital audio outputs
Media playback from USB-based portable storage media
Spec
Specifications
Video Output: 720p (60 Hz) 1080i
Video Formats: MPEG-1, MPEG-2 MP@ML, MPEG-2 MP@HL, MPEG-4 ASP, DivX, WMV, WMV-HD, DVR-MS, H.264 (MP4)
Photo Formats: JPEG, BMP, GIF, PNG
Music Formats: MP2, MP3, WMA, WMA-Pro, AAC (m4a), Ogg Vorbis
Online Services: Snapfish, CinemaNow, Live365, and others
Media Servers: WMP11 or UPnP and DLNA-compliant servers such as HP's Media Vault and MediaSmart servers
Digital Rights Management: Windows Media, DivX
Windows Media Center Extender
Automatic Content Aggregation
Mass-Storage Media (Read only)
Color: Piano Black
Finish: Gloss with "Zen" pattern
Connectors
HDMI Out: 1
Component Out: 1
Stereo Analog Audio Out: 1
Digital Audio Out: 1 (Optical)
USB Ports: 1 rear, 1 front
HP Pocket Media Drive Bay: 1
Wireless: IEEE 802.11 a/b/g/n
Ethernet Adapter: 1 (10/100-Base T)
Power Requirement
Power Supply: 100-240V AC 50/60Hz
Power Consumption: 22 Watts
Dimensions
8.5" x 8.5" x 1.8"
Weight
3.5 lbs.
Look and Feel
Hardware Design, Look & Feel
For the elite price of $350 (MSRP) HP does not skimp on the package. In addition to the MediaSmart Connect Extender you are also given an HDMI cable, Remote Control, 30-day trial to Vongo (versus 14-day if you just signed up) and a $20 gift certificate to CinemaNow. The case of the device is a nice high gloss black, with just the power status light on the front. Very subtle, and definitely conveys a simple yet classy appearance.
| | |
| --- | --- |
| | |
| Front Panel View with Doors Down | Rear Connection Ports |
There are two drop-down panels on the front panel. On the left portion there is a single USB port which you can connect any USB device with media content to play directly. Also, there is a button which will allow you to switch between 720p & 1080i. Video output options are high definition only (sorry standard definition fans)–component and HDMI. Sound can be carried through the HDMI cable, however, it can only do a maximum of 2 channel PCM! On the plus side, there's also 2 channel analog as well as digital toslink (S/PDIF) connector which provides the only way to achieve 5.1 surround sound. Multi-room fans will be happy to hear, that all audio outputs work SIMULTANEOUSLY!!
From what I can tell, the device is basically always on, even when it's in "Sleep." This is probably done to have the quickest bootup possible, as booting from a cold boot took about 50 seconds. Coming out of sleep mode, however, I found that the Connect booted into its MediaSmart interface in ~20 seconds.To get into the the Media Center Extender took ~40 seconds.
Gorgeous, Reflective Gloss Panels (see my reflection!)
Much Smaller than Xbox360
Before you panic that the device is always drawing electricity, check out the power ratings on this thing: in sleep mode the Connect draws about 5 watts. In full usage mode it got as high as a measly 7 watts. Put this against the Xbox360, which in Media Extender mode draws over 105 WATTS, and you'll need to pick your jaw up off the floor as well. As a reference point, the Linksys DMA-2100 Extender draws roughly the same power figures as the HP Connect.
The worst part of the device, and I bet 99% of the community will agree with me, was the inclusion of the MediaSmart Drive interface. Instead of including a high definition Blu-ray or even a standard DVD-ROM drive in that bay we get HP's proprietary slot for their branded removable hard drives. With all of the HP Connect's networking features I just can't imagine a demand for hard drive storage inside the device. More importantly, with the lack of a clean way to stream ripped DVDs or Blu-ray discs, this forces the user to either purchase an additional set-top disc player or use a combination of ripping and recompressing to be able to play discs with the Connect. For a device targeted at bedrooms and dens I consider this omission the most glaring, especially at this high a price point.
MediaSmart Interface
MediaSmart Interface
The MediaSmart Interface is HP's proprietary extender-like UI which works separately from the Media Center interface. Unlike the MCX (Media Center Extender protocol) which is driven by the host Media Center PC, the MediaSmart is driven entirely off of the hardware device itself. What that means is that you do not need a single main server PC to be powered on to browse and use the interface. Note, there is a caveat: you will need a host PC with software installed if you choose to download or view content via CinemaNow.
The device is UPnP and DLNA compliant, which allows it to interface with pretty much any of media servers you may have in your house: Windows Vista or XP with WMP 11 installed, many NAS solutions, Windows Home Server, and TwonkyVision are just a few of the compliant platforms which the MediaSmart will automatically detect on your network and add the shared media to its library of content to play. If you're not careful, the device will scan around and find some files you might not have wanted showing up in your thumbnail library.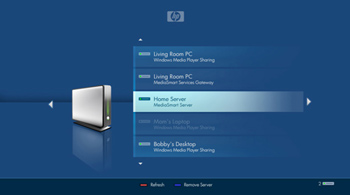 While the idea is great, In an environment with a large collection of files or several computers sharing files I found the media navigation performance to be far too sluggish to use on a consistent basis. Navigating even in the List view became a chore. The interface allows for both list and thumbnail view, and while List view was the quicker of the two, when browsing Videos in thumbnail view it took over a minute. Hopefully this is something that can be optimized in time, as the quicker bootup time versus the Media Center Extender mode makes MediaSmart mode very attractive, especially when I'll only be in a room for a short period of time and just want to play something quickly.
In regard to the interface itself I must admit to being impressed. I have always been a skeptic of the "included" media browser interface that hardware companies have been integrating into their devices. They tend to feel cheap, sloppy, and without much thought put into them–no doubt feeling that customers will simply be purchasing the unit as an Extender, but then still being able to promote additional, albeit typically useless features. HP apparently took notice of others failures and clearly focused as much on the MediaSmart interface as they did the rest of the device.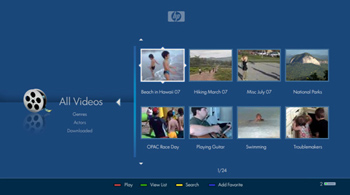 The UI design is simple–a rotational 3D-like interface which you scroll to the right or to the left to navigate through the various options of Videos, Music, Photos, Online Media, and of course, Media Center Extender. Clicking on an icon takes you to a selection where you can browse how you wish to view your content. By default the "All Videos" selection, for example, will show you all the video files the Connect finds on your network. My favorite feature is a Folder view, which lets you select a specific server and then browse the folder to access the exact file you are looking for. There's also a "Search" feature as well. As I mentioned before, if you have a large collection — stay away from the Thumbnail view, it's simply too slow to be effective. If Music and Photos are more your forte, then the MediaSmart interface works just fine. I found browsing to be simple once I got the hang of the controls, and the various ways of filtering allowed me to get where I wanted to as fast as possible.
The bread and butter of MediaSmart is in their Online Media Services. The three services included at launch are Live365, Snapfish, and CinemaNow. With a free or premium Live365 account, you can queue up any of the music available. It was quick, and I found the quality equivalent to what I was accustomed to. Snapfish–also free–allows you to view your uploaded photo albums on your TV. CinemaNow is the only offering which requires money, but included with the Connect is a $20 gift certificate, so you can try it and see if the service is for you. The CinemaNow interface was very simple, with none of the fancy trailers and animations that are available through the Media Center version, but it was easy to browse and very quick to make a purchase.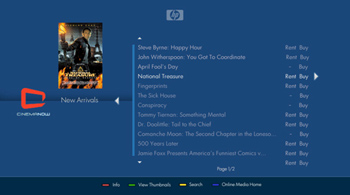 In my opinion, the most basic yet revolutionary feature of the Online Services is the singular login! Rather than having to login to each separate service with the remote (UGH!!), you simply create an account at the HP website which then asks you for your login (or to sign up) for the aforementioned services sites. Once completed, you login through the MediaSmart with the HP login, and it automatically recognizes your other accounts! If this sounds trivial to you, you probably have never had to use the multitude of Media Center plugins which each require logins from a remote.
My only complaint with the Services area is the loading bar!! Yes, it's trivial, but for an interface as clean and smooth, I expect more from HP than a bar at the bottom reminiscent of a 1995 browser window. That aside, the combined service offerings, along with proposed future additions, and most importantly the one-time central login, show a step in the right direction, and one I hope Microsoft pays attention to!!
Extender Interface
Media Center Extender (MCX) Interface
Ok…so I know this is probably the part you care about most, so I'll get right to the question on everyone's mind — No, the animations/user interface of the Media Center Extender session is NOT as good/smooth as the Xbox360. As mentioned before, as long as these Extenders utilize the graphics power of the host Media Center server to render the interface–unlike the 360 which renders it on the super powerful device itself–then I don't see them getting to the fully accelerated eye candy level unless there are serious hardware upgrades, but of course that will make them draw more power, which means more heat and likely more noise as well.
That being said, I can vouch that the animations (navigating the Start Menu) of the HP Connect are the best outside of the Xbox360. I've used both the D-Link and Linksys extenders, and while those appear like lower resolution static images moving akwardly through the menus, the Connect gives much more of an animated look and feel…not perfection, but much better. If those smooth animations are your number one requirement in an extender, and you don't care about noise or power consumption, the Xbox360 is really your only answer.
Animations aside, the MCX interface is very quick. Unlike the MediaSmart interface which runs off of the Extender hardware itself, the MCX session leverages the power of the Server, thus navigating around large collections of files is much faster. For those unfamiliar with the MCX session: you can only pair the Connect device to one Vista Media Center, which must always be powered on to access the interface.
Once you get past the animations, there's little to complain about. While you sacrifice an ounce of animation, you also gain a plethora of video and audio codecs. Most popular are DivX and XviD videos. Similar to the D-Link and Linksys Extenders, but unlike the Xbox360 (which has Divx/Xvid support, but only in the Xbox Blades, not the MCX session), I was able to seamlessly play a selection of those files from within the Media Center Extender interface, both from MyMovies as well as the native Video Library.
One other note on video playback I thought to mention is that DVD files (.VOB files) still need to be renamed to .MPG to be able to view them in your library, once renamed, I was pleased and surprised to see subtitle controls. Using the HP remote's subtitle button I was able to scroll through all the languages available from the original VOB file. If this is possible in Media Center itself I was never aware.
Testing plugins was a breeze: I tested a few weather applets, as well as the always popular vmcNetflix and was able to start streaming a movie in a matter of moments. From a performance standpoint, I would rate this at an equivalent level to the Xbox 360 (as it should be, since most of the resources are taken from the Server hardware, not the Extender hardware).
Besides animation, the only other complaint I have with the MCX interface –and this is more directed at Microsoft, since EVERY Extender shares this problem– is the length of time it takes to boot into MCX. Unlike your TV or Stereo, which you turn right on and can use immediately, or even my Media Center (which is always on), the Connect, and all other Extenders, take a fair amount of time to get into the Media Center interface. Surely in this world of caches and OS tweaks, there HAS to be a faster way to get straight into the MCX session. This is especially so with a device like the HP Connect which is essentially always at the ready without causing a strain on your electricity bill!
Remote Control
Remote Control
As with any remote control, you either will love it or hate it. I remember when I first used the Linksys DMA-2100 remote and could not believe how cheap that felt. You will be happy to hear that the HP remote is very well built. The buttons were separated and seemed of good quality which is important in a device you'll be pressing frequently throughout the day.
Slightly bigger than Harmony 890
Close Up
The remote is backlit, which is a REQUIREMENT as this thing has a LOT of buttons. Geeks will probably love that part, but it scared my girlfriend at first. HP integrates both the MediaSmart controls as well as the Media Center Extender controls, and then throws in the benefit of being able to control multiple devices (TV, Cable box, DVD, Aux) as well. So the goal is definitely for this remote to be your all-in-one replacement. You may not use it for anything but your TV and the Extender but it's nice to have those features, especially at this price point.
I found the button layout to be OK — nothing to brag about, but nothing that shouted absurd either. The arrow buttons are right where your thumb will be, and there are direct button shortcuts around it, such as LiveTV, Guide, Info, etc. A small issue with the remote is that with all the buttons on this thing there was apparently no space to include shortcuts to Music or Photos, which is a disappointment as I'd imagine a lot of people use Extenders for music. I think the remote would have benefited from a more hybrid design –rather than have a button used in only 1 of the interfaces, why not make it a hybrid button that applies to both interfaces and save some space?
Similar Thickness to the Harmony
Slightly thicker than a quarter
If you have smaller hands you might not be a fan, as the remote was longer than any other remote I had in my possession. Something else to note is that the remote does NOT use the same IR code as the standard Media Center remotes. I consider this both a good and bad thing. It's great if you have the device in nearby rooms and do not want it to accidentally control your server as well. It's terrible if you lose the HP remote, as you can't just go to the store and buy a generic MCE remote for it to work with. A minor quibble, but worth noting.
Based on the remote offerings I've seen from other Extenders and similar media sharing devices, overall I was very pleased with the remote. It has the look and feel of a high quality remote, with a nice blue backlight, and reasonable layout. I sometimes wish a traditional company like HP would take some cues from the likes of Apple, and try to NOT throw the kitchen sink onto the remote. It makes it very intimidating and forces the remote to be longer than necessary.
Questions and Answers
Questions & Answers
I took the liberty of pinging our community for any specific questions which users had. While I couldn't get to all of them, here are a few specific ones I wanted to isolate that may not have been pointed out in the review:
Q: Can you stream direct DVD rips, Blu-rips (.mts) or .mkv rips etc?
A: First, the bad news, you cannot playback ripped Blu-ray content. DVD content, however, can be played back with some tweaking. As with any other Extender device you can rename the .VOB files to .MPG and they will be visible in both the Extender and MediaSmart interface. The nice part about the MediaSmart interface is you can skip from file to file while playing, versus MCX, which you need to go back to the Video Library to select the next one.
For a full list of formats that play in both the Connect and Extender interfaces, check out Chris Lanier's writeup of the device.
Q: Any plugin issues with the extenders? Does Netflix work?
A: No issues with any plugins I tried. vmcNetflix worked great, as did the included CinemaNow application. For you movie fans, MyMovies worked as well without problems, and played the DivX & XviD files without having to stream (yeah!!!)
Q: Can you customize the interface?
A: No. Neither the MediaSmart interface nor the MCX interface offer support for tweaking the interface.
Q: Does it support screenshots or thumbnail pictures when browsing for something to watch?
A: Yes. When you browse through folders using the MediaSmart browser you have the option of List View (default) or Thumbnail. Fair note though, if you have a large collection, stay away from the Thumbnail view within there, as it takes a bit to load.
Q: Any heat related issues with the device?
A: None whatsoever. I've had the device running for several days now in a warm room and the device is remarkably cool to the touch.
Q: I heard there was a fan in the Extender?
A: Yes, there is a small fan behind the hard drive bay, but relax, it's 100% silent. In fact, the only way I could even hear the fan was by placing my ear against the device. This could be the main reason for how the unit stays so unbelievably cool.
Q: Is HP's media aggregation service incorporated into MC interface or do you have to log out of MC and go into another service?
A: All of the formats I was able to test played just as smooth within the MCX interface as the MediaSmart. Different than the Xbox360 which you need to leave the MCX interface to play DivX and other filetypes.
Q: Does it support HDMI 1.3 & high definition audio bitstream formats?
A: No. The highest quality sound you can get out is 5.1 Sound over S/PDIF. There is a 2-channel analog connection as well.
Final Words
Final Words
After including their extender technology strictly with their HP branded flat panel televisions, it's nice to see that HP has put some effort into the Media Center world with the creation of the Media Center Connect device. It is by far the most attractive and refined Extender on the market, including both Media Center Extenders and other media streamers, which helps to justify the hefty $350 price tag. However, there are more than a few benefits included with that price and unfortunately there is not another refined extender on the market (Niveus EDGE not included as that is $1500).
I was surprised to see a total lack of advanced HDMI capabilities, given the industry buzz of the HP Connect. However seeing as how no other Extender is doing advanced HDMI audio, I'd imagine it's a limitation of the current chipsets being used. The fact that the HP Connect uses nearly identical chipsets to the Linksys and D-Link makes the HP model more impressive. HP is the first to get even remotely close to the smooth 3D accelerated display of the powerful Xbox360's Extender session. While still not to the same level, it's by far the best non-360 Extender experience on the market–probably reason enough for some eyecandy lovers to justify the purchase. Combine that with the well refined non-MCX MediaSmart interface, as well as the bundle of extras included in the box, and it puts this Extender right at the top of my list. […add a Blu-ray drive, and you'll win my heart forever HP]
Pros:
Silent
Can run without a host server connected (MediaSmart mode)
Nicest animations from a non-Xbox360 Media Center Extender Interface
Full array of wireless networking support without ugly external antennas
$20 of free rentals with CinemaNow (Hey, free is free)
Low power draw — uses less than 10 watts!
Multi-function remote control
Cons:
Steep Price – $350 is getting close to building your own basic PC
No 1080p Support
No Blu-ray support, not even DVD support!
No 3rd party remote control ability
No standard definition video output
HDMI audio is crippled to 2-channel PCM