ArcSoft TotalMedia Theatre

ArcSoft has had the buzz for the last few months in the HTPC Blu-ray player world. Out of the nether regions of photo slide show software, a lesser known company, ArcSoft has developed their own Blu-ray and HD DVD playback solution called TotalMedia Theatre. It includes all the features a player should have and some features only ArcSoft has implemented.
The basics:
Full support to play
Blu-ray (BDMV, BDAV, BD-Java) [Profile 1.1 and 2.0 support in newest builds],
HD DVD, AVCHD, DVD, VCD, CD
High definition interactive content, including HDi and BD-Java
High definition multimedia files: QuickTime, RealPlayer, DVR-MS, WMV HD, DivX HD, H.264 HD
Advanced video decoding
MPEG-1
MPEG-2
MPEG-4
VC1 (SMPTE 421M)
H.264
Support for advanced audio decoding
Dolby Digital, Dolby Digital Plus, Dolby TrueHD
DTS, DTS-HD High Resolution, DTS-HD Master Audio [DTS-HD MA in latest builds]
Support for music playback: CDs, MP3 CDs, and other music discs
Region code setting
AACS support for HD DVD and Blu-ray
Parental control
Smart Stretch
Time Stretch
Auto Enhance
Screen capture (DVD only)
Auto-resume play
Playlist creation
Easy to use: pop-up menu, shortcut keys for playback actions
The system requirements:
For TotalMedia Theatre with Blu-ray and HD DVD playback:
Windows XP SP2/Vista 32
Intel Pentium EE 3.2 GHz, Intel Core Duo, or equivalent; AMD Athlon 64 or equivalent
120 MB free hard disk space
512 MB RAM (1 GB recommended)
Blu-ray or HD DVD drive
NVIDIA GeForce 8400 and above, or AMD(ATI) HD2400 and above.
Notes: AMD(ATI) graphic cards are only supported on Windows Vista 32 at this time. Please contact AMD for updated drivers.
256 MB graphics card or above
HDCP compliant display for digital output (HDMI connection); TV or VGA monitor for analog output
A Look at the Program
The ArcSoft player has two faces…
One is a rather typical desktop video player application interface.
And then there is what really makes ArcSoft's solution stand out…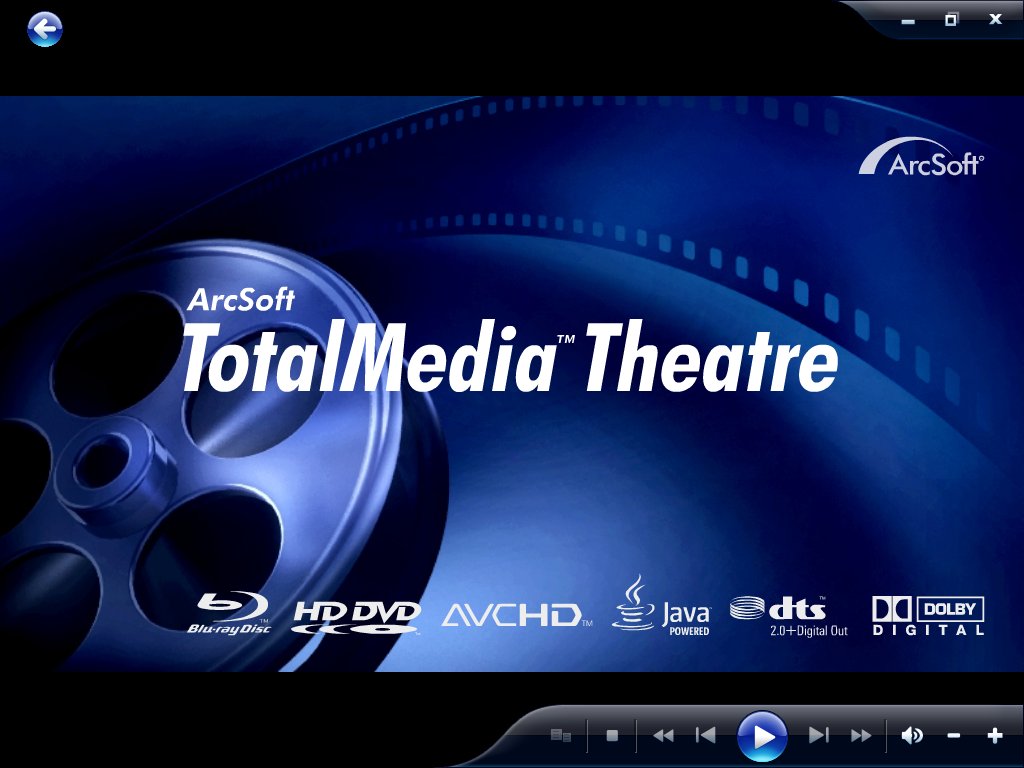 10 foot Media Center-like user interface for remote/couch use
ArcSoft's main claim to fame is that it installs a special Media Center mode. During installation TotalMedia Theatre (or "TMT" for short) is registered with Media Center, and for Vista Media Center the autoplay handler for HD DVD and Blu-ray is correctly registered, so inserting a disc from either format automatically launches the remote controllable 10′ version of TMT.
Windows Media Center Integration
The special remote navigable version that launches when called from inside Windows Media Center (both MCE 2005 and Vista versions) is an industry first for PC high definition players. Not only does it launch properly from inside Media Center upon installation, but it responds to the Media Center remote commands just how you think it should.
The DVD Menu key calls up the HD DVD or Blu-ray discs' popup menu, not the legacy DVD Root command that other applications trigger which results in going to the main menu and not using the advanced interactive pop-up menus of Blu-ray or HD DVD.
Next, it responds to the number pad on the MCE remote for direct chapter skipping. Other programs have rudimentary support for the common media commands (Play, Pause, Stop) of the MCE remote, but do not have proper number pad support.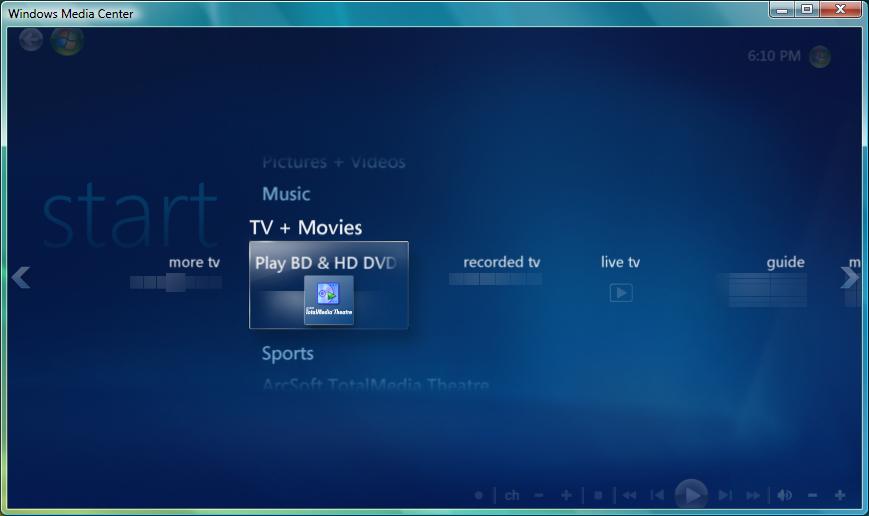 Vista Media Center integration
To get back to Windows Media Center the user simply presses the Back button on the MCE remote. For those of us who are used to the Back arrow being a harmless way to step back a menu in Media Center you have to stop being so "back button happy" because it quits TotalMedia Theatre. Remember that while ArcSoft's integration is nice, it is still really just a well coded face on a separate application so it has to have a command to quit itself and return to Media Center. However, unlike other products, TMT is Media Center aware and correctly restores the Media Center GUI from its minimized status upon exit, making things nearly seamless.
The "i" Information button of the MCE remote opens the TMT main menu which can be used to jump audio tracks, select subtitles, show the current audio/video format & bitrate information, or trigger the setup. The setup menu is a subset of the full configuration options in the desktop GUI. The options menu is 10 foot friendly and exposes all the important settings.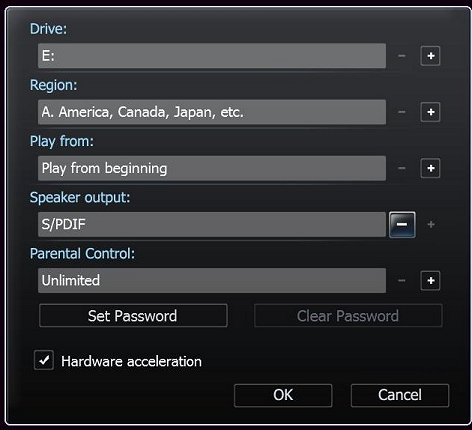 The 10′ Setup Menu
Testing and Usage Notes
As many of our community members know, both Alan and I have had TotalMedia Theatre around through various builds for some time now, and we've come to really like ArcSoft's player for HD DVD and Blu-ray material.
I've done brief testing on MCE 2005, but our main HTPC rigs are Windows Vista 32-bit based. Alan has a Dell CableCARD box with an ATI Radeon HD 2600XT while mine is a more modest dual-core system with an NVIDIA GeForce 8600GT, this way we can test both ATI and NVIDIA video card compatibilty and performance. Our pertinent testing system specs are listed below. The majority of our testing was done with a pre-release build of version .113.
| | | |
| --- | --- | --- |
| | Alan's Dell XPS 420 | Matt's Modest HTPC |
| Memory | 3GB | 1GB |
| CPU | Intel Core 2 Quad Q6600 | AMD Athlon 64 X2 3800+ |
| Video Card | ATI Radeon HD 2600XT | NVIDIA GeForce 8600GT |
Compatibility:
After a rough start for Alan due to an ATI driver change breaking things for ArcSoft in Catalyst 8.3, we both generally found TotalMedia Theatre to be responsive, and compatible with a variety of HD DVD and Blu-ray titles.
We found TotalMedia Theatre to be quite a bit better to use then Cyberlink's PowerDVD Ultra 7.3. I have to say the compatibility of PowerDVD Ultra has been less then stellar. The 7.3 build has issues with Universal HD DVD titles playing properly (it was such a simple, yet odd, issue that was never addressed by Cyberlink, so good ol' Slysoft integrated a workaround into AnyDVD HD for PowerDVD users). ArcSoft's solution has no such issues. TMT can properly use all the "U-Control" picture-in-picture and interactive trivia features of demanding titles like The Bourne Ultimatum; something PowerDVD failed to do properly (it would often quit or just not enable the PiP feature).
We also both tested it with a handful of Blu-ray discs with little problem. The Blu-ray support is snappy — BD-Java heavy titles seem to load quickly (certainly much better then any set-top player).
Performance:
From my informal feelings in day-to-day usage I feel like TMT uses slightly more resources then PowerDVD Ultra, however the difference is negligible and shouldn't be a concern for anyone running a more modern system. I think this has more to do with running only 1GB of RAM under Windows Vista then anything specific to ArcSoft's software. Alan with his new Dell, for example, reported no such feeling.
Standard DVD Support:
Ahh… the Achilles Heel of an otherwise great product… sadly for now the standard DVD playback is quite poor: it doesn't deinterlace anything, it just bobs all fields. The Hardware Acceleration checkbox is grayed out in DVD mode, which means none of the advanced deinterlacing or decode acceleration is available. Speaking with ArcSoft, they made it clear that this will be remedied, but the current focus is on being an HD player. Really, this is not much of an issue when you consider that Media Center plays DVDs all on its own just fine, and the product is aimed at HD DVD and Blu-ray users.
Conclusions
ArcSoft has come into the HD player arena against industry heavy weights and made a name for themselves. Their support representatives are usually quick to respond on their website forums. ArcSoft is also actively working with system vendors to test and improve their product, the same can't be said for their competitors… TotalMedia Theatre is the choice of nearly all custom Media Center PC vendors (Vidabox, S1Digital, PC Alchemy, etc).
Also most recently they have been working with ASUS to provide proper protected path unrestricted high resolution audio over HDMI for the new ASUS Xonar HDAV1.3 sound card.
Pros
Integrates with Media Center!
Properly supports the Media Center remote control
Every Blu-ray certification you could want …from DTS-HD Master Audio to BonusView to BD-Live
Hasn't dropped HD DVD support from the code base, unlike other players
Less expensive then competition ($89.99 versus $99.99)
Cons
Not a replacement/alternative decoder for standard DVD playing, yet
No Vista 64-bit support, yet, but it has been confirmed as coming very soon.
Review Update 7/10/2008: Version .119 has preliminary 64-bit support!