NACS Takes A Step Closer To De Facto Standard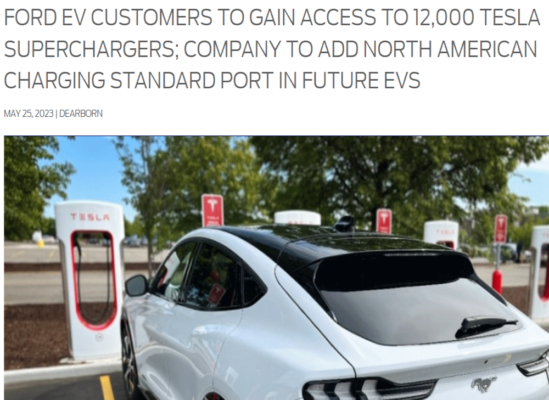 Despite the use of "standard" in the name of the North America Charging Standard (NACS), aka Tesla plug; NACS isn't actually a standard. There are procedures around how standards get made, and Tesla didn't do that. That's not always important, Apple's Lightning Connector isn't a standard either, and it does just fine – well, until recently. What really matters is adoption, and Tesla took a huge step forward there with Ford just announcing that they will start using NACS in future versions of their EVs.
That isn't the only news from Ford around this. Current Mach-E and F-150 Lightning owners will be able to purchase a CCS to NACS adapter in 2024 that will allow them to use the Tesla Supercharger network. This is all very weird to me.
At a high level, I can see why Tesla made the deal. They are the only real EV OEM using NACS; sorry, not sorry, Aptera. Having another major player onboard takes a huge step towards making NACS a de facto standard, and reduces the chance that they are forced to adopt CCS; either due to market forces or governmental, like what happened in the EU. But I don't understand Ford's long game here. That sweet Federal money for DCFC expansion doesn't apply to chargers without a CCS plug, and until now, it was looking like just a matter of time until Tesla had to fold, and do the CCS thing. Ford is burning goodwill with owners and potential owners. Some of whom are religiously opposed to Tesla, and some who have spent crazy money installing Ford's "Intelligent Backup Power" solution; although maybe that will work with a CCS to NACS adapter?
Personally, there was a time when I would have fallen into the first group. The main reason I wouldn't buy a Tesla is because they are a user hostile company, the other reason I wouldn't have bought a Tesla is because of lock-in. They fixed the lock-in problem when they released their CCS adapter, so it's really just the first thing now.
From a usability and technology perspective NACS is vastly superior to J-1772 and CCS, both of those standards are basically stone age technology. So on those fronts, I have zero problems with Ford going that direction conceptually. I do think that there's risk in NACS adoption because it's not a real standard though. Just as Apple wields a massive sledgehammer around Lightning, and makes significant revenue from their licensing programs, the same could be true of Tesla and NACS in the long term. We just don't know. So I'm tentatively optimistic long term.
In the short term, I'm thrilled. As long as the promised NACS to CCS adapter isn't crazy money, I will be first in line grab one. Having access to the largest, working, conveniently located, DCFC network will be awesome.
DEARBORN, Mich., May 25, 2023 – Ford Motor Company said today it reached an agreement with Tesla Motors that will provide Ford electric vehicle customers access to more than 12,000 Tesla Superchargers across the U.S. and Canada, doubling the number of fast-chargers available to Ford EV customers starting Spring 2024.

"This is great news for our customers who will have unprecedented access to the largest network of fast-chargers in the U.S. and Canada with 12,000+ Tesla Superchargers plus 10,000+ fast-chargers already in the BlueOval Charge Network," said Jim Farley, Ford president and CEO. "Widespread access to fast-charging is absolutely vital to our growth as an EV brand, and this breakthrough agreement comes as we are ramping up production of our popular Mustang Mach-E and F-150 Lightning, and preparing to launch a series of next-generation EVs starting in 2025."