Showtime Anytime Comes to Roku Players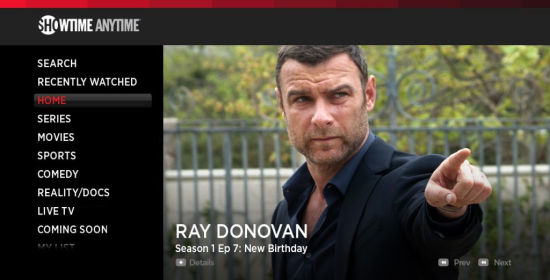 Today is a good day if you're a Showtime subscriber and also have a Roku streamer for over-the-top content because the "Showtime Anytime" app is now available on the player. I think it's great how Roku continues to add content, and this is another example of how they keep adding value to their ecosystem.
Full PR after the click.
SHOWTIME ANYTIME® NOW AVAILABLE ON ROKU® PLAYERS

SHOWTIME® Subscribers Can Now Watch Network Programming On Roku Streaming Players As Well As Their Computer and Mobile Devices

NEW YORK, Feb. 18, 2014 – Today, Showtime Networks and Roku Inc. announced that the authenticated service SHOWTIME ANYTIME is now available on Roku, the popular streaming software platform. Roku customers who subscribe to SHOWTIME will have free, unlimited on-demand access to hundreds of hours of the network's programming, as well as the live broadcast of both the East and West Coast feeds of SHOWTIME. SHOWTIME ANYTIME is available at no additional cost to SHOWTIME customers who subscribe to the network through participating television providers.

SHOWTIME ANYTIME users can now watch current and past seasons of award-winning SHOWTIME original series including HOMELAND, RAY DONOVAN, MASTERS OF SEX, CALIFORNICATION, HOUSE OF LIES, DEXTER®, WEB THERAPY, EPISODES and NURSE JACKIE on their Roku players. SHOWTIME subscribers can begin to stream the network's critically acclaimed hit series, along with box office hits, comedy specials, documentaries, and hard-hitting sports programming on their Roku players, and pick up where they left off on their computer, or on their mobile device, so they can continue to enjoy SHOWTIME programming wherever and whenever they'd like to watch.

Roku players connect to a home network wirelessly and provide access to the best selection of streaming entertainment including original series, movies, TV shows, music and more from the Internet, right to the television. The SHOWTIME ANYTIME channel is available in the Roku Channel Store on all current-generation Roku devices in the U.S. Customers can link their Roku player with their SHOWTIME subscription by first obtaining an activation code on their Roku device, and then signing in with their username and password supplied by their participating TV provider on their computer at ShowtimeAnytime.com/activate, or by selecting "activate devices" within the SHOWTIME ANYTIME mobile app. SHOWTIME ANYTIME is available now nationwide on Roku to AT&T U-verse, Cablevision's Optimum TV, DIRECTV, Time Warner Cable and Verizon FiOS customers.

Roku is the creator of the most popular streaming software platform for delivering video, music and casual games to the TV. The Roku platform features the largest collection of entertainment available for streaming and is accessible through Roku streaming players, Roku Ready® devices, and later this year on Roku TVs.

Showtime Networks Inc. (SNI), a wholly-owned subsidiary of CBS Corporation, owns and operates the premium television networks SHOWTIME®, THE MOVIE CHANNEL™ and FLIX®, as well as the multiplex channels SHOWTIME 2™, SHOWTIME® SHOWCASE, SHOWTIME EXTREME®, SHOWTIME BEYOND®, SHOWTIME NEXT®, SHOWTIME WOMEN®, SHOWTIME FAMILY ZONE® and THE MOVIE CHANNEL™ XTRA. SNI also offers SHOWTIME HD™, THE MOVIE CHANNEL™ HD, SHOWTIME ON DEMAND®, FLIX ON DEMAND® and THE MOVIE CHANNEL™ ON DEMAND, and the network's authentication service SHOWTIME ANYTIME®. SNI also manages Smithsonian Networks™, a joint venture between SNI and the Smithsonian Institution, which offers Smithsonian Channel™. All SNI feeds provide enhanced sound using Dolby Digital 5.1. SNI markets and distributes sports and entertainment events for exhibition to subscribers on a pay-per-view basis through SHOWTIME PPV®.

###