Samsung Adds Chrome, YouTube, and Google Play to SmartHub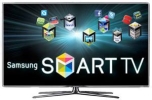 Samsung's relationship with Google has been on a slow burn for quite some time and Samsung's first Google TV device is still hovering on the distant horizon, but that hasn't stopped Samsung from continuing to flirt with Google. Samsung has added Chrome, YouTube, and Google Play apps to the Samsung SmartHub app store. Collectively, these three apps bring just about all of the Google experience one could hope for to the living room. It will be interesting to see how many of the Google TV apps in Google Play will play nice on Samsung TVs, but either way, it is a surprisingly bold move for Samsung to provide access to such a prominent app store competitor given how hard Samsung has worked to build up its SmartHub collection.
But those three apps arguably make up the entire Google TV experience: Chrome (without Adobe Flash support), YouTube (updated from its previous version to be much snappier and support keyboards), and most importantly the Google Play store (with "most but not all of the Google TV apps," according to a Samsung representative we spoke with).