Nintendo TVii Brings Live TV, DVR, Streaming Media and Second Screen Control to the Wii U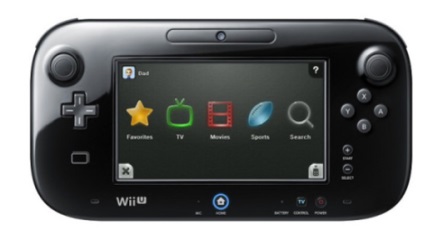 At E3 this year, Nintendo was beginning to open up a bit about what to expect from the Wii U other than playing video games. At the time, the company was assuring gamers that the Wii U would have access to Netflix, Hulu Plus, and all of the other streaming media services that game consoles are now expected to offer, and that the Wii U GamePad would offer some sort of TV control funtionality. In their official launch press conference this week, Nintendo took the wraps off of Nintendo TVii, a service that allows Wii U users to watch TV via the Wii U and to control their viewing experience with the Wii U GamePad.
As part of its Wii U conference, Nintendo has revealed Nintendo TVii. Nintendo president Reggie Fils-Aime introduced the service, which will allow users to watch movies, sports and television via the Wii U. The service includes social features, allowing viewers to connect with other Wii U users via Twitter, Facebook and other services.
Although announced and official, complete with upbeat promo video, there are still alot of details to be fleshed out. We do know that the Wii U GamePad serves as the control point for all of this functionality with a user profile customized program guide that pulls from TV listings, services like the aforementioned Netflix and Hulu, and from recordings on your TiVo. The GamePad also offers full QWERTY text input or a radial keyboard that comes up out of the lower right hand corner of the screen, which should come in handy for utilizing the universal, cross-platform browsing and search. We also know that Nintendo TVii is powered by technology from i.TV, a company that focuses on developing second screen control apps for mobile devices.
Brad Pelo is suddenly in charge of a major Nintendo initiative for the Japanese company's next big console, the Wii U, despite not being an employee at Nintendo. Instead, Pelo is CEO of i.TV — a "social television and second screen technology company" that's worked with everyone from Entertainment Weekly to Engadget parent company AOL — and he's the man responsible for Nintendo TVii.
What we don't know is exactly how all of these pieces work together. The streaming media components are fairly straightforward, but the details about the TV and DVR control are still a bit vague. For the TV side, Nintendo has already talked about using the IR-blaster in the GamePad to control a TV, but Nintendo still has not shared any details about how this universal remote control functionality will be programmed or how exensive it will be. As for the DVR functionality, Nintendo has clarified since the press conference that the Wii U does not have any TiVo hardware built-in, so one would need to own a TiVo, but there are still no details about how the Wii U connects to the TiVo or whether intermediary hardware such as the TiVo Stream will be necessary. There has also been some debate about whether the DVR interactions are exclusive to TiVo. The TiVo logo is in the press materials, but Nintendo has also been fairly specific to use the more generic term, "DVR", rather than TiVo when talking about the ability to playback recorded TV. If Nintendo can make TVii flexible and exensible enough, the company may just have a chance to upend Sony, Microsoft, and Google in offering consumers the one living room device to rule them all, but only time will tell how all of the peices will come together.
Still, there's plenty of reason for skepticism over how well Nintendo will be able to integrate with cable and satellite DVRs. While Nintendo touted TVii's TiVo integration, other TV providers weren't mentioned, although Nintendo says it will work with all major cable and satellite providers, plus over-the-air broadcasts.