Diamond Multimedia Releases the GC1000 PVR and GC500 PVR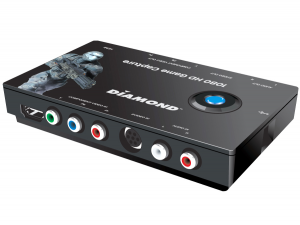 Diamond Multimedia is evidently on a product release binge. Hot on the heels of the AMP1000 Android Media Player comes the GC1000 and GC500. The GC1000 and GC500 are high definition PVRs in the vein of the Hauppauge HD-PVR, a product that has sparked more than a few discussions around here. The two offerings appear to be largely identical except that the GC1000 offers HDMI connectivity, while the GC500 tops out with component connections. Diamond Multimedia is positioning their new PVRs as game video capture devices, which makes sense given that this has been a popular use for such devices over the last few years, but the GC1000 and GC500 are certainly not limited to such applications and might still find a place next to an HTPC in need of settop box video capture capabilities.
The GC1000 functionality is similar to the Hauppauge HD-PVR 2. Video input for recording may come from game consoles, DVD or VHS players, camcorders or STBs as long as they are through S-Video, component video or HDMI without HDCP. There is a zero delay passthrough to the corresponding output port, and the recorded video is streamed out through the USB 2.0 port to a PC.