Cooler Master Announces Elite 120 Advanced Mini-ITX Case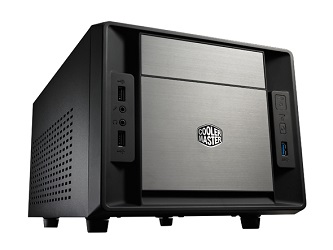 Cooler Master has announced the Elite 120 Advanced Mini-ITX case, joining BitFenix and Fractal Design in pushing new designs geared not just at SFF and HTPC enthusiasts, but also performance enthusiasts. The Elite 120 Advanced is the latest Mini-ITX case to tout a design intended to house a full-size gaming-grade graphics card without giving up the diminutive footprint that makes mini-ITX so attractive. The new case also includes space for a full-height 5.25 drive, multiple hard drives, and an ATX power supply. Perhaps the most aggressive spec is the price at only $50. It will be interesting to see if this little beast can truly provide the cooling it suggests it can without screaming like a banshee.
The case also supports processor heatsink assemblies measuring up to 2.5 inches (65mm) tall as well as full size ATX power supplies. Despite such cramped quarters, Cooler Master claims the Elite 120 Advanced offers best-in-class cooling, which includes a 120mm front intake, an 80mm x 15mm slim side fan, an optional 120mm x 25mm hard drive fan, as well as perforated side panels for improved ventilation.