Wesena ITX5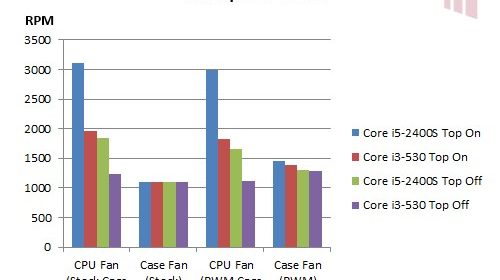 Boasting clean lines, the right look, and solid construction for Mini-ITX based systems the Wesena ITX5 all-aluminum enclosure offers capabilities very similar to the ITX7; by removing optical drive support in a slightly lower cost ($80) package. Building a name for quality takes time and attention to feedback, so it was fantastic to examine the generational differences between the two small form-factor (SFF) home theater PC (HTPC) chassis from Wesena. As a refinement on the previous iteration we hope to see the niggles around fit-and-finish addressed.
Chassis
Specifications
| | |
| --- | --- |
| Dimensions (W x H x D): | 10″ (250mm) x 4″ (100mm) x 9.5" (240mm) |
| Motherboard Support: | Mini-ITX |
| Power Supply Unit (PSU): | picoPSU Style |
| Front Panel I/O: | 2x USB 2.0, 1x Multi-function card reader |
| Case Construction: | Aluminum |
| Storage: | 1x 2.5", 1x 2.5" or 1x 3.5" |
| Expansion: | 1x Low Profile, Single Slot PCI/PCIe |
| Active Cooling: | 1x 80mm (3-pin) |
| Extra Features: | Window for optional IR module |
Having previously reviewed the ITX7 the heft and quality of materials observed when opening the Wesena ITX5 were not surprising, but the enhancements in both the unboxing experience and presentation of the SFF chassis were pleasantly so. Besides the name, the most obvious difference when compared to almost identical enclosure is that the Wesena ITX5 does not support an optical disc drive (ODD) — but there were many subtle differences that did not go unnoticed. I've been told that these improvements are not specific to this case, but generational as Wesena refines the entire lineup.
The original ITX7's spot welds and simple taps into the aluminum used to secure the top of the ITX chassis to the bottom introduced minor alignment issues over time and increased risk of stripping if care was not taken to apply minimal torque. For a constant tinkerer, the move to steel retention nuts and a more solid attachment mechanism was a welcome sight. This change along with a slot cut into the shelf used to mount the storage bracket, which makes it possible to insert and remove it without disassembling the bottom section of the enclosure, and other improvements including a truly quiet case fan, labeled wires, tighter seam gaps and better internal component materials create a much higher overall fit-and-finish with the updated model. To be clear, I do not mean to imply that the Wesena ITX7 was not an excellent choice at its price point; just that the ITX5's retention of the factors, like solid aluminum construction and visual appeal, that made the previous enclosure a great value combine with these changes to remove the need to caveat.
The storage bracket also underwent change — with a higher grade of steel, better paint, and the inclusion of mounting holes for a second 2.5" storage device. The 3.5" option is still present, but like the ITX7 it was not useable with a retail Intel heat sink and fan (HSF) in place or RAM with any kind of heat spreader. With proper component selection I suspect that it would be possible to install a 3.5" device in the space, but it might be difficult to ensure proper airflow to the CPU's cooler in that scenario. Of course we can simply side-step this concern with a 2.5" hard drive should the additional storage, or write-cycle longevity be necessary for your HTPC – in this case a 5400RPM Hitachi drive was installed during testing.
Build
| | |
| --- | --- |
| CPU: | Intel Core i5-2400S |
| Heat Sink and Fan (HSF): | Intel i5 Retail |
| Motherboard: | Intel DH77DF |
| RAM: | G.SKILL Ripjaws Series 4GB (2x 2GB) 240-Pin DDR3-1333 SDRAM |
| Storage: | OCZ Agilty3 60GB SSD, Hitachi HTS541616J9A00 160GB 5400RPM HD |
| Power Supply Unit (PSU): | picoPSU-XT-150 (150W w/ 120W power adapter) |
| OS: | Windows 7 Ultimate 64-bit |
| Tuner: | Ceton InfiniTV 4 PCIe*, AVerMedia M780* |
| Discrete GPU: | NVIDIA GT430*, AMD 5550* |
* Only tested for fit, components were not located in the chassis during stress testing
While SFF chassis are necessarily cramped, working with the Wesena ITX5 was surprisingly easy. Some of this was likely due to familiarity with the ITX7, but the improvements discussed earlier also played a significant role. As the form factor has not changed, the same limitation where PCI/PCIe cards with 1.5x slot requirements (like the NVIDIA GT430 tested with it) not fitting was also observed. Larger cards might be a bit tight, but the Ceton InfiniTV4 PCIe (the largest "in-spec" low profile card in my collection) still went in without too much trouble. Given the compact nature of the enclosure, selecting a quad core CPU might seem like an odd choice, but having previously examined the ITX7 with more conservative components this was an intentional decision intended to probe the limits of the case's design.
Use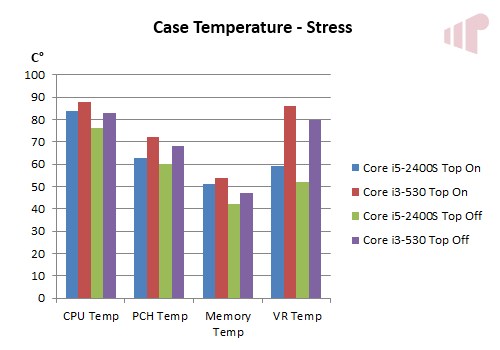 To create a worst case scenario, Prime95 was run for four hours and the temperatures of key components captured with the top of the chassis in place and removed using both the Core i5-2400S, as well as the more conservative Core i3-530 (two core, four thread) paired with a DH57JG. As we can see, there is a slight temperature advantage to removing the top. This was obviously the expected behavior, but a key metrics (the temperature of the top of the case) and the speed of the fans are not represented.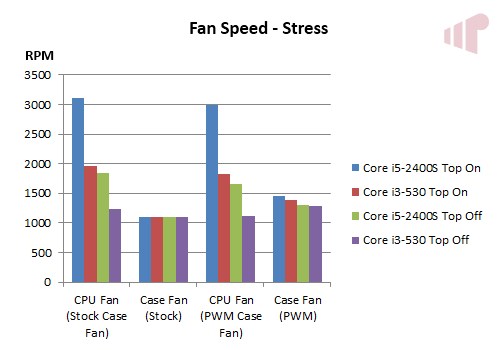 When including fan speed (RPM), a more complete view of a limitation in the chassis' design becomes apparent – even after swapping in a PWM case fan. Combining the temperature of the case above the CPU (107°F, measured with an IR thermometer) with this data, we can see that it would benefit from vents in the top of the chassis in more aggressive HTPC builds; allowing for natural convection via the intake above the rear I/O panel.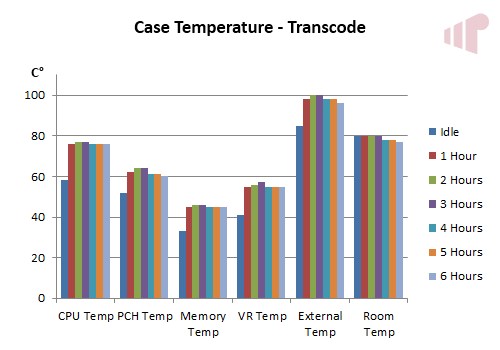 Prime95 provides an excellent way to create artificial stress, but it is arguably more important to probe the limits with tools much more likely to be found on a HTPC – like Handbrake. For this test, chassis and room temperature were also included to capture the effect of environmental factors on the internal data points over time on the Core i5-2400S build. As we can see, there is a direct relationship between the temperature of the room and the other metrics; this highlights clearly that the active cooling via side-to-side airflow is functioning properly, but also suggests that there could be a sinking effect via the case itself.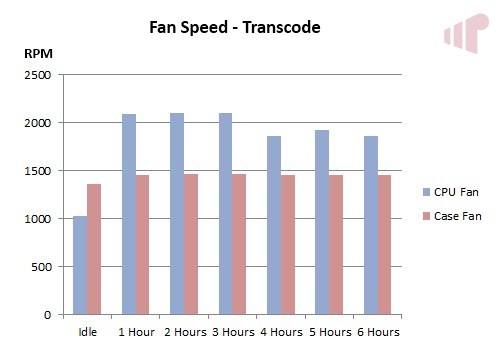 The most interesting result is found in the fan speed data however, with CPU RPM dropping to an acceptable level (less than 2200RPM is only audible within a couple feet of the chassis, 2000 was inaudible at more than three feet) when moving to a more likely "stress" environment. Noting the direct relationship between room temperature and fan noise under load, it is clear that the Wesena ITX5's ability to dissipate heat at reasonable noise levels provides significant flexibility in component selection, especially considering that 72°F (the average room temperature) is well below the 77-80°F range used for testing.
For completeness, metrics for the Core i5-2400S were also documented while recording via a SiliconDust HDHomeRun Dual over a six hour period. On their own, there is not much worth noting besides the ease with which heat and noise is dealt with. After comparing these values with what was noted at idle (presented in the previous charts) we can see that there is only a minute impact on the system from the additional load.
Conclusion
A year's worth of progress has greatly benefited Wesena's ITX5 SFF HTPC chassis. Not only does it continue to deliver the solid aluminum construction and clean lines of the ITX7, but also addresses the minor fit-and-finish issues observed previously via higher quality materials and design improvements. Like all SFF systems compromise around component selection is required, but I was surprised at how well the Wesena ITX5 performed in testing using components not normally associated with an enclosure of this size. There is still some room for improvement on this point however, where Wesena could change the design to add venting along the top, allowing for natural convection cooling. At $80 the ITX5 is an outstanding value, offering significant capability for Mini-ITX systems either as a client or server system.
Pro:
Excellent build quality
Materials quality
Price
IR window available
Looks
Con:
While full height 3.5" hard drives can be installed in the chassis it is impossible without a low profile HSF, and in that configuration it would be a very tight fit
Thanks to Perfect Home Theater for the review sample.