Vizio Announces Google TV-Powered Co-Star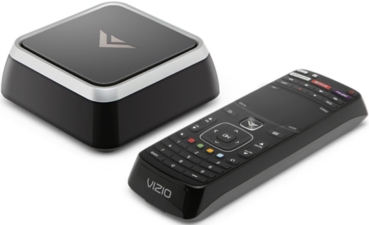 Vizio recently announced the Co-Star. The Co-Star, previously known as the VAP430, is Vizio's take on Google TV. Like all Google TV set top boxes, the Co-Star is intended to sit between your cable or satellite box and your TV. It sounds like Vizio has gone to some length to create a fresh, clean overlay UI and is looking to differentiate their offering with the inclusion of support for the OnLive cloud gaming service and a $99 price tag, half that of the NSZ GS7 that Sony announced earlier this week. The Co-Star does not come with a wireless OnLive controller, but it does come with a Bluetooth remote control that can offer gaming support in a pinch and also integrates IR blaster capabilities. Coming in at such an attractive price point, the Co-Star may well be the sort of device to spur renewed interest in Google TV.
The device itself offers support for 1080p video over HDMI, 802.11n wireless, Ethernet, a USB port for storage and peripherals, and ships with a Bluetooth remote that has a touchpad, full QWERTY keyboard with gaming buttons on its reverse side, and direct launch buttons for Netflix, Amazon Instant Video, and M-Go.