Google Announces Nexus Q at Google I/O, Google TV Gets Cold Shoulder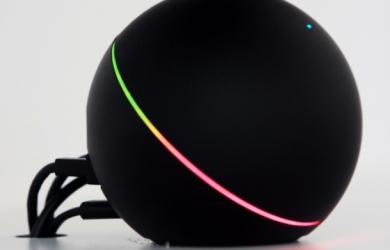 Google took to the stage in San Francisco this week for the Google I/O Developer's Conference. The company had several things to announce this year, including a version of Chrome for iOS devices and the Nexus 7 media tablet poised to take on the Amazon Kindle Fire, but around these parts, there was probably more interest in some of the anticipated Google TV announcements. Unfortunately, only Sony and Vizio seemed interested in showing Google TV some love this week. Google was busy announcing their new media streamer, the Nexus Q. The Nexus Q is a small, spherical device that supports both wired and wireless networking and offers HDMI and optical audio outputs, as well a 25-watt amplifier and banana plugs for direct speaker connections. The Nexus Q's announcement came as a surprise, but the biggest surprise had to be that the Nexus Q is not powered by Google TV. Instead, the Nexus Q is a brand new type of media streamer intended to bring YouTube and Google Play media to the living room, in much the same manner that Apple TV brings iTunes media to the living room, but without support for any other streaming media services or awareness of personal media. In addition to being narrowly focused, the Nexus Q is pricey at $299 and can only be controlled via the Nexus Q Android app. There is no 10-foot UI or remote control at all. I've expressed some reservations regarding Google TV before, but based on some of the early reviews for the Nexus Q, I would probably be more far more bearish on the future of this new device.
Six months ago former Google CEO Eric Schmidt predicted that Google TV would be embedded on the majority of new televisions by this summer. That hasn't happened, but it's not stopping Mountain View from entering the living room from a different angle — with its own branded media streamer, the Nexus Q. The Q acts exclusively as a receiver for audio and video content from Google's online media services, all controlled with your Android tablet or smartphone.