Sony Launches NSZ GS7, First Google TV Device to Ship Internationally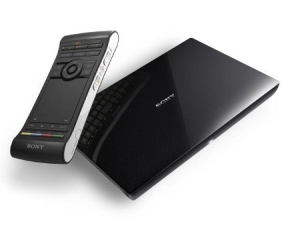 Sony may have decided to pull back on using Google TV in their television sets, but Sony was the only original launch partner from two years ago to reaffirm their commitment to the platform at CES this year. The first fruits of that continued interest will land in the US on July 22nd in the form of the Sony NSZ-GS7 Internet Player, complete with beefy two-sided keypad/touchpad/remote control. The NSZ-GS7 will retail for $199 and pre-orders can be placed now, but perhaps more interesting is the news that pre-orders can also be placed in the UK. Sony's Internet Player will be the first Google TV device available internationally, beginning in the UK later in July with other parts of Europe, Latin America, and North America to follow. The NSZ-GP9 Blu-ray Player is expected to follow a similar tack later this year. I still can't shake the feeling that Google TV remains in beta, despite it 2.0 appellation, but at least Google is finally willing to run its beta with the rest of the world.
After disappointing first-generation product sales of its first Google TV set-top box, Sony Electronics on Monday announced that it's still up for round-two of the platform.

In fact, Sony will be the first hardware partner seeking to extend the Google TV brand beyond the U.S., with plans to launch it into Europe and Latin America.