Sharp Announces Worlds Largest LED TV, 55 Inches Feels Way too Small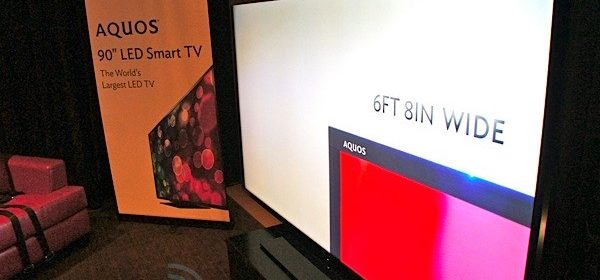 For those of you who scoff at the thought of a TV smaller than 80 inch's, Sharp has kept you in mind with their latest flagship TV, 90-inch AQUOS LED TV. Dubbing it the "worlds largest LED TV" the LC-90LE745U weighs in at 142 lbs with a depth at just under 5 inches. It uses an aluminum screen bezel similar to the ones found in its Elite TV line-up. Sharp has also taken the time to include their standard smart TV software kit inside the 1080p capable TV, with access to Netflix, Hulu and Vudo among others. The folks over at Engadget were able to get a hands on look at the TV:
The company's also done a nice job of stuffing a good amount of software inside the 1080p-capable AQUOS, including apps such as Netflix, Hulu and Vudu. Additionally, Sharp is throwing in a pair of three-dee glasses, which should come in handy during your precious movie night with the family. Best of all, it's up for grabs now, but prepare your wallet to take a major hit, as you'll have to shell out $11,000 to get one of these in your living room.
So for those of you looking to upgrade your current TV, and have $11,000 be sure to head into Best Buy or HH Gregg (sharp is currently only offering the TV for sale through brick and morter stores) and pick one up.