D-Link Announces SharePort (DIR-505) Mini-Wireless Access Point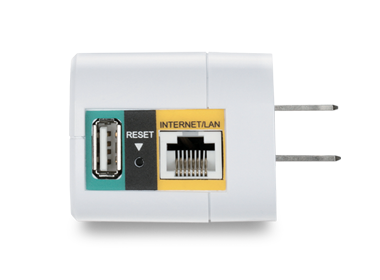 We don't usually cover networking product announcements, but this one was too interesting for me to pass up because I've been looking for something just like this for when I travel and need to stay in a hotel that uses web browser based authentication for WiFi access – which isn't supported by most of the small (Netflix enabled) media streamers available on the market. Obviously I could tote a full size access point around, but that's not nearly as convenient as something the size of this device.
Click through for the full PR.
D-Link® SharePort Now Available – Offering Easy and Convenient

Media Streaming, Storage and Wi-Fi Connectivity on Mobile Devices and Tablets

FOUNTAIN VALLEY, Calif. – June 19, 2012 –D-Link today announced its – an innovative new product every tablet and smartphone owner needs – is now shipping. SharePort offers instant USB sharing capabilities with the free D-Link SharePort™ Mobile app, enabling users to share videos, music, and photos from an external hard drive or thumb drive to any iPad®, iPhone® or Android® device. In addition, SharePort provides wireless access wherever an existing network is available and adds instant storage to a mobile device, offering the ultimate set of features for home or on-the-go convenience.

"SharePort is an all-in-one mobile companion that is ideal for anyone who enjoys playing music, movies or viewing photos from their iPad, iPhone or Android device,"said Daniel Kelley, associate vice president of marketing, D-Link North America. "It allows for easy sharing of media to Android and iOS mobile devices. Plus, SharePort instantly adds storage to your mobile device and can also serve as a portable router/access point, Wi-Fi hotspot and Wi-Fi repeater for instant wireless access from anywhere a network already exists, whether at home or traveling."

Smaller than a standard mouse, the easy-to-use SharePort offers instant Wi-Fi coupled with a range of useful features designed for today's mobile professional. The free SharePort Cloud app for both Android and iOS offers access to videos, music, photos, and files on Android and iOS mobile devices. Simply plug SharePort into an outlet, wait for the red light to turn green and insert a thumb drive in order to join a network or access media via the SharePort app. SharePort also features a USB port for sharing content from a USB storage device or charging smartphones, as well as an Ethernet port that enables users to easily connect to an existing network in a conference room or hotel room.

More about the D-Link SharePort (DIR-505)

SharePort offers a range of features in an affordable, compact device:

USB Port for seamlessly viewing and synchronizing videos, music, photos, and more from a connected USB storage device to any iOS or Android tablet, smartphone or computer
Free SharePort Mobile iOS and Android apps for tablets and smartphones
Portable multi-mode wireless router/AP, Wi-Fi hotspot and repeater
Ability to act as an Access Point to wirelessly extend an existing network
10/100 Ethernet Port
Built in AC plug for easy traveling and use – no additional cables or power adapters required
USB Port for charging a smartphone device (when not used with a USB storage device)

Availability and Pricing

The SharePort (DIR-505) is available now for $69.99 throughout D-Link's network of U.S. e-tail and retail outlets, including Amazon.com, Office Depot and Office Max, and at the company's online store.

About D-Link

D-Link is the global leader in connectivity for home, small business, mid- to large-sized enterprise environments, and service providers. An award-winning designer, developer, and manufacturer, D-Link implements and supports unified network solutions that integrate capabilities in switching, wireless, broadband, storage, IP Surveillance, and cloud-based network management. For more information visit www.dlink.com, or connect with D-Link on Facebook (www.facebook.com/dlink) and Twitter (www.twitter.com/dlink).

# # #