BitFenix Prodigy Mini-ITX Case Reviewed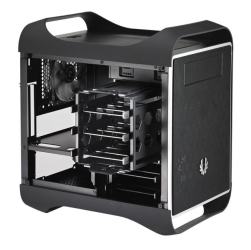 Mini-ITX always seems to be right on the cusp of bursting into the mainstream. Low-power and cool running processors abound and many of the major manufacturers are offering compelling mini-ITX motherboards, but for those of us that like to roll our own systems, the biggest challenge in selecting components for a mini-ITX build is often in selecting the right case. Mini-ITX cases tend be studies in trade=offs. Go too small and give up too much choice in expandability and drive slots, but go big and give up the space-saving advantage of the form factor; not to mention that mini-ITX cases often seem to be grouped into just two groups: cheap but low-quality or high-quality but expensive. However, we might finally be seeing some manufacturers finding that "just-right" sweet spot. The SilverStone FT03 Mini is certainly one contender, and now comes the BitFenix Prodigy. There might still be some rought edges, but it sound like the Prodigy may just be the Goldilocks mini-ITX case, offering configurations that allow it to serve in home server, HTPC, or gaming desktop roles all without breaking the bank.
There's also been a slow trickle of new mini-ITX enclosures designed to support that kind of hardware, but even these enclosures have had their limits unless you were willing to spend through the nose on a Lian Li case. That changes today with the BitFenix Prodigy, a $79, full-frills mini-ITX enclosure designed for maximum performance in minimum space. If you're looking to build a powerful mini-ITX system with a single graphics card, this may very well be the case you've been waiting for.