Redbox Celebrates 2 Billion DVD and Movie Rentals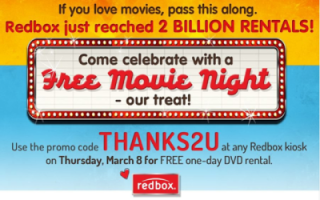 Redbox has taken some big steps this year by buying out their competition and making moves into the streaming business. Evidently the company also has some big numbers to be excited about. The company has announced that they have rented more than 2 billion movie and video game discs over the last several years, and they are celebrating by offering a free movie rental. The most surprising part is how quickly the company got to that second billion compared to how long it took to get to the first billion. It serves to underscore just how rapidly the company is growing.
Redbox announced this week that the company crossed the two billion mark for movie and video game rentals. It will celebrate the milestone by offering a free, one-night movie rental with the code "THANKS2U" for one day only on Thursday. Redbox has seen substantial growth over the past 18 months, with one billion additional rentals, a feat that previously took six years to accomplish.