Redbox Instant by Verizon Streaming Service Goes Alpha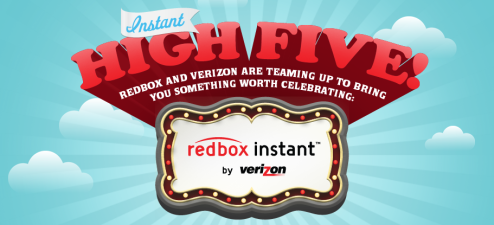 In early February, Redbox dropped a pair of bombshells. The first, the purchase of the Blockbuster Express kiosks, has come and gone and, frankly, no one really noticed, but the second bombshell, the announcement that Redbox would be teaming up with Verizon on a Netflix-like streaming service, promises to provide some lasting fodder. It took nearly five months, but the service now has a name, an executive team, and an invite-only testing phase. The service is officially called Redbox Instant by Verizon. Verizon's desperate attempt to be recognized publicly as a part of the service has resulted in an ungainly name that we can probably safely assume will never be known by any moniker other than Redbox Instant. As for the executive team, freshly unveiled CEO Shawn Strickland could be a name to watch for. It is bound to come up again if the service is successful, or if it flames out spectacularly. Finally, there is the testing phase. Assuming one can score an invitation, the testing phase highlights the biggest issue with the entire service: it is for Verizon customers only.
A Verizon representative confirmed to us that the service — which combines traditional Redox DVD and Blu-ray kiosk rentals with streaming over Verizon's network — is in an invitation-only "alpha" testing stage.