Digiboo Launches, Taking on Redbox with Flash Drives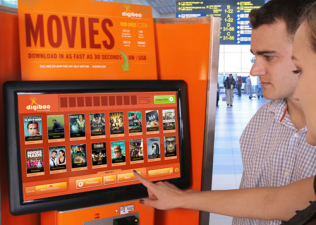 Redbox knocks out one kiosk rental competitor and another one springs up in it's place. The Morgan Freeman-backed Digiboo movie rental service has launched with kiosks in a handful of airports. Digiboo plans to expand to 7000 kiosks over the next three years, though presumably not just at airports. The basic concept may be similar to Redbox, but there are some fundamental differences. The most obvious difference is the decision to go with digital files that you download to a flash drive rather than discs. The standard definition movie files weigh in at about 900 MB per hour and at this point can only be played back on a Windows PC with Windows Media Player that has been authorized over the Internet with Digiboo's servers. Mac and Android support is in the pipeline, however. The second difference is the $3.99 rental fee, though to be fair, it is a 48 hour rental and you have 30 days to start watching the movie and trigger the rental period. Obviously a big part of the goal is to provide a better selection of movies without the attendant inventory management of DVDs and Blu-Ray discs, but it should be interesting to see if Digiboo can convince users that they offer a solution as convenient as Redbox's. Anyone interested in taking their USB drive down to the Circle K to rent a movie?
Judging by its quirky name, you'd think Digiboo is anything but an à la carte video service hoping to fight it out with the famed Redbox, or even Qwikster Netflix. The outfit's kiosks allow you to grab a two-day rental from a 700-plus film menu for $3.99, while $14.99 makes any title yours to own.