Western Digital Releases WD TV Live Remote App for Android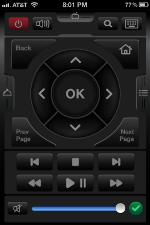 Well, that was fast. Just a couple of days ago, Western Digital dropped a big update on the WD TV Live family of devices along with a brand new remote control app for iOS devices, with the promise that an Android version of the app would be available soon. Usually that means a few weeks, not days. The Android version of the WD TV Remote is now available in the Android Marketplace and brings with it essentially the same set of features such as direct access to online services, gesture control, and an onscreen QWERTY keyboard for text input.
Only days after releasing an equivalent app for iOS, Western Digital has just released WD TV Remote, a free Android app that connects to your Western Digital set-top box over a WiFi connection and allows you to control it from any Android-based device.