Revamped Netflix for iOS Brings Updated UI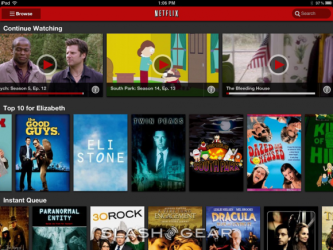 A month or so ago, as Barnes & Noble and Amazon were getting ready to launch their new tablets, Netflix managed to work its way into the spotlight with a new UI for for its Android apps. It was definitely a nice improvement with a much cleaner UI and larger artwork that made using the app easier on tired old eyes like mine. It was also somewhat surprising as it seems like iOS usually gets all of the early love for new and revamped apps, but not his time as the iOS version of the new Netflix app is only now available. The Netflix 2.0 app is also optimized to better suit the iPad and adds support for streaming in Latin America. Unfortunately, the app does not support AirPlay. This is not too surprising, but it would have been a fantastic addition.
It's a huge improvement over the original if only because you don't have to squint to see a movie's image anymore — they've blown up the images and folded most of the text and ratings info into a movie or show's individual entry.