Moneual M series resembles Xbox 360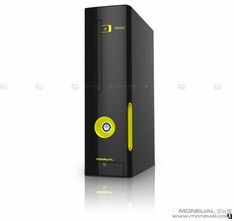 I have to admit, I kinda like this idea. Just think how confused visitors would be if you had this alongside an Xbox 360 Elite!
This model will run on an Intel E6500 2.93GHz processor, hold 2GB RAM, a 512MB GeForce GT220 graphics card as well as HDMI out connectivity for you to hook it up to your LCD TV in the living room. Guess this would make a good candidate for a HTPC, sitting right beside your Xbox 360 without looking out of place.