Recording Hulu, Netflix or Anything via the Hauppauge Colossus

So we've all probably experienced the case where, for some reason, our DVR misses an episode and we have to find it via another mechanism. Sure, you can watch it on Hulu or Amazon VOD, but you want to add it to your collection without the DRM (exactly how the DVR would have done), and it came over the air/cable for free (or you paid your cable bill) – so why should you have to pay for it again?! Maybe you've had one too many nasty-grams from Comcast about your bit-torrent downloads so you don't want to go that route.
Or perhaps you just want to capture a news clip from some random TV station, and they've incorporated every Flash copy-protection they can think of to stop you from recording it. I went and downloaded a number of the free flash capture programs out there. A number of them were simply carriers for crap ware and the few that were real simply didn't seem to work. The others are playing a game of one-up-manship with Adobe, Netflix, and Hulu to attempt to record the stream after it's been decoded. If you know of one that works well, please post your experiences.

Now PlayLater has entered the market with an interesting offering. They actually play the video to their servers and then re-encoded it for their own DVR app that then runs on your PC. This is very similar to how Skyfire works for the iPhone. Given that Hulu blocks Skyfire, I can't imagine they are going to put up with this for very long, but if you're willing to shell out $4.99/mo or $39.99/yr (currently on sale for $19.99) it might be worth a shot, though I think most folks are waiting to see if PlayLater is wiped out by lawyers. Note that PlayLater still can't record HD video streams. That said, I'm dying to know if you can convert the files to WTV for WMC and if ShowAnalyzer can process the output.

But, if you happen to be the proud owner of a Hauppauge Colossus, there is a fairly trivial solution. I'm going to assume you know how to record video using Arcsoft Showbiz (or even Media Center). If you do use Showbiz, I recommend the .TS or .M2TS formats to avoid audio synchronization issues with .MP4 (though I'd also be interested to know if you experience any difference in audio sync between the container formats). First, if you haven't already, you need to install the Missing Remote RDP hack to allow remote access to your HTPC (you might be able to do this with a second monitor, but I didn't try and I think the audio loopback problem will bite you in that case). Feed the HDMI out from your HTPC video card and into the HDMI port on the Colossus and then the RBG out from the Colossus to your monitor (If you have a second video output: VGA or DVI, then you can just mirror the displays as well). From your RDP session (I'm purposefully skipping a critical step here so read on), start up "Arcsoft ShowBiz" and set your video and audio inputs to HDMI. Now you should see your desktop appear on the monitor, showing the RGB outputs from the Colossus. Depending upon your source, you might want to change the resolution. I recommend 1280×720 for Hulu, but if your video card is up-scaling Flash in real-time (which most are these days) you may want to go for the 1920×1080. Your call, but I think you're just going to get a bigger file and not much boost in quality.
Go to your HTPC and queue up the flash video you want to record in full screen mode, press
record on the RDP Showbiz capture screen; hit stop when the video is done or you can try the ShowBiz recording timer (your mileage may vary).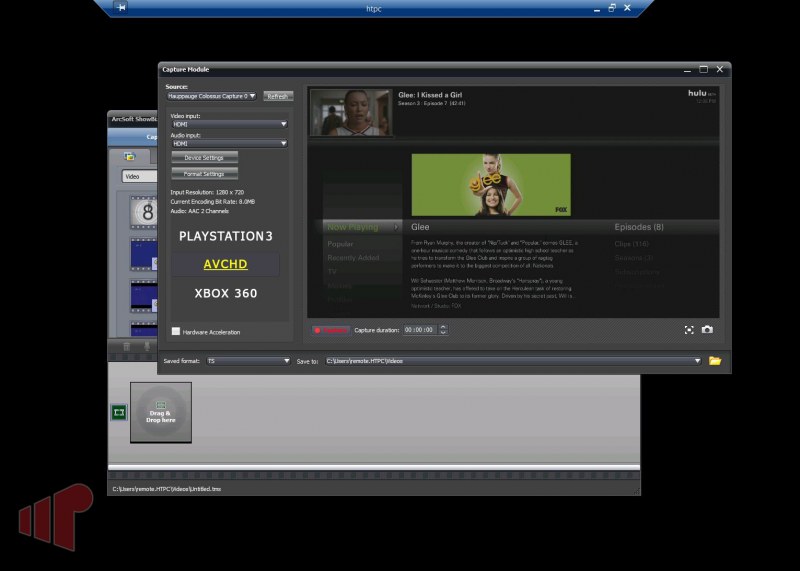 Reconnect your HDMI output to your receiver and play back the file. If the audio track sounds like a giant echo chamber, you need to go back and change your RDP remote audio settings to "Do Not Play".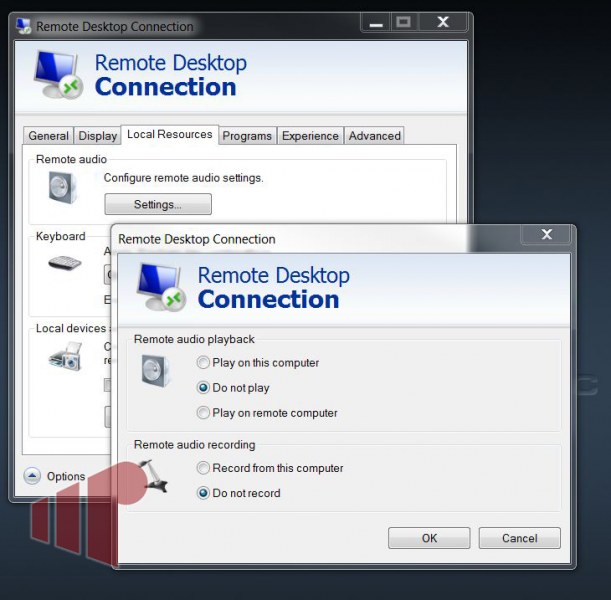 layback set to "Play on Remote Computer", since you want your music going to your receiver, not your desktop or iPad. If you do that in this case, the audio output from the Colossus is looped back to the HDMI audio output, which is then captured by the Colossus and looped back to the HDMI audio output, which is then captured by the Colossus and…You get the idea. This is why I think RDP is required vs. just running ShowBiz on a second screen, but it's kind of cool to hear the effect.

My next test was to see if ShowAnalyzer would detect the Hulu commercials. In his AnandTech Review, Andrew said it handled the TS format fine. On my first try, I got the error: "There was an error adding the file to the run queue: 0x80070057", which I think is just an incorrect parameter. Poking around the Comskip site, I noticed it required TS files to be ".ts" in lower case. For kicks I renamed the file and opened it with ShowAnalyzer and voila!
The nice thing about this solution is that for HD audio tracks, you can record the raw data coming off the HDMI feed; therefore, you can record the actual 5.1 stream if it's there, and there shouldn't be any synchronization issues. It's interesting to note that the Hulu desktop will let you create a play list, and then continually play it. You just need to a way to start and stop the recording between shows.

The final step is to change the file to a WTV file and then modify the file name and meta data so it fits with your season. Andrew's todvrms program does the trick here. Don't forget to register the dvrmsfilters and have the Haali splitter installed. Then the following command will get you a nice WTV file which will drop right into your WMC TV collection:
todvrms "c:\fullpath\recording.ts" "c:\fullpath\Recorded TV\newname.wtv" -haali -allstreams -wtv

todvrms will also allow you to set meta-data, but you'll probably find something like "Media Center Master" a much better solution for that.

Unfortunately, this left me with one unsolved glitch. The WTV file is found by WMC and it happily picks out a thumbnail. Unfortunately, WMC shows a decoding error whenever I play the file even though WMP plays the file fine. If someone can find a solution to that problem, or a better way to create the WTV, it would be much appreciated.