Change Windows Media Center Startup With Media Center Valve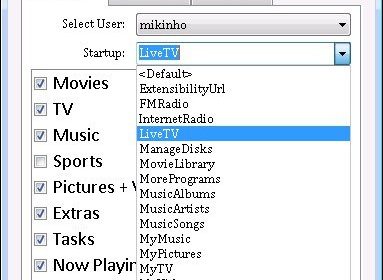 Media Center Valve is a work-in-progress of all my smaller Media Center Add-ins combined into one. Valve will replace Extender Live TV Startup, Control Panel, Start Menu Plus, Hide Menu Strips, AutoPlay Disable, Remote Remap, YAHAA and a few unpublished add-ins I use at home.
I haven't had time to test all the functionality so the version being release today will only allow you to set the default startup functionality. If you don't need to change the startup functionality or don't want to bother with updates later, please don't install it. This works on the console, Windows 7 Embedded and on extenders with no delay.
I initially created this functionality for a few tgb members who wanted their Media Center Extenders to startup in LiveTV without a delay. Previously you could only accomplish this via a user logon script that was fairly unreliable and cumbersome to configure. I find it useful for the console as well since it works independantly of how Media Center is lauched (i.e. tgb on the remote, shortcut menu, startup, etc.)
It is fairly simple to use though it will get simpler when the full (MCML config) version is released. To install:
Download valve-setup-2.0.zip from the attachment below, you will need to be logged in to view it. Once the full version is released it will be available to download publicly.

Extract the contents of the zip file.

Run the appropriate version for your architecture or run install-valve.cmd if you are unsure.

Run HideMenuStrips.exe (it is a standalone application) to configure the startup behavior. If you want to change extender profiles make sure to run as an administrator and change the user account via the drop down. In the next update I'll include the MCML configuration application to allow you to config everything on the extender itself.

Until the MCML configuration add-in is released later this week you will need to reboot, possibly twice, any Media Center Extenders after installing Media Center Valve for the startup functionality to work..
Like I mentioned, I'll be making updates weekly, if not every few days, so if you have any requests please let me know below.