Upgrading my HP WHS MediaSmart EX495 to Windows Home Server 2011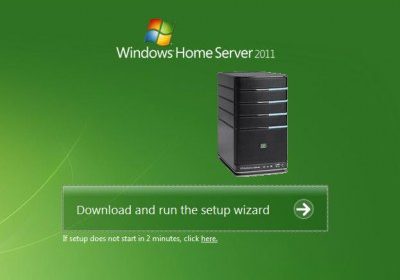 Those of you who have been following our MissingRemote Podcast are familiar with the dilemma I have been facing for the last few months–do I dare take the plunge on my one and only Windows Home Server system, based off of an HP MediaSmart EX495, and upgrade to the new and "improved" WHS 2011? After much deliberation and non-stop harassment from, well everyone, I decided it was time. The process was not nearly as bad as I had anticipated but the results are certainly mixed. Obviously this upgrade is not supported by HP given that the EX495 is long since discontinued, but migrating it to WHS 2011 would hopefully be worth the upgrade.

This is not another how-to guide, but more a look at the experience. Unless I'm alone here, I imagine there are a lot of HP MediaSmart users out there pondering the exact same thing I have been. As such I will be focusing on the effort and results, and see if all this was worthwhile.
SYSTEM OVERVIEW
HP MediaSmart EX495 Windows Home Server System featuring:
Intel Pentium Processor Dual Core 2.5 Ghz 64-bit
2GB DDR2 Memory
4 Hot-swappable Drive Bays with 1.5TB Seagate Barracuda 7200rpm Hard Drives
Gigabit NIC
Size: 9.88 inches x 5.5 inches x 9.75 inches
INSTALLATION
First let's look at what was necessary to get all this going:
An HP MediaSmart EX495 which I had peaked out with 4 x 1.5tb Seagate hard drives (this process supposedly would work on previous generations as long as they have the minimum 2GB of RAM)
A copy of Windows Home Server 2011 (thanks Technet)
Teracopy – Used to copy and verify data over network (thanks @Ogre and @Techlifeweb)
Either external hard drives or another system on the network with enough storage space
USB Thumb Drive (at least 5GB) – I tried an external USB hard drive I had but the system refused to boot off it
PATIENCE
There takes a lot of faith to do something like this given that there is no VGA display on the MediaSmart. Luckily I followed two fantastic guides from SeanDaniel and MediaSmartServer and between the two of them had no problems.
With 4 x 1.5TB of storage space, I was using approximately 2.5TB. That left a bit of a dilemma as to how I was going to transfer the data and to where–while I have external hard drives, none are big enough for the task. In the end I used a combination of methods. For one, I removed one of the 1.5TB drives from my storage pool since I had the space remaining, and I copied over as much as I could. For the remaining terabyte of data, I used the space I had on my main home theater PC. To manage the transfer I used Teracopy which allowed me to "test" and verify the transfer was good–it also lets you pause and resume, which is convenient.
Since there is no Drive Extender anymore, you only need one hard drive to install WHS2011, so I removed the additional 3 and let it do it's thing. Keep in mind, the big fuss about the removal of Drive Extender, is that if you have one type of media, say your MOVIES which take up more GB than you have available on a single drive, then you are forced to split them among two hard drives and then individually setup each network share, such as \\SERVER\MOVIES1 and \\SERVER\MOVIES2. This is quite different than with Drive Extender, where the data would just span across multiple disks if necessary, but your share would remain a single \\SERVER\MOVIES share. I'm fortunate to not have over 1.5TB of a single media content type, but this has bothered a ton of people. Even if I did though, since I use My Movies 4 to organize my collection it is irrelevant to me how many shares store my movies since the application automatically combines it all into its UI–Media Browser and most other media softwares work the same.
The original Windows Home Server installation was a big patchwork where it involved constant reboots and lots of infomration. I used to work for an OEM which sold Windows Home Server systems, so I am painfully familiar with the arduous process required to install the original version. I was pleasently surprised that the new WHS 2011 took just under 35 minutes start to finish–and this is on an HP EX495 system!
UPDATE 4/28: When you install, you will have a yellow exclamation mark in Device Manager for a "Mass Storage Controller." You will need the 64-bit drivers for the SiliconImage 3531 Port Multiplier Chipset available here.
RESTORING DATA & SETUP
Now that I was up and running, it was time to get things back to functional, and fast (the GF would NOT be happy if I had to tell her we couldn't watch a movie because the server was down). The original backing up process took forever since the beauty that is Drive Extender has a big downside–file transfer speed crawls at around 10-30MB/s, in other words a LONG time for 2.5TB of data. While I do miss Drive Extender for a lot of reasons, I was very excited to see data transfer rates of 70-90MB/s! Also, without DE, the 1.5TB hard drive full of my backed up data was able to just be inserted into the system, and then I moved the WHS2011 folders to that location; since there's no need to copy the data over to a network share like before, this saved a TON of time. With that done, then it was just a matter of using Teracopy to pull the data back from my HTPC to the WHS.
The way WHS 2011 works is by simply sharing the folders wherever they are located; over your network this is irrelevant since \\SERVER\MUSIC does not care about your drive letter. Why is this so huge and important for me to dedicate a paragraph to it? Because it means NOT having to re-do all of my Windows 7 Media Center libraries at all–including music and My Movies library! As long as you maintain your user accounts and passwords, I was able to get things working immediately after copying things back. Now THAT was a welcome surprise.
What was not pleasant however was using the new WHS Connector software installing on my systems. It installed fine on my HTPC Windows 7 Ultimate x64, but it's now been two unsuccessful days on my Laptop's Windows 7 Ultimate x86. I continue trying to troubleshoot, but it's very frustrating as my error message is vague and not very helpful. I've read lots of posts online and the problems range from antivirus, to firewall to even simply enabling Windows Services for Media Center (yes, for WHS 2011, go figure). If I can't figure this out, no way my parents would be able to.
UPGRADE FRUSTRATIONS
So I'm up and running now for a day and things have definitely not been flawless. You really hate to say that about a brand new operating system over its predecessor, but MAN there were some crazy sacrifices made. I'll put it just like I see it–where the original Windows Home Server was really trying to be a server for any home, non-techy especially, I got the complete opposite vibe from WHS2011. And I'm not just talking about the lack of drive extender either. A perfect example is the shortcuts on the tray of the ServerManager and Powershell, which are two tools greatly utilized by people who actually manage servers, but unnecessary (I hope) in a WHS2011 world. And that's not all.
I consider myself a geek, but one of the things I loved to see was the simple pie chart showing my used vs available hard drive space, as well as a breakdown of what content is taking up how much storage space. Who doesn't like to brag about their 150GB music collection? Instead, all you see is "Free Space" available on the hard drive where that folder is located. Important information indeed, but still c'mon Microsoft, no pie chart, no total size.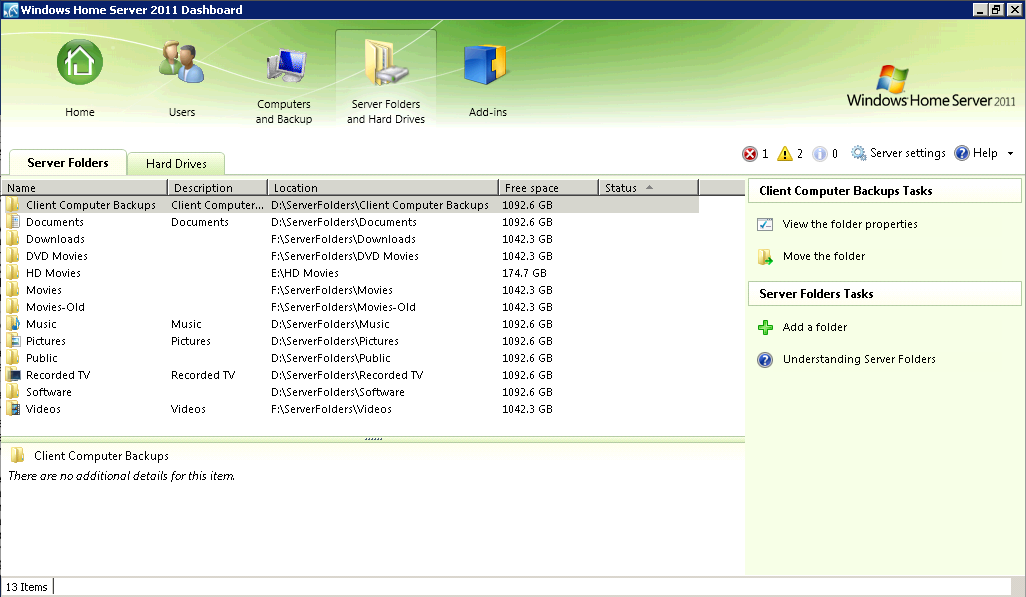 Another item of frustration is also incredibly ridiculous in simplicity–the home page on your dashboard. There are extremely limited options for customizing this (you can just remove a few of the items, can't add), and there's no way to have it start on a different tab. This is a minor nag obviously but exactly the type of item which you would hope would have been noticed for a second generation product.
And then there's the lack of add-ins. When Apple released the iPhone, how many thousands of applications were already available and ready to download? A lot. For this huge Windows Home Server 2011 release, how many Add-Ins are officially available? ONE. Most of your favorites are in beta or testing mode presently, so it's something to be aware if there's something you cannot live without.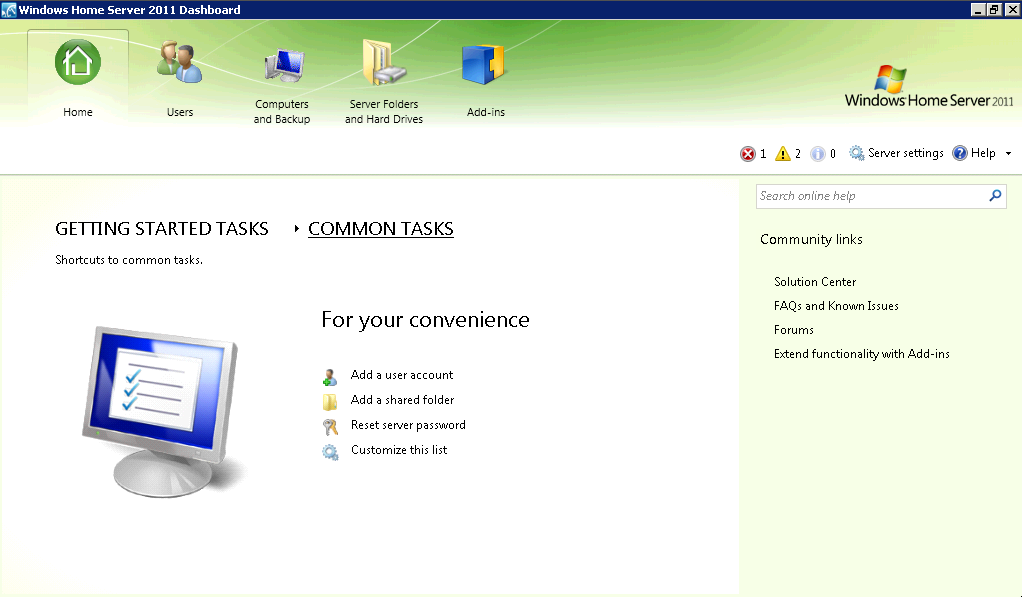 Most of my comments in this had been surrounding Windows Home Server 2011 in general, but of course the most important part about this is the fact that I'm using my old HP MediaSmart EX495 to USE WHS 2011, so how does it do? In general, very well. Remote desktop seems more responsive than before, bootup is very fast, and overall experience with the Windows 7-ish user interface is much nicer. However, since HP no longer supports it there is no software to run on it in order to enable the hard drive indication lights, so they remain dark. On top of that, the Health LED continuously blinks blue. For my setup, the system is tucked away so it does not distract me but I will probably put electrical tape over it shortly. No support for lights is one thing, but of course you have none of the HP WHS software which was enjoyed on the original, most notably in my case of the thermal and system monitoring tools.
FINAL THOUGHTS
It has only been a few days as of the time of this writing so it's tough to truly gauge a comparison of a brand new software with one I have been using for several years, but it's definitely NOT A NO BRAINER. In my situation I do not have any type of media over 1.5TB so the lack of Drive Extender while annoying, was not that devastating (especially with SyncToy to help create a mirrored copy), and even more so with the noticeable hard drive transfer speed that comes as a result.
But it's not all roses. My HP MediaSmart EX495 is rendered basically as a small chassis which I easily could have built myself. No lights, no software, none of the extras I had grown accustomed to. Minor quibbles sure, but you might be wondering if I had been better served just eBaying the EX495 and building my own higher performance SFF? Quite possibly, but at a current rate of approximately $300-500 that's not a lot of room to work for building a system; while the power draw I'm sure could be beaten (idle around 40-50 watts, and fully loaded hovering around 70-80W), there are not a lot of chassis which fit the small footprint and appearance of the HP EX495. Still something to consider if you are an existing EX495 owner.
That type of thought will have to wait for the future, as my system is fully up, running and functional right now so for fear of GF retaliation it will remain so for a bit. I miss a lot of things from the original WHS, which is not something you will usually say to an upgrade. While the speed benefit (of both RDP and network transfer) is awesome, I'm having a really difficult time seeing any obvious benefits.
Related Articles