Contest – SageTV HD300 Theater Media Player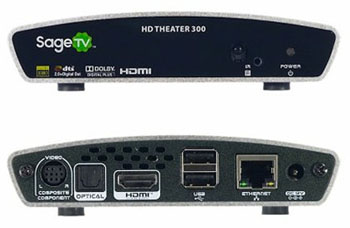 THIS CONTEST HAS ENDED!! THANKS TO ALL FOR PARTICIPATING!!!
The prizes and giveaways continue, this time up, courtesy of the fine folks at SageTV, their awesome HD300 Theater Media Player!
We took an in-depth look at the HD300 back in August and this thing is just awesome. This little box can connect to any TV in your network and is one of the best "extender" type products on the market, with virtually no limitations from what your full blown SageTV box can do.
File and codec support is very impressive with most every codec and file format I can think of being supported. I did not get a chance to test each file/codec type on the list but everything I threw at it (including a Level 5.1 H.264 MKV, FLAC, M2TS, MKA and many others) played without issue. On the audio side there are several differences compared to the STP-HD200, the biggest is that as an HDMI 1.3a device the STP-HD300 supports HD audio bit streaming with a compatible audio video receiver (AVR), but for those not using an AVR also has the ability to decode all of the Dolby and DTS variants (including TrueHD and DTS-MA when a core audio track is present – containers that do not support HD+core tracks will still require a separate AC3/DTS track to decode to PCM) to stereo PCM when configured to do so.
HOW TO ENTER
We have made some changes, so please READ all the rules.
To change things up, we've also added several other methods to increase your chances of winning by adding more entries possible.
The only requirement to enter is:

Answer on this thread with the following "What's your favorite thing about SageTV? Or what do you wish it had?"
Just responding to the thread gives you 1 entry, but there is no limit to how many additional entries you can have! The more entries, the greater your chance of WINNING!:
Create a legitimate* forum thread (1 entry for every thread)
Reply (legitimate* one's here too guys :-P) to a forum thread or article post (1 entry for every 3 posts)
Twitter Users (1 entry)

Follow us at Twitter @MissingRemote
Tweet the following:
USERNAME wants to win @SageTV HD300 @MissingRemote http://bit.ly/mrhd300

Make sure you replace "USERNAME" with YOUR MissingRemote.com username!


Facebook Users (1 entry)

Visit our Facebook Fan Page and click the "Like MissingRemote" button at the top of the fan page (if you don't see it, that means you're already a fan!)
And reply to the post on our Wall for this particular contest, with your MissingRemote username

Good luck everyone
RULES/TERMS
Entries will be accepted from 12:00AM PDT on Wednesday, April 20, 2011 through 11:59PM PDT on Wednesday, May 11, 2011 . Winner will be selected by May 19, 2011.
This contest is unfortunately only available to US residents in one of the 50 states. Sorry to our international readers, but we are looking into expanding our prize packages in the future.

You are only allowed to enter using each method one account. Multiple account entries will disqualify you.

Must be a registered user to be eligible to win (remember, if you are entering additional entries when applicable via Twitter/Facebook you must mention your MissingRemote username in that entry)

Editors and staff, and associated family of staff are not eligible to win

Each prize may have its own rules for eligibility established by Product Sponsors, please read the directions carefully

Users may reply to this thread as many times as desired, but only one post will be counted towards the drawing

Winners will be notified via e-mail, as well as posted in a news post on the home page of MissingRemote.com; Failure to respond within 72 hours will result in a forfeit of prize and the prize will be re-drawn

Most prizes will be shipped to winners via either USPS Priority Mail or Fedex Ground and tracking numbers will be provided. It is the recipient's responsibility to coordinate receipt of item.

Some prizes will be shipped to winners directly from Product Sponsor–tracking will still be provided to those as well

Prize packages are in excellent condition and have not been used outside of for review purposes and are delivered in AS-IS condition

Any attempt to circumvent contest rules will cause ineligibility for user

*Legitimate threads and replies will be judged at the sole discretion of MissingRemote's moderator