LiveTV in Media Center over Remote Desktop via RemoteFX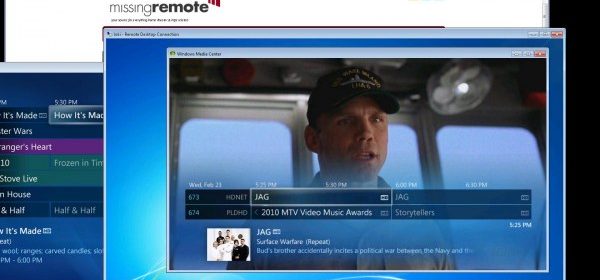 Just a quick screenshot to show "proof" of Live TV using a Ceton InfiniTV over Remote Desktop via RemoteFX.
What is interesting about the screenshot, at least to me, is that I took it of a RemoteFX Remote Desktop Protocol (rdp) session from another RDP session that was connected via VPN over the WAN.
I'll be following up with a full overview of RemoteFX. If you listened to today's podcast you we talked about it a little bit. I do not believe it is a valid architecture for HTPC usage, at least not yet, but it is extremely cool technology. It is just too expensive, both in hardware and software, to be used. It most cases it makes more sense to get a low power Intel Core i3-2100T or AMD Zacate (if it proves a valid HTPC choice), you'll save money and energy consumption.
If you have any questions feel free to ask, I'll try to answer each in my RemoteFX follow up. I'll go over what hardware I am using and what I am using it for.