Got a Rechargable Harmony – Check the Battery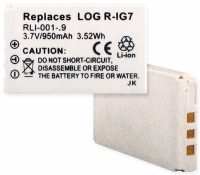 I love my Harmony One, so when the battery wouldn't hold a charge for more than a couple days it was an easy decision to order a replacement. When the new battery arrived, I was shocked to find that that the original had swollen so much that the plastic was starting to crack and needle-nose pliers were required to pry it from remote. Fortunately the remote wasn't damaged at all and it could be anecdotal, but I imagine that bad things would have happened to the battery hadn't been replaced when it was.
So if you have a Harmony with a rechargeable battery it's worth taking a peek every so often to make sure that it's not about to explode.