Primary HTPC Software Results and New Poll!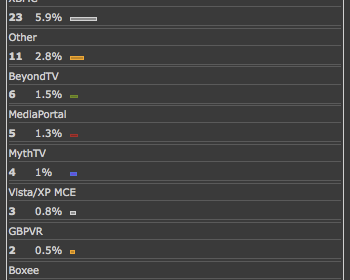 Wanted to thank everyone for participating in our poll last week. It was very interesting watching the poll results come in and seeing the final results. In case you missed them, here's the results:
Almost 400 people participated and surprising myself, SageTV came out ahead of everyone with 44% of the votes. Windows 7 Media Center was just beaten out, bringing in an impressive 41.7% of the votes–this is especially impressive when you consider that Win7 has not been in existence for very long, but just shows how eager users were to shift away from Vista or XP.
I was a bit surprised with the rest of the results given the trends I've seen in the past. XBMC was 3rd up with 6%, but other XBMC-based programs like Boxee and Plex each only received 1 vote themselves. There's still 1.5% of users with BeyondTV–I used to love their software, but it's clear they've gotten away from the consumer line of products as it has not been updated in ages.
So what did we miss? We had 11 votes for "other" software–what are you folks using that we didn't include specifically?
In the meantime, we've opened up another poll on the right hand side–What software/hardware are you using for Blu-ray playback? Hope to have as good participation as the first, thanks everyone!!